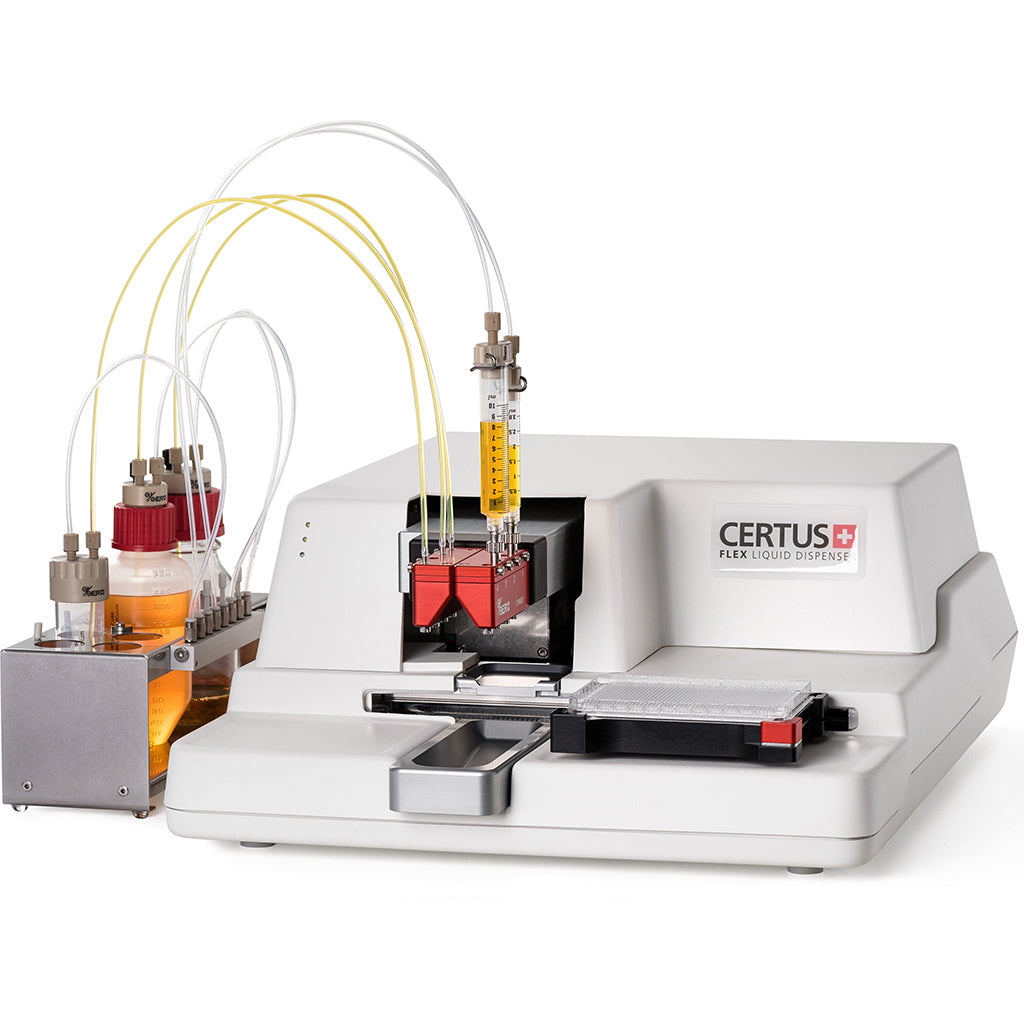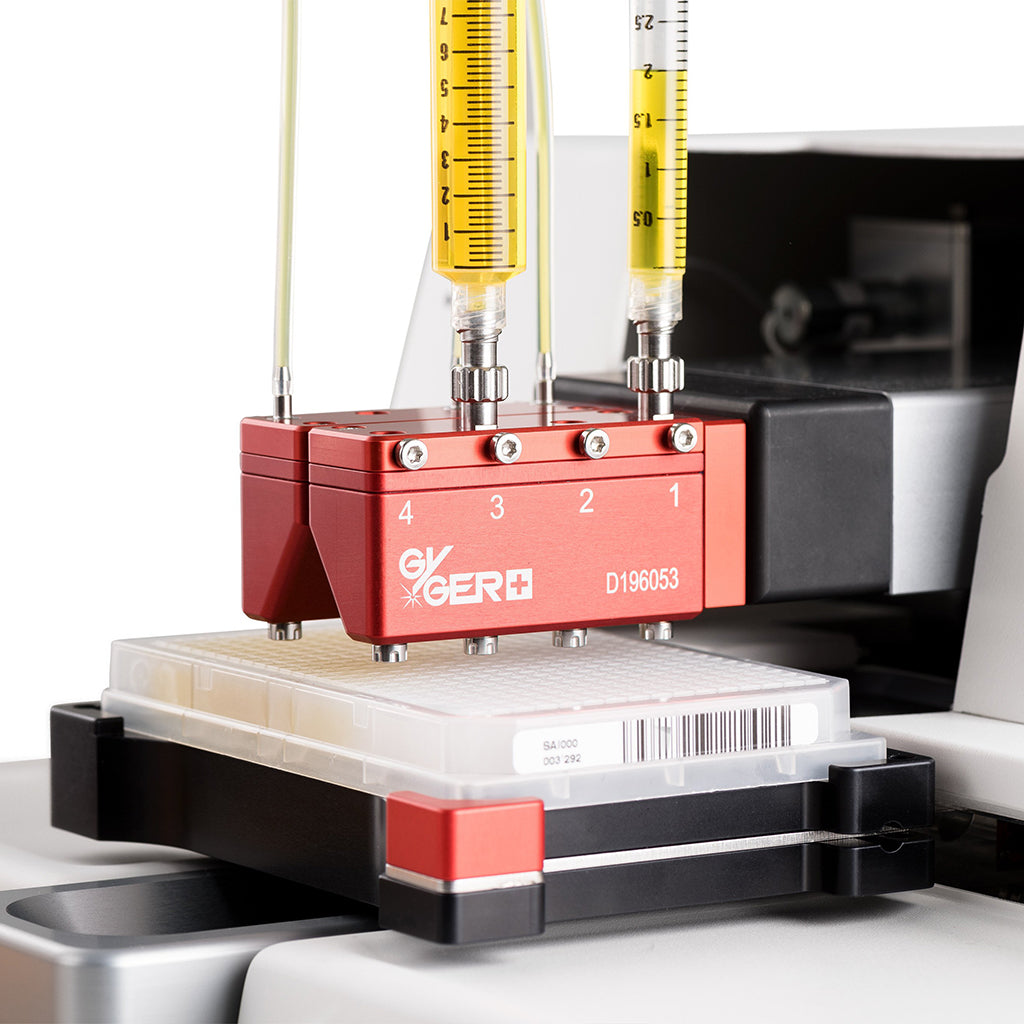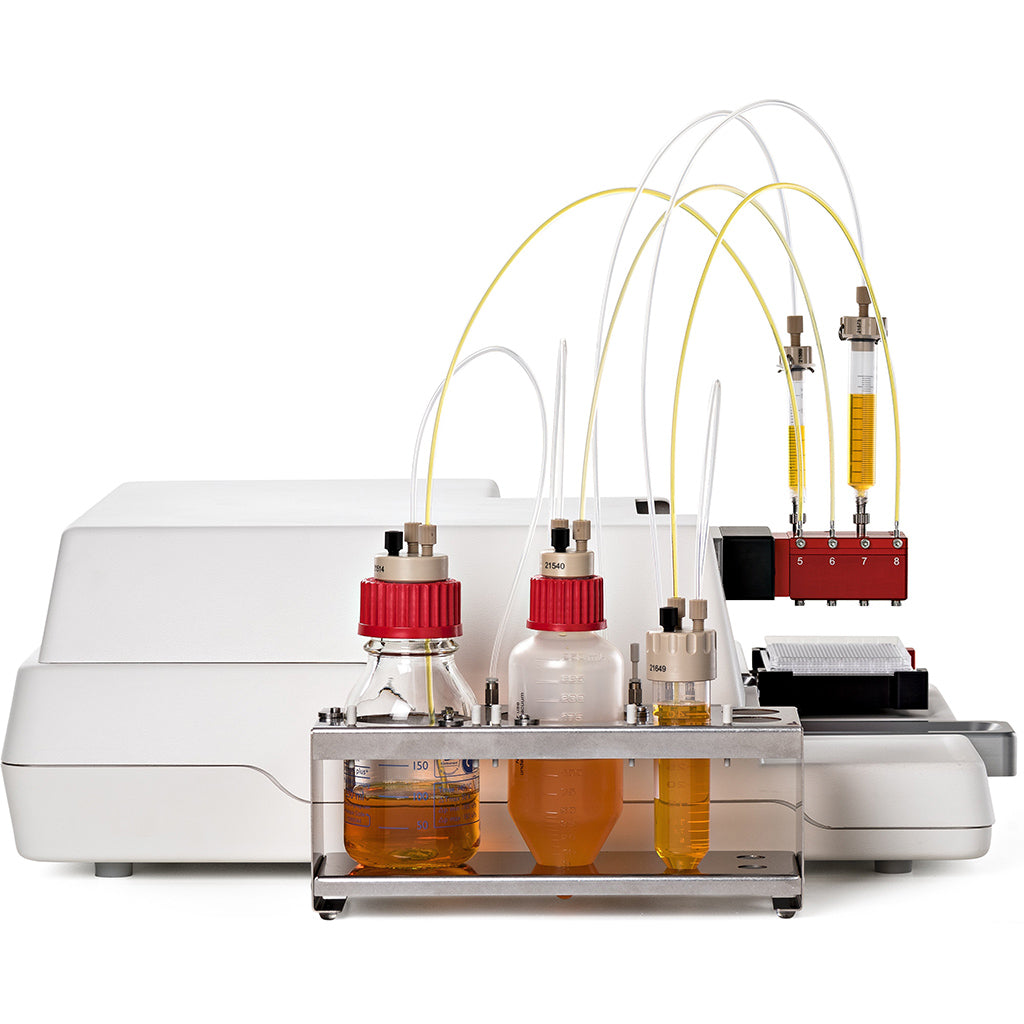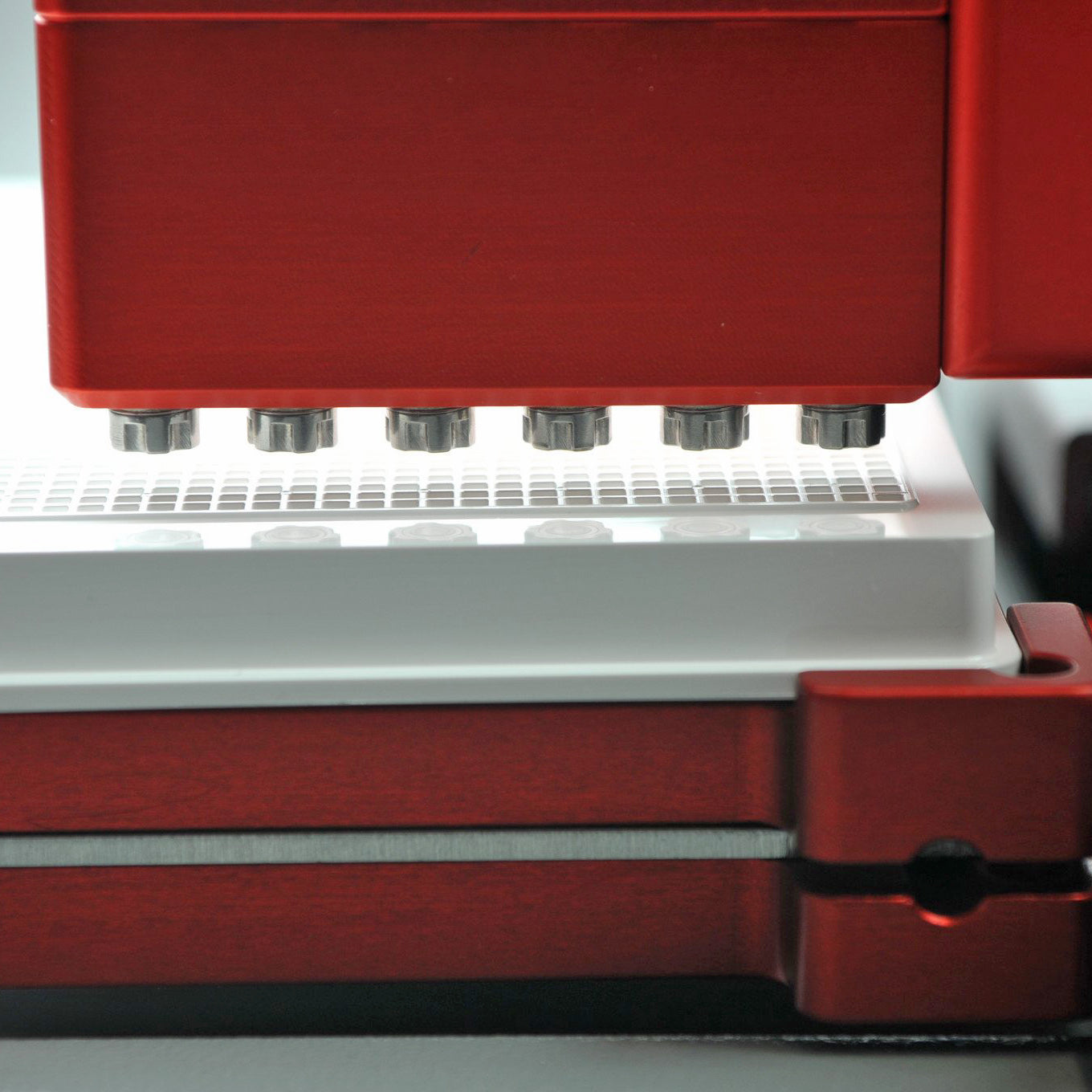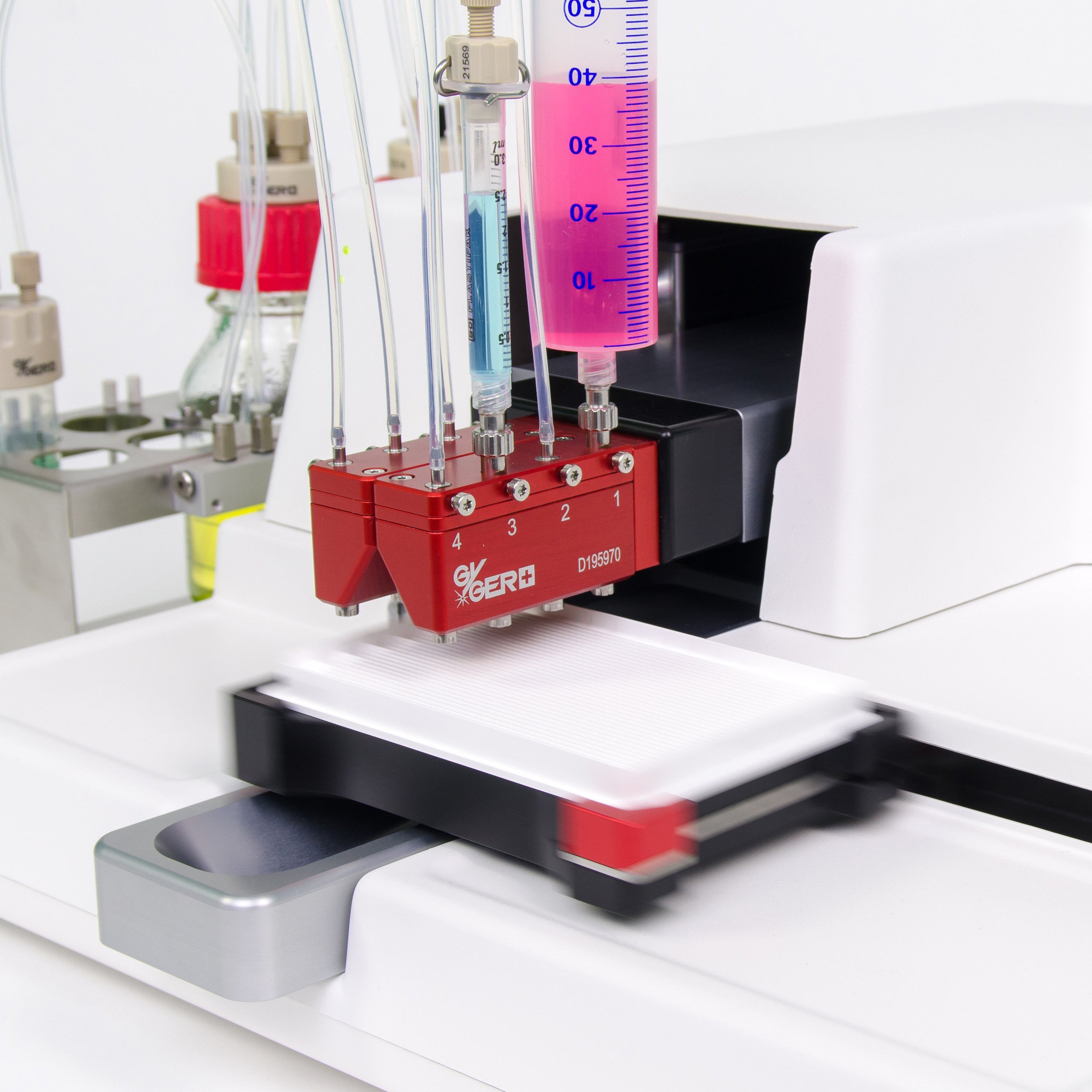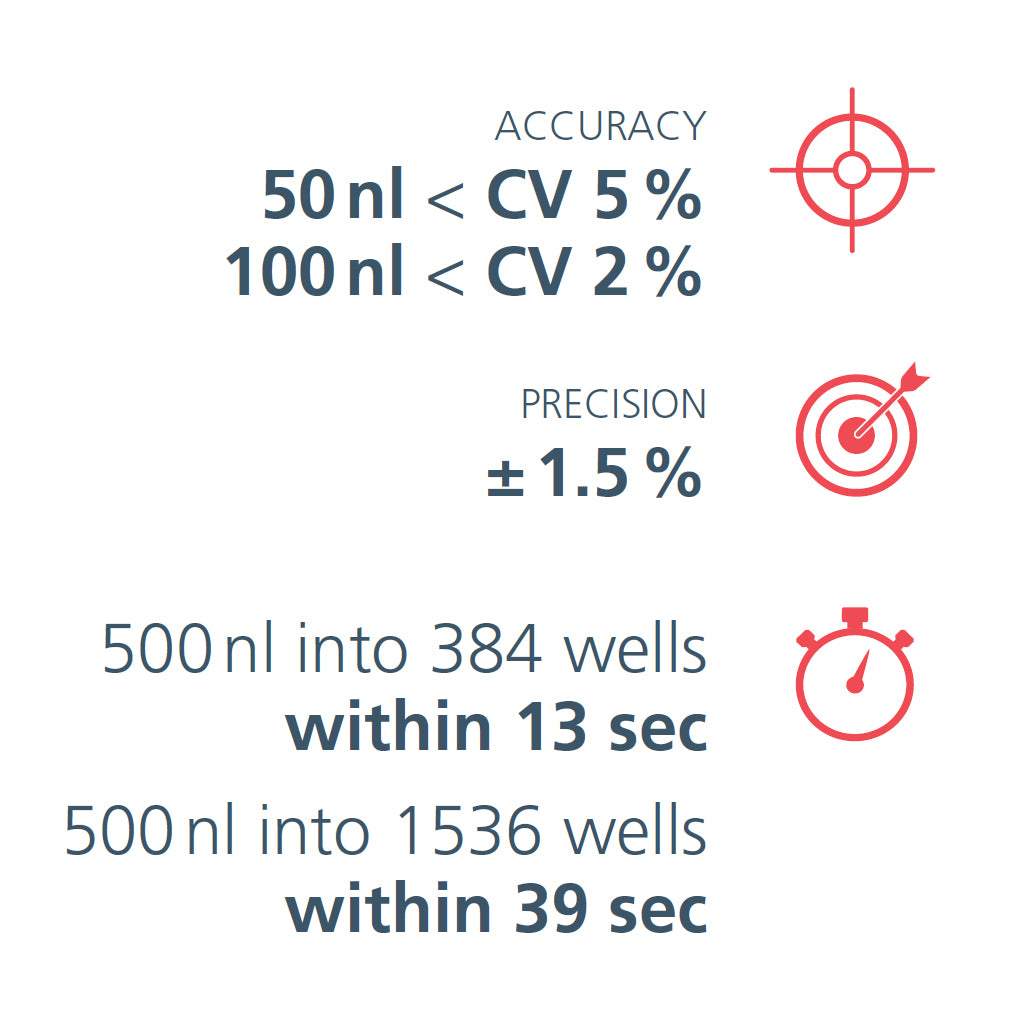 CERTUS FLEX liquid dispenser
Part number: certus-flex-liquid-dispenser
Image is representative (may not be specific item).
Contact a workflow specialist for your specific needs
Microdispensing at its best. Flexibility to use the solvents you need, across an ideal range of dispensing volumes, at speeds that keep your laboratory flowing.
CERTUS FLEX is a modular system in two basic versions, with 5 or 8 individually controllable channels. These channels can be equipped with different valves to facilitate ideal dispensing of substances with different physical properties.
Features and benefits
Unparalleled accuracy, precision and flexibility
The CERTUS FLEX has been developed for contactless dispensing of a broad range of liquid substances and large molecules, using Gyger's renowned microvalve technology and air pressure control, giving you maximum precision and flexibility.
Flexible fluid uptake options to meet your exact needs
Fluids can be supplied to the dispenser from bottles and tubes for bulk dispensing, or from syringes to achieve the lowest dead volumes. This allows you to more effectively dispense smaller volumes and high value substances from luer-lock syringes (from 3 - 60 mL).
Unique microvalves for more dispensing operations, with less dead volume
Over 500 million cycles without losing accuracy.
More
CERTUS FLEX
CERTUS FLEX
The CERTUS FLEX liquid dispenser delivers volumes in single doses, in contrast to many other techniques, allowing you to have the fastest delivery and the longest valve life. With an assortment of valve sizes, you can dispense a wide range of fluid types:
Aqueous solutions
Organics
DMSO
Solvents
Detergents
Buffers
Cells
DNA
Proteins
Oils (with viscosity up to 200 mPas)
Software
SiLA compliant for seamless process integration
Our SiLA automation interface allows you to integrate your CERTUS FLEX into your laboratory automation workflow with confidence. Drivers are already available for most major integration software, and more are being developed all the time.
CERTUS CONTROL PC software is both intuitive and easy to program
With a windows-based user interface, the CERTUS CONTROL software has a familiar look and feel, making everyday use straightforward. Both basic and complex dispense patterns can be created, with the software, or by importing CSV, to allow the Flex to compliment your workflow seamlessly.
Support
Service you can trust
Our Gyger manufacturer-certified service team is ready to keep your CERTUS FLEX at its peak performance.
Expert training
We have the expertise and experience with microdispensing across many different laboratory environments. We can guide you to the best system set-up and protocols for your laboratory's workflows.