Pioneering collaboration and global products – these were the take-home impressions of the Australian Minister for Industry and Science, Ian Macfarlane, during a special visit to Trajan Scientific and Medical (Trajan) global headquarters facilitated by Mr Michael Sukkar, Australian Federal Member for Deakin, Victoria.
Trajan exports 98 per cent of its products that are made in Australia, including the SGE Analytical Science brand which is well known for its diamond syringe quality, and is the global market leader in niche areas such as autosampler syringes, gas chromatography inlet liners, PEEKsil (fused silica lined PEEK tubing) and complex microfluidic devices.
Explaining the reason for his visit, Minister Macfarlane was precise: "I wanted to see why it was that Trajan could be competitive against the best in the world, and in fact, be the best in the world."
During his visit, Mr Macfarlane shared the Australian Government's plans to set up Industry Growth Centres, designed to help facilitate stronger connections between industry and research, including in the critical areas of advanced manufacturing, medical technologies and pharmaceuticals.
Trajan engages with industry groups such as BioMelbourne Network and collaborates with a range of companies and academic institutions; including the recent launch of ASTech, the ARC Training Centre for Portable Analytical Separation Technologies - a $5.2 M program part funded by the Australian Research Council, University of Tasmania and Trajan.
"It's great for me to come and see a company that is at the forefront of this phase in these fields, doing things that not only improve the quality of life for people in Australia, but also right around the world,"Mr Macfarlane observed.
 "We do need to collaborate and we do need to focus on things that we can excel in, working with universities, working with companies internationally, to ensure the product we produce here isn't just Australian. It's got to be part of the international supply chain all over the world and Trajan is showing the way," he said.
Mr Sukkar commented he was proud to have a business like Trajan in his electorate: "Often when I visit manufacturers of any description, things are tough, things are hard. It is so warming for me to be able to come into an organisation that is growing."
Chief Executive Officer of Trajan, Stephen Tomisich said the visit was a reinforcement that the company is on the right track. 
"It is an honour to be able to share Trajan's story with government members representing the scientific industry at a local and national level, and understand more about how Trajan's collaborative model and technology direction is reflected in the government's plans to support growth of the scientific industry in Australia."
A 17,000 m2 Ringwood site in Melbourne, Victoria, is home to Trajan's corporate headquarters and ISO accredited manufacturing operations. With over 300 staff worldwide across Australia, Europe, USA and Asia, Trajan serves customers in over 100 countries with highly specialized consumables and components used in scientific analysis and clinical applications.
Photos
View more photos in Trajan's Facebook Album: Australian Government Visit - May 2015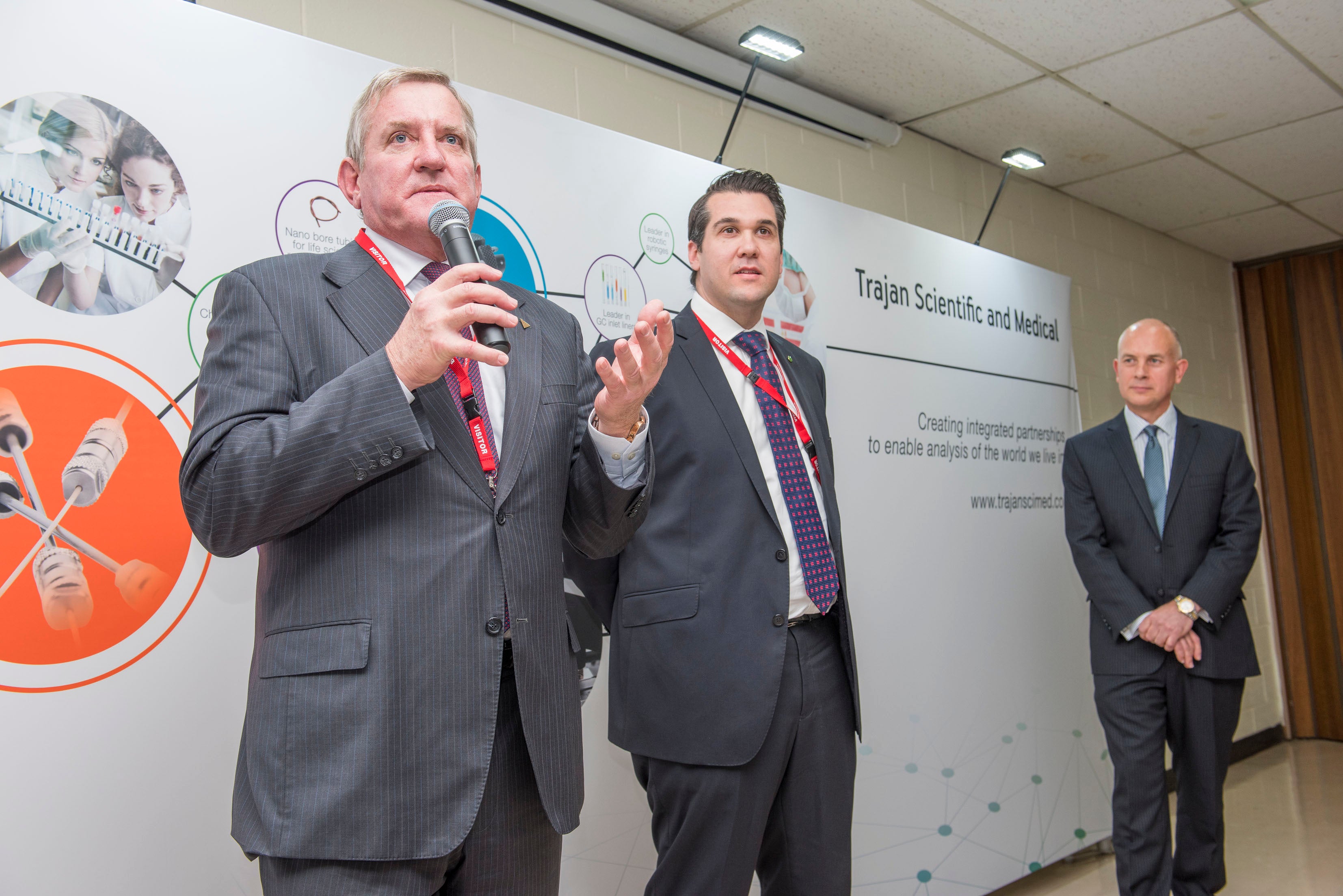 Photo (L-R): The Hon Ian Macfarlane MP, Mr Michael Sukkar MP, Mr Stephen Tomisich. 
More Information
www.minister.industry.gov.au
www.michaelsukkar.com.au
Download
Press Release - Australian Media Distribution [PDF]
Contact Information
Trajan Scientific and Medical
media@trajanscimed.com
+61 (0) 3 9837 4200