Confidence in your analysis
SGE OptChem™ inlet liners provide optimal performance with advanced coating technologies in an easy to use format for GC and GCMS.
OptChem deactivation extends the existing SGE inlet liner range with familiar designs, with CRS ONE o-rings and touchless packaging.
Easy to choose - color coded by geometry to simplify your selection.
Easy to use - ready to install touchless packaging with pre-fitted CRS ONE o-rings.
Confidence in your analysis - certified deactivation.
Features and benefits
OptChem deactivation is a unique thick film which limits breakdown, ensuring minimal loss of sample and increased system sensitivity.
Quality tested to USEPA 8081: organochlorine pesticides, and USEPA 8270: semivolatile organic compounds to ensure a high level of inertness.
Pre-fitted with CRS ONE o-rings to reduce contamination from handling.
Touchless packaging format reduces the risk of contamination during installation.
Recyclable packaging - less waste to landfill.
Recommended applications
Suitable for trace level analysis, volatile and organochlorine pesticides (OCPs), pesticides, persistent organic pollutants (POPs), brominated flame retardants (BFRs), dirty samples, and general purpose GC and GCMS.
Product specifications
Available for industry standard injectors.
Length: 78.5 mm
OD: 6.3 mm
IDs: 4 mm, 2.3 mm, 1.2 mm, ConnecTite
Example instrument compatibility:
Agilent Intuvo 9000, 8890, 8860, 7890, 7890B, 7820A, 6890, 6850, 5890 and 4890
Bruker/Varian 1177

Lucidity GC-FID
PerkinElmer GC 2400, Clarus 690 and 590
Scion Instruments 8500 and 8300
Thermo Scientific TRACE 1610, 1600, 1300 series and GC Ultra
All products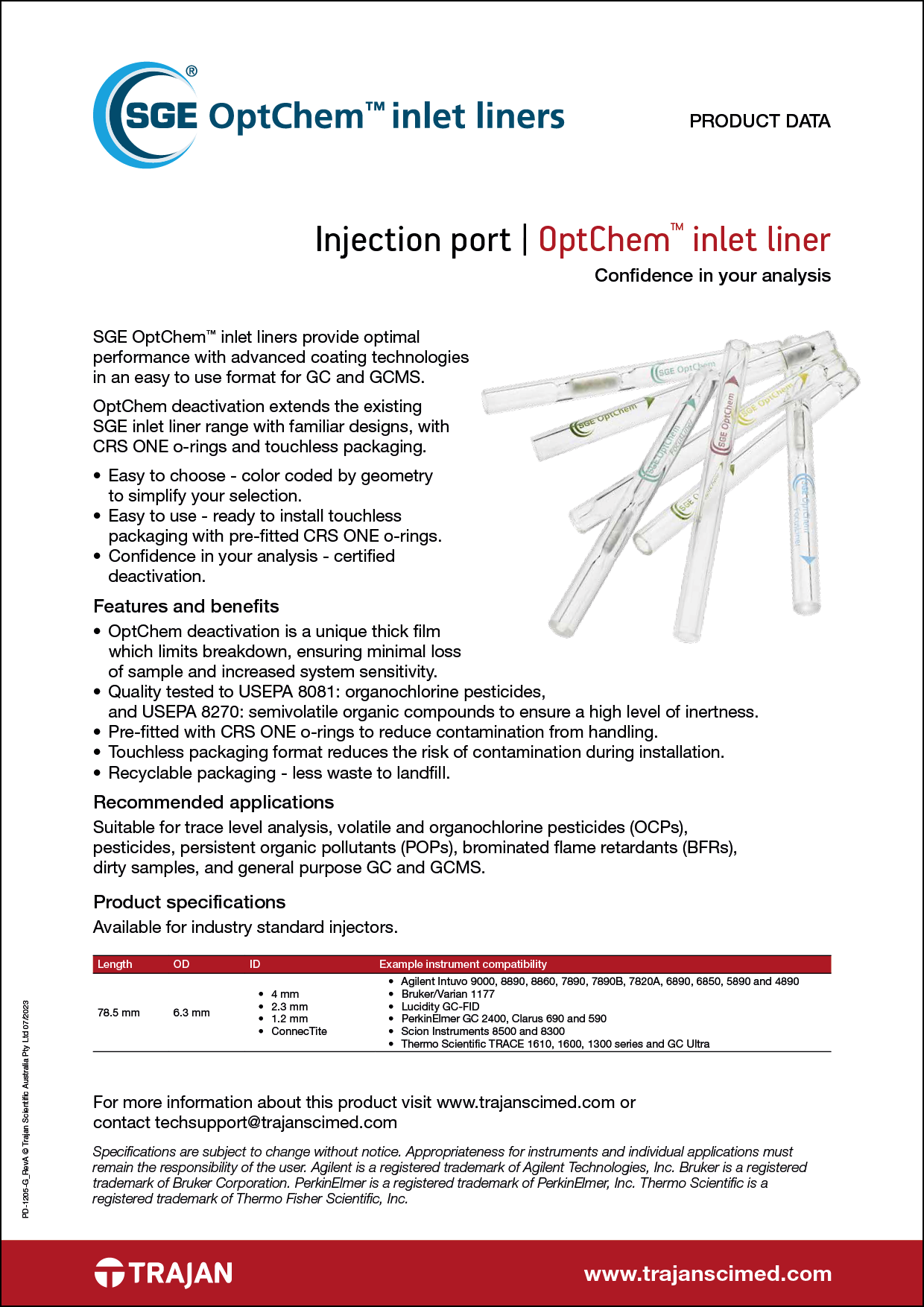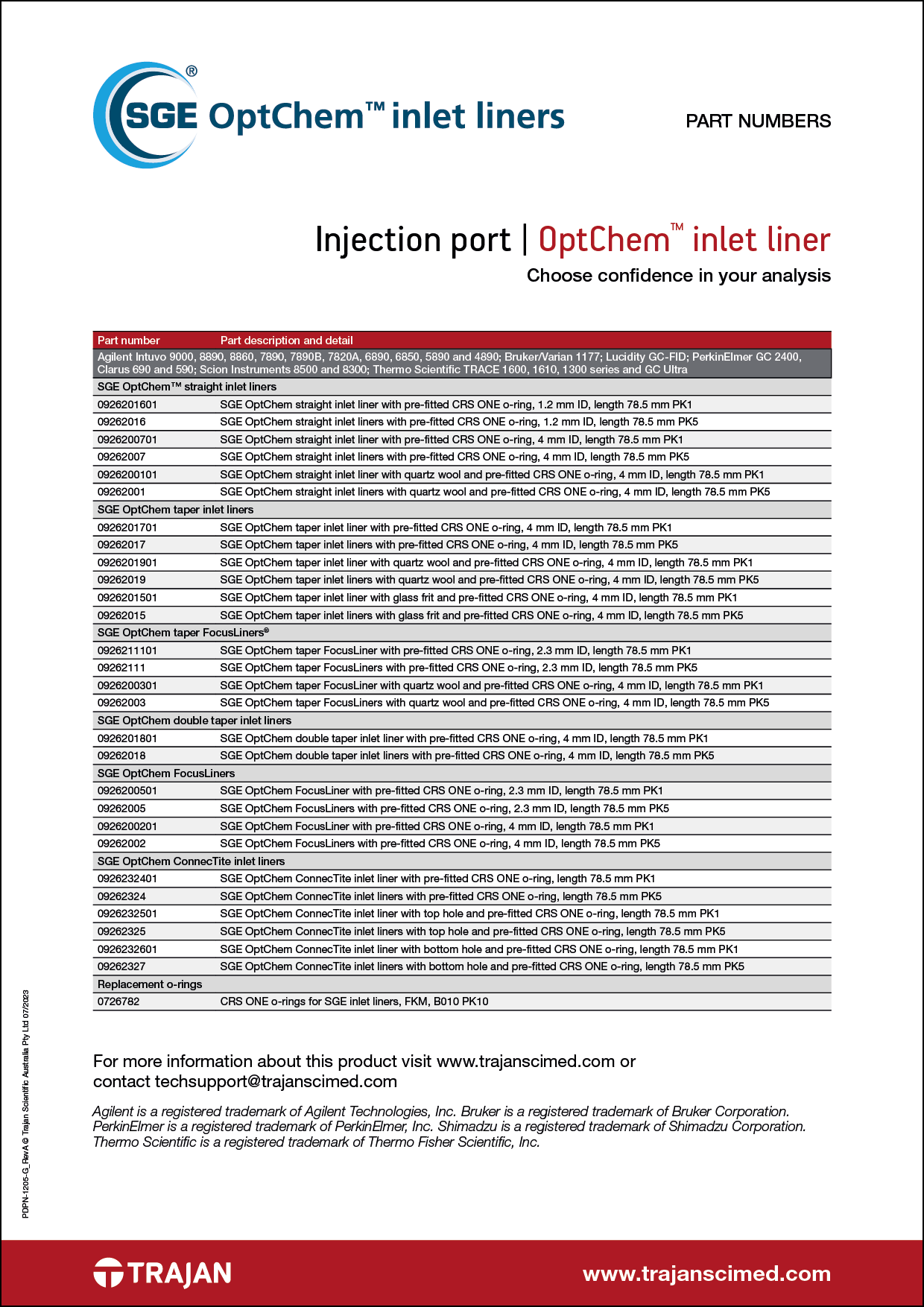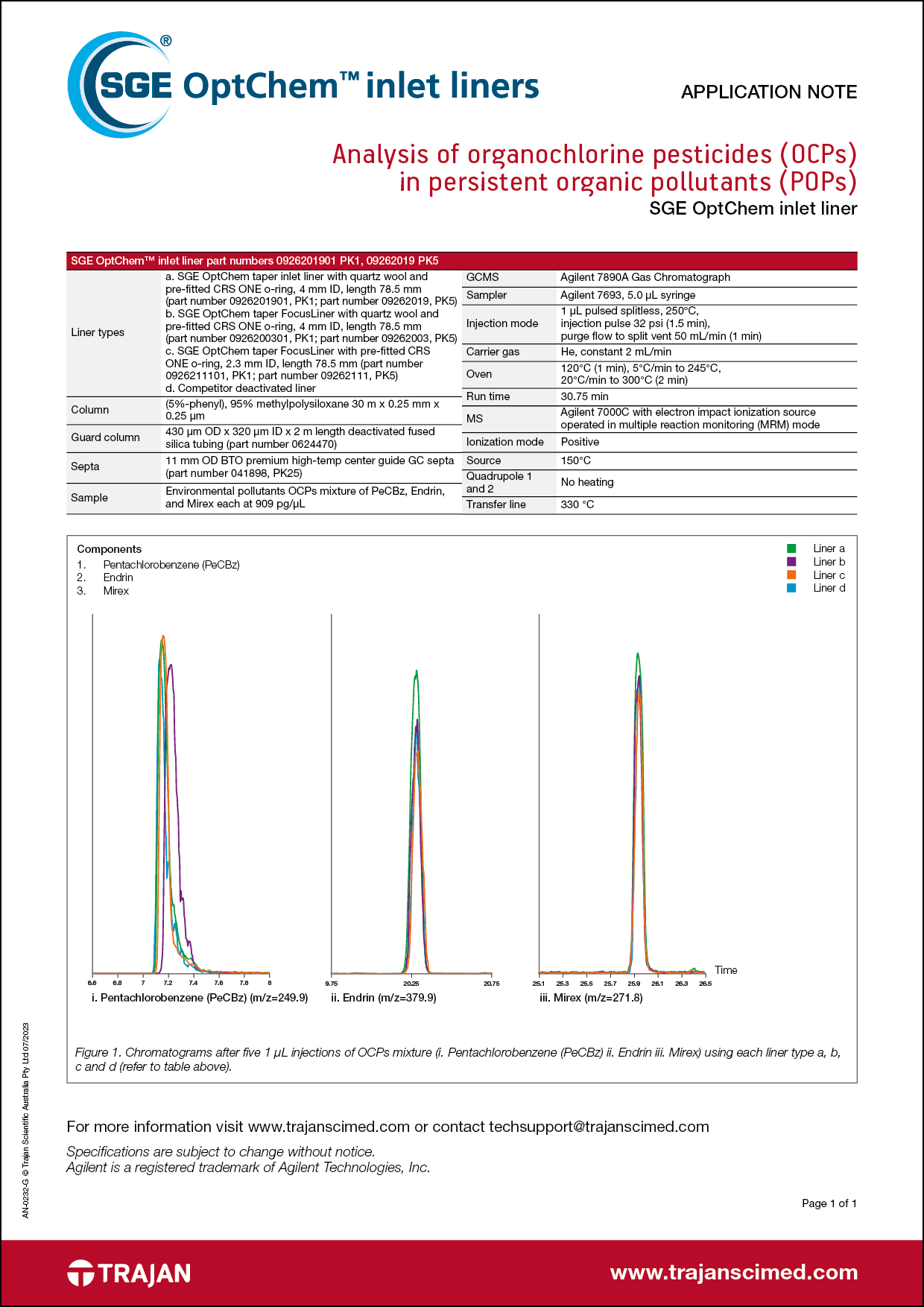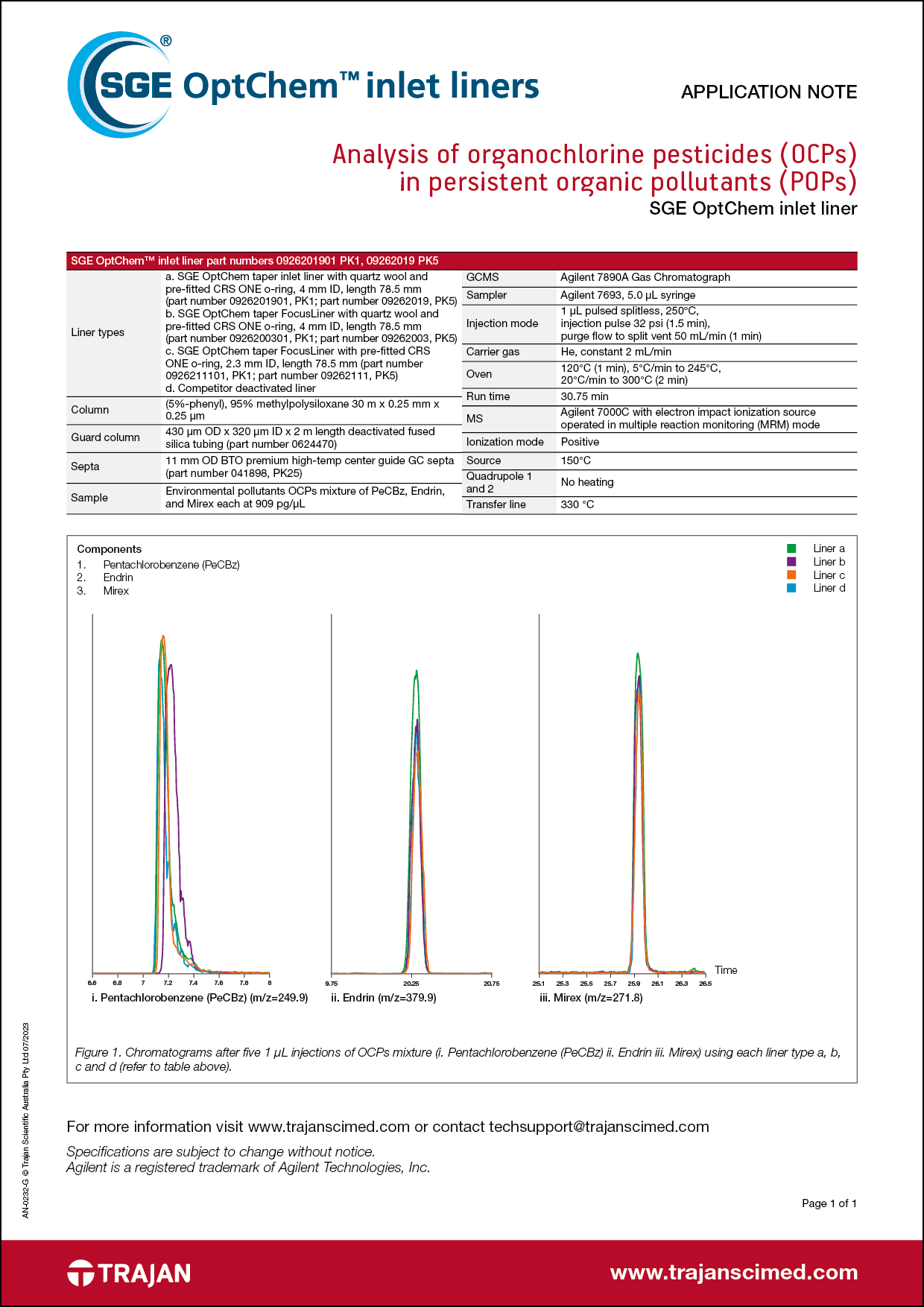 Application Note - Analysis of organochlorine pesticides (OCPs) in persistent organic pollutants (POPs)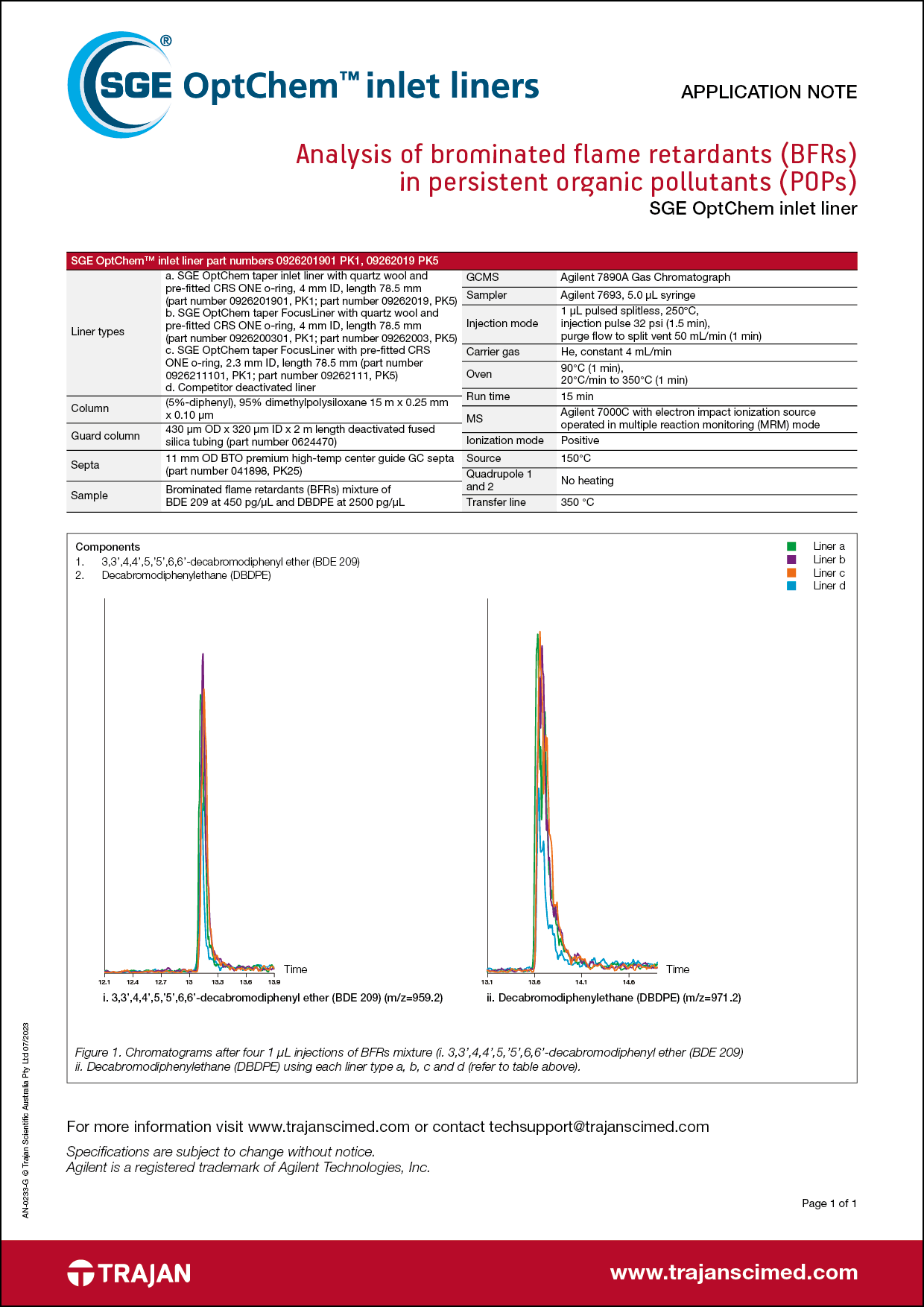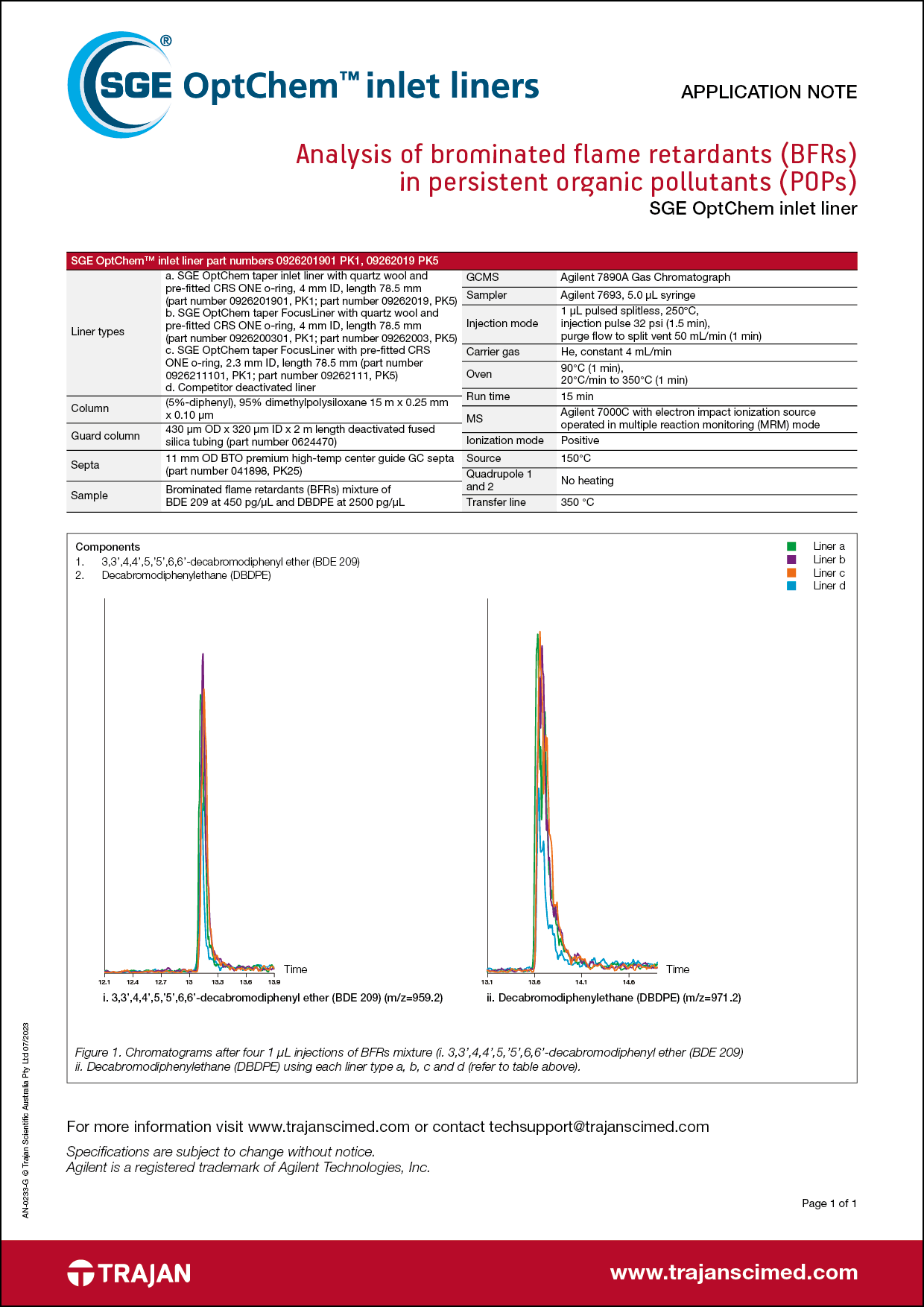 Application Note - Analysis of brominated flame retardants (BFRs) in persistent organic pollutants (POPs)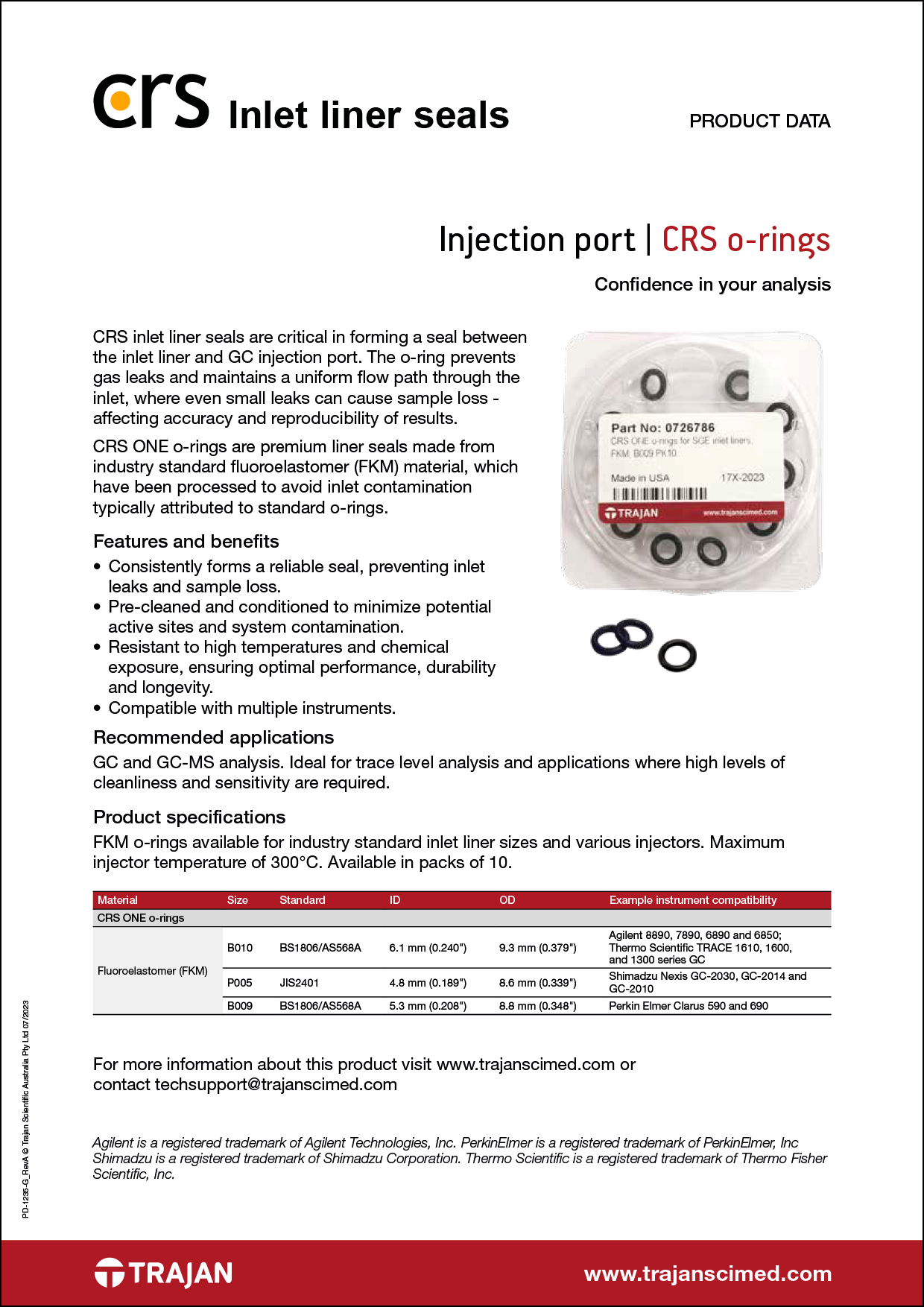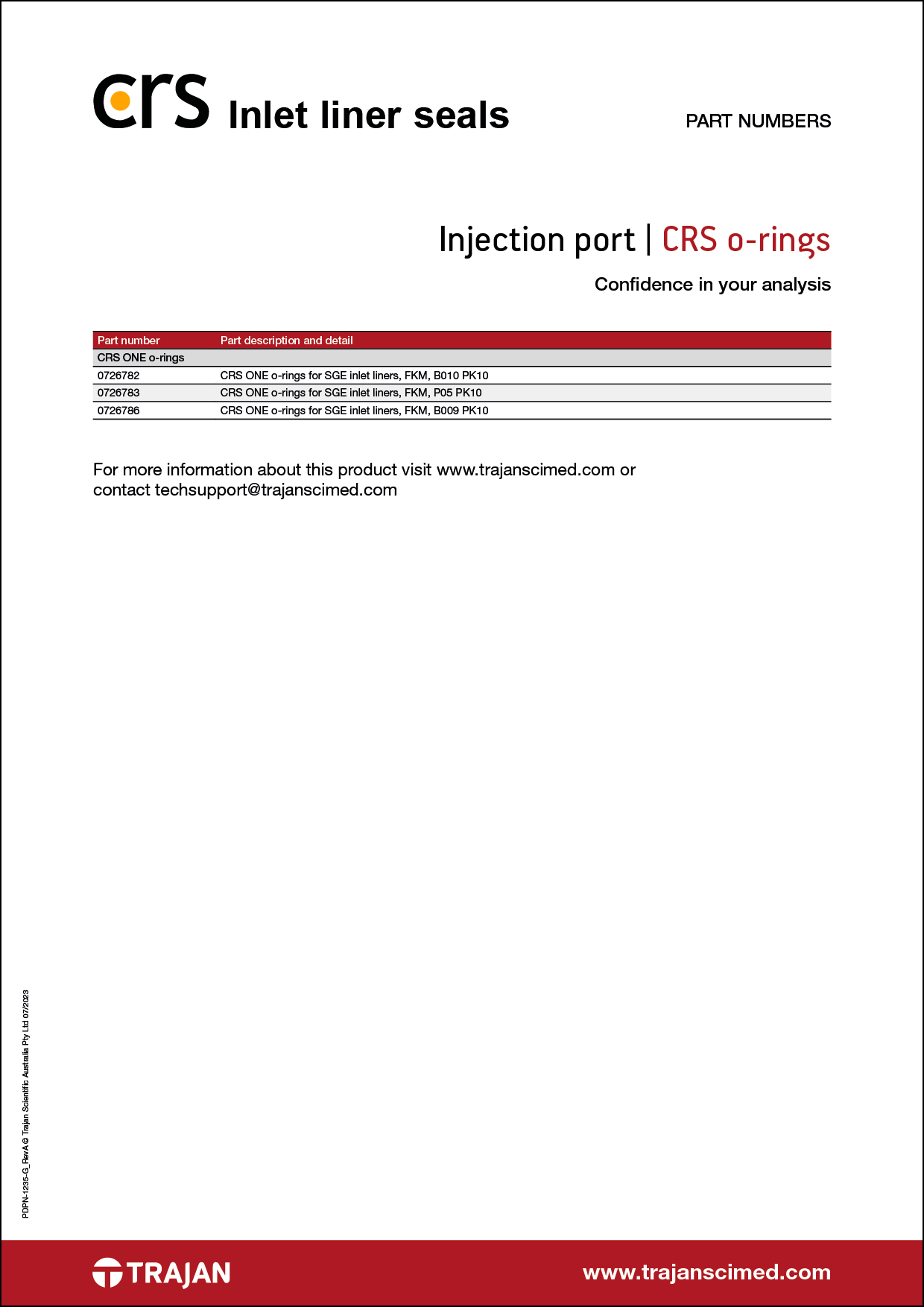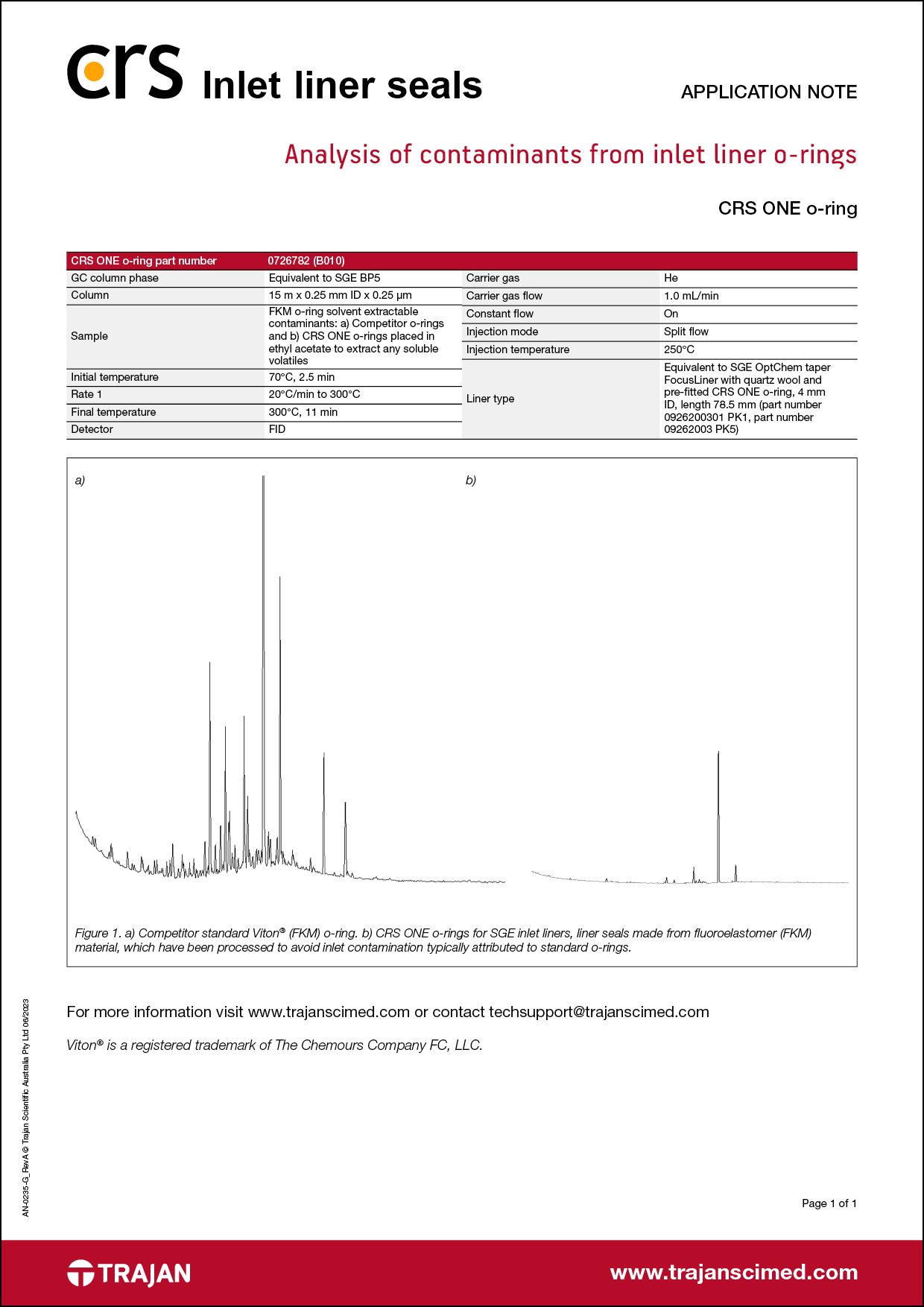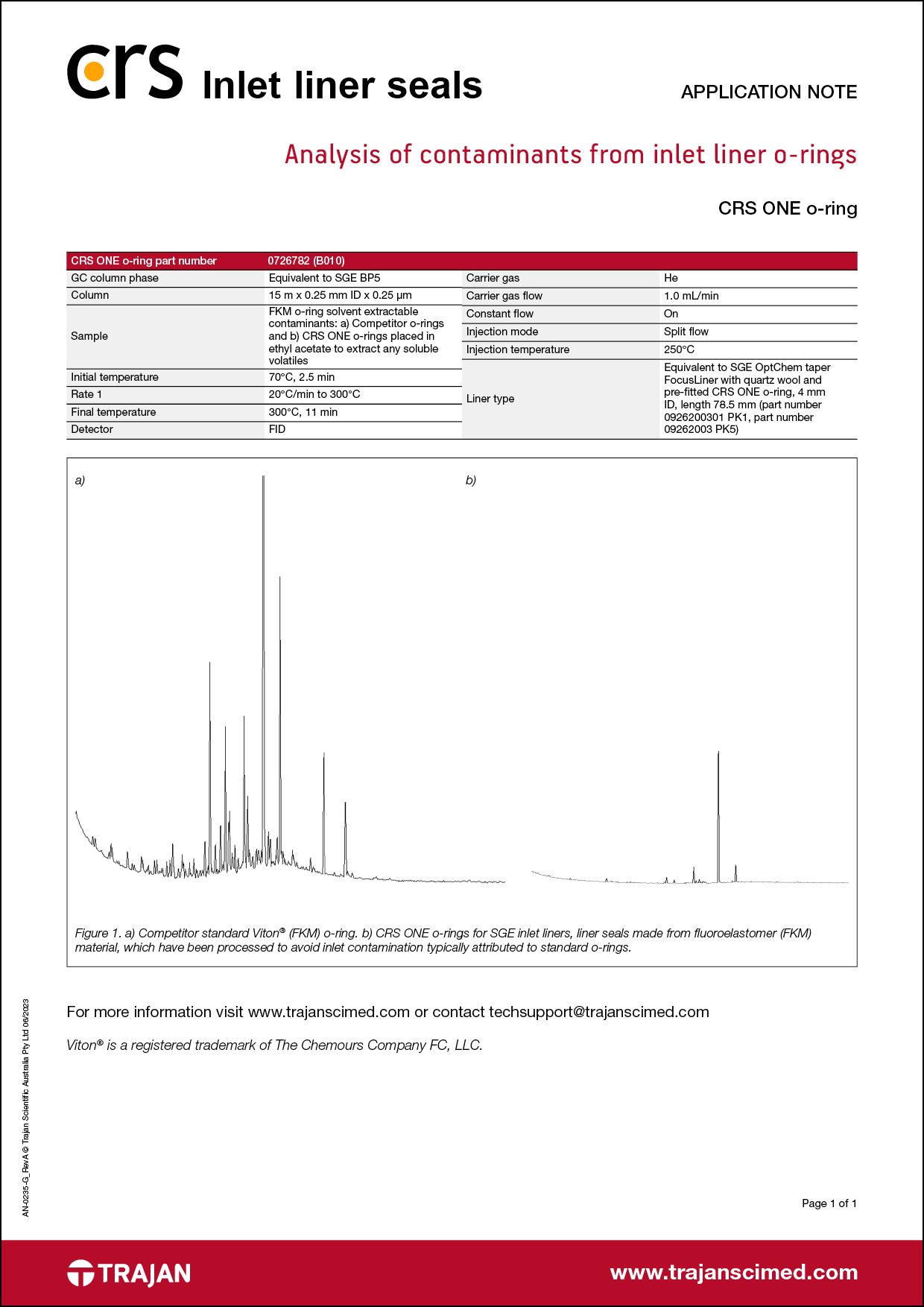 Application Note - Analysis of contaminants from inlet liner o-rings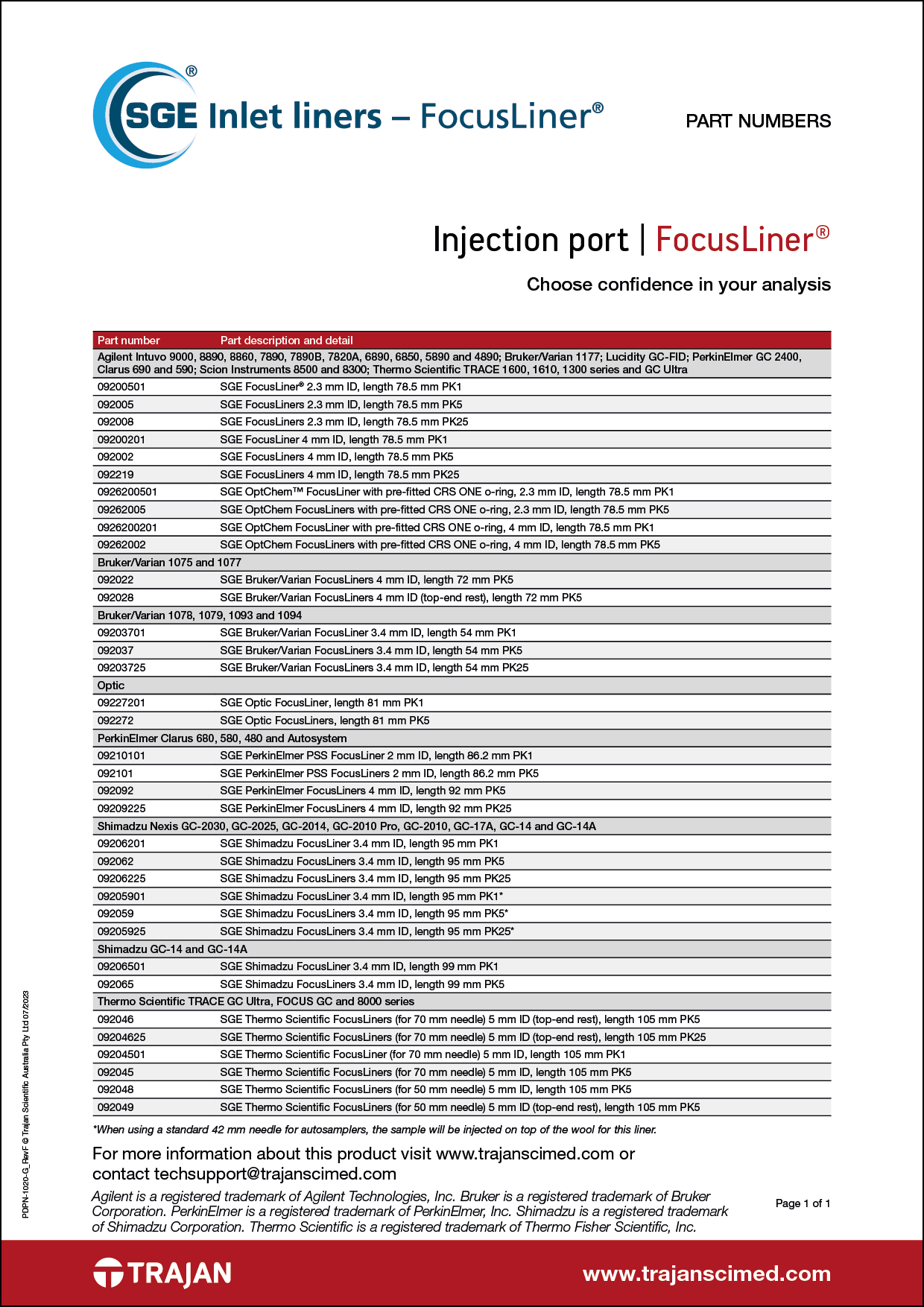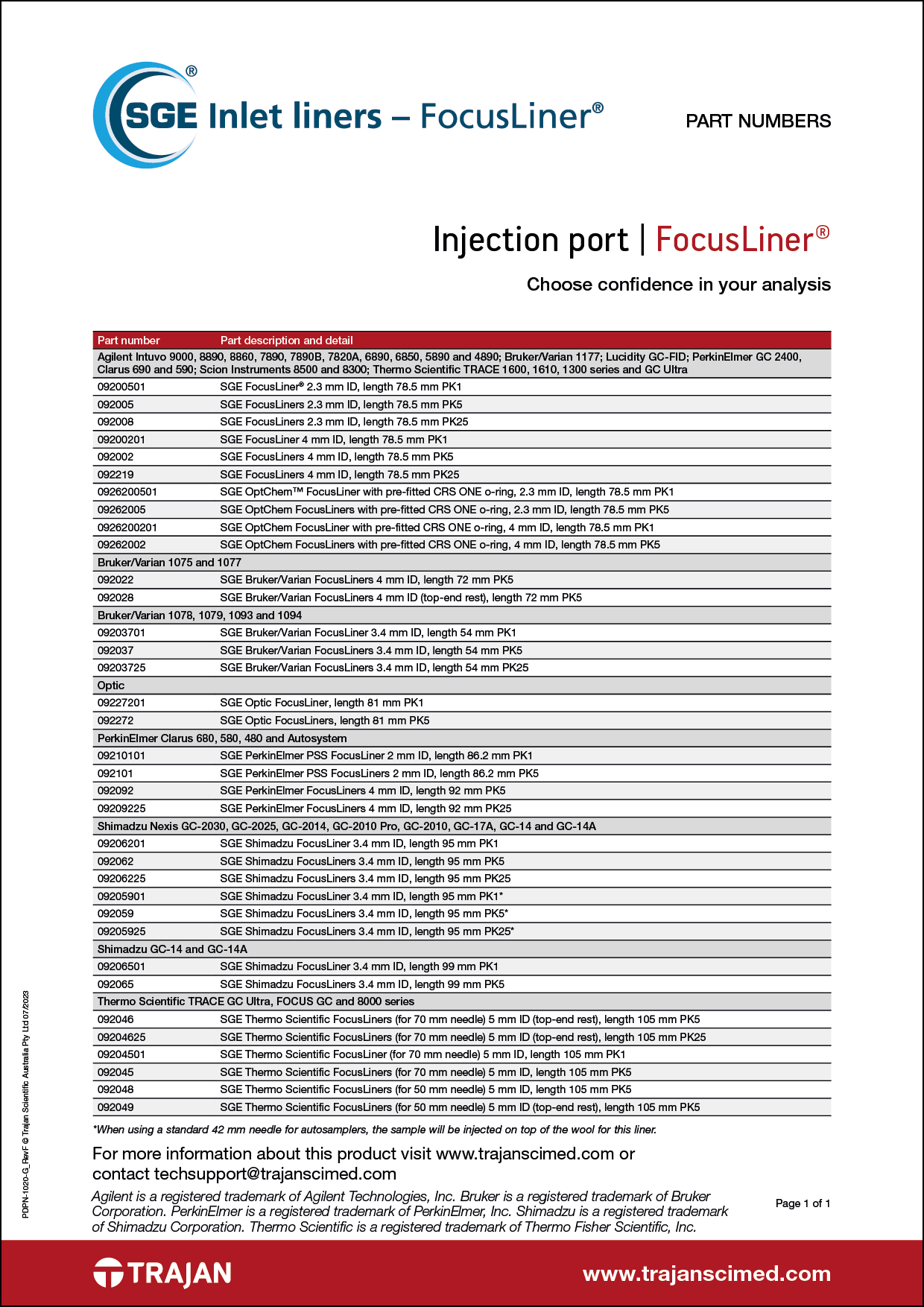 Part Number List - SGE FocusLiners
Collections: Agilent Technologies, All, Analytical, Literature - All, Literature - Analytical, Part Number Lists, PerkinElmer, Select by instrument - Analytical, SGE OptChem inlet liners, Shimadzu, Shimadzu GC 2010, Shimadzu GC 2010/17A, Support items, Thermo Scientific, Thermo Scientific TRACE 1300 GC, Thermo Scientific TRACE 1300 Series GC, Varian/Bruker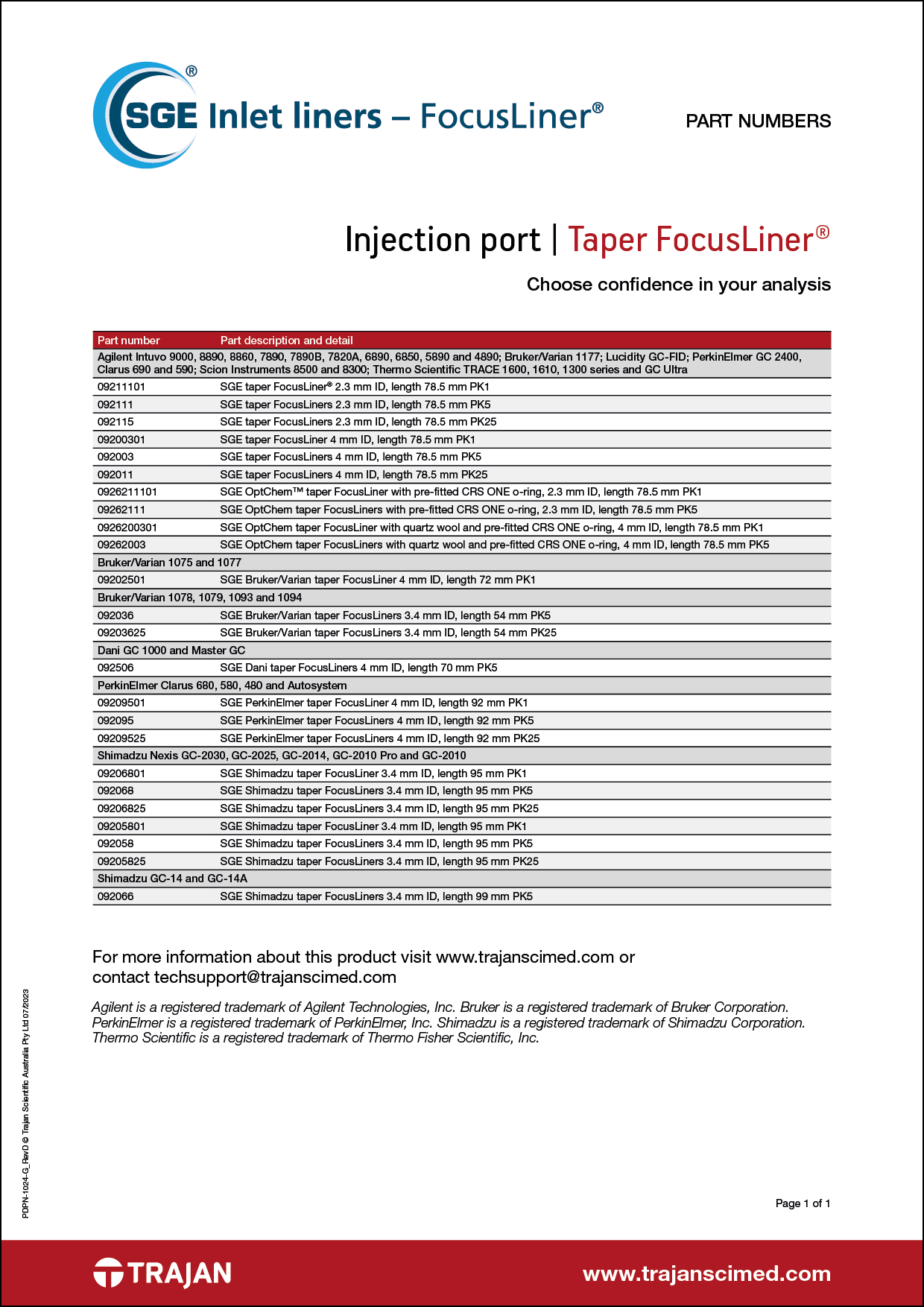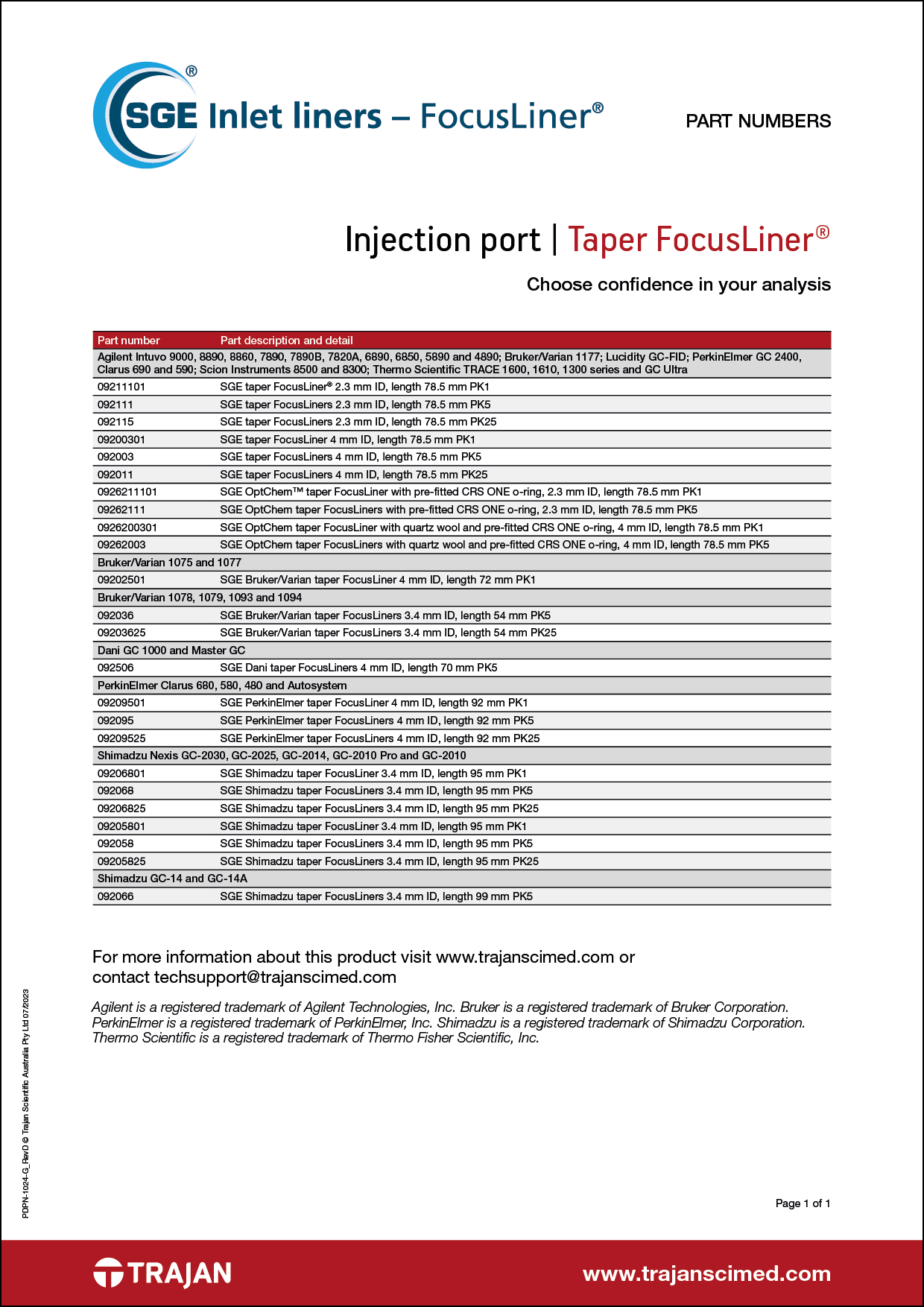 Part Number List - SGE taper FocusLiners
Collections: Agilent Technologies, All, Analytical, Literature - All, Literature - Analytical, Part Number Lists, PerkinElmer, Select by instrument - Analytical, SGE OptChem inlet liners, Shimadzu, Support items, Thermo Scientific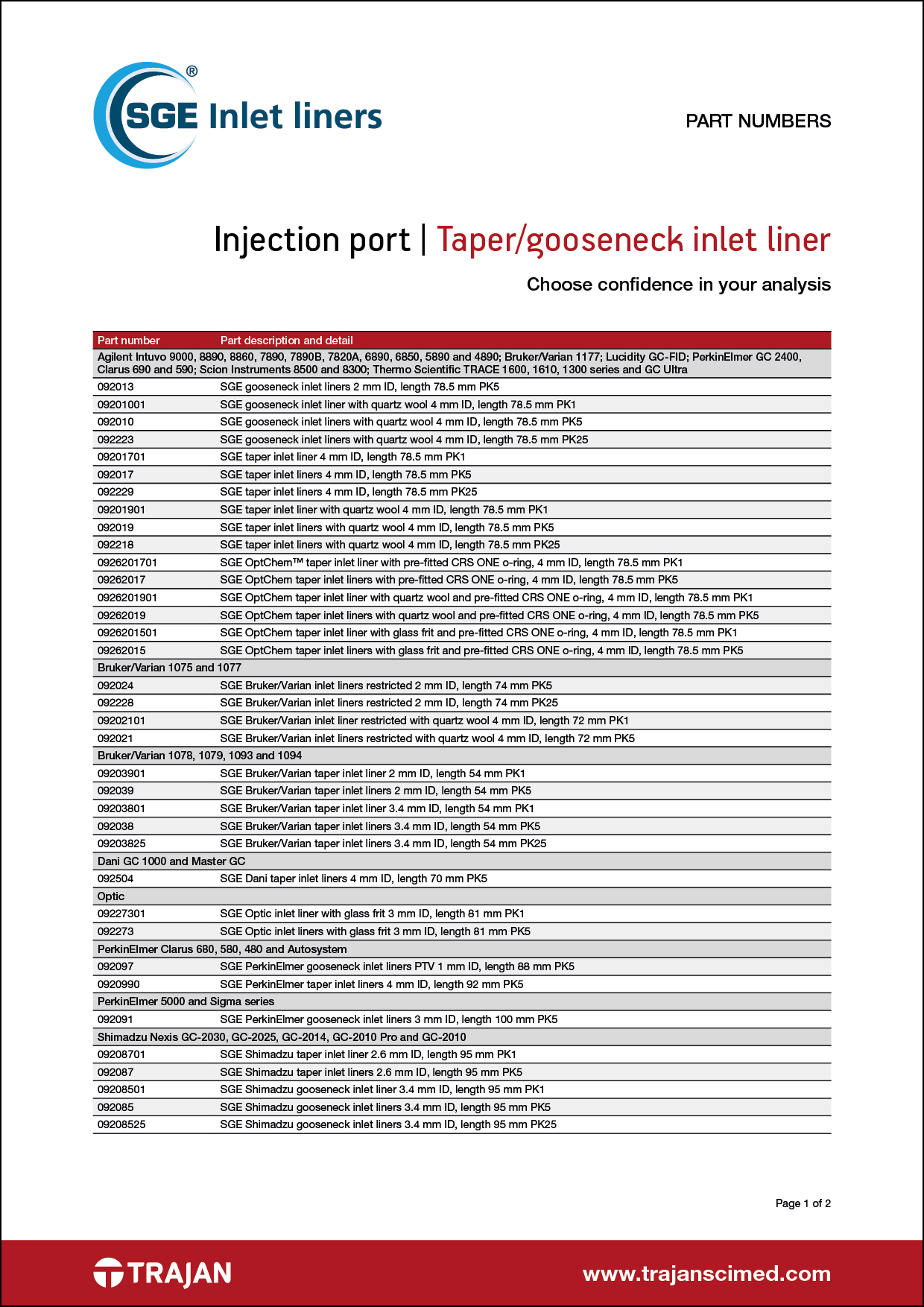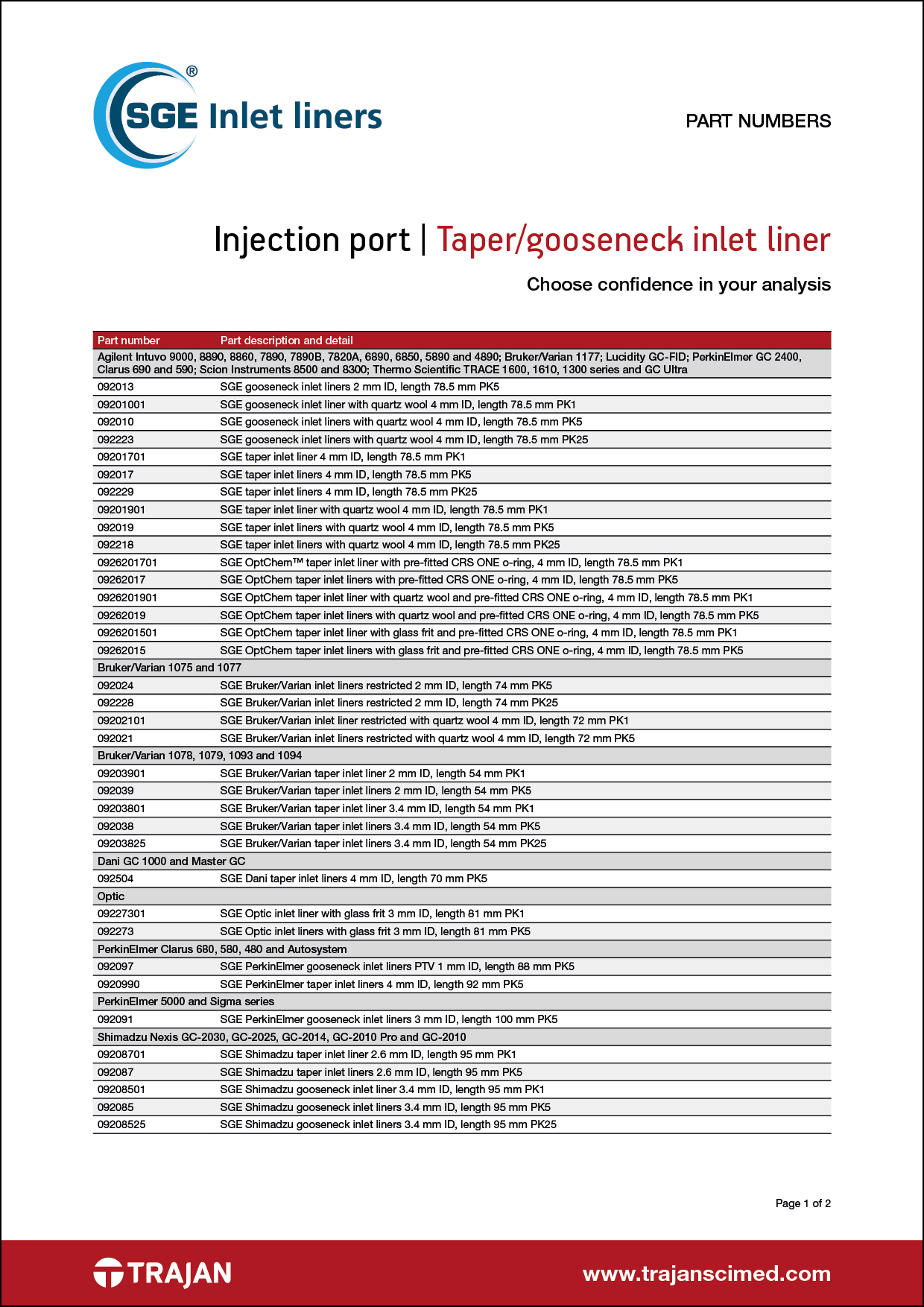 Part Number List - SGE taper/gooseneck inlet liners
Collections: Agilent Technologies, All, Analytical, Literature - All, Literature - Analytical, Part Number Lists, PerkinElmer, Select by instrument - Analytical, SGE OptChem inlet liners, Shimadzu, Support items, Thermo Scientific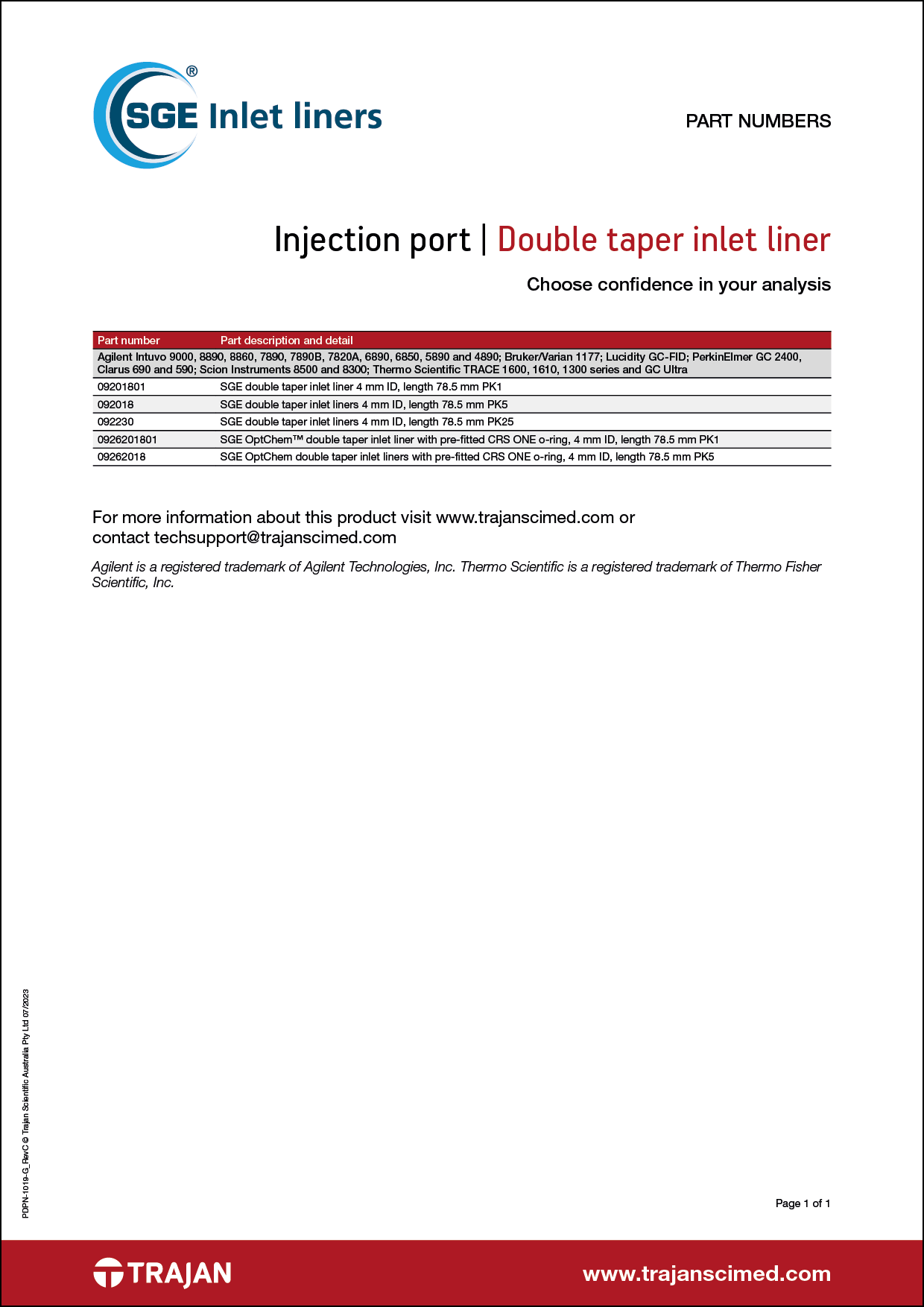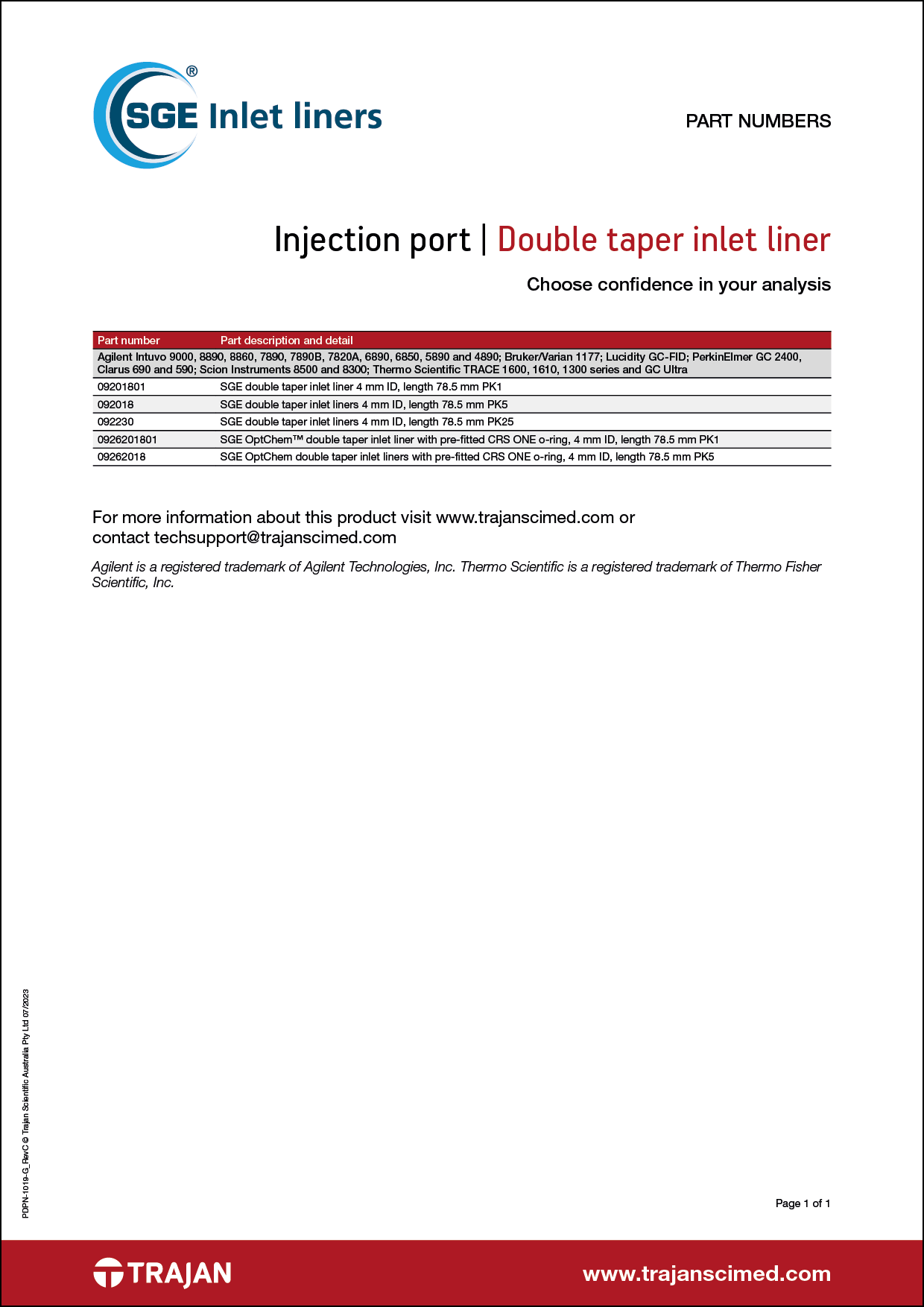 Part Number List - SGE double taper inlet liners
Collections: Agilent Technologies, All, Analytical, Literature - All, Literature - Analytical, Part Number Lists, PerkinElmer, Select by instrument - Analytical, SGE OptChem inlet liners, Shimadzu, Support items, Thermo Scientific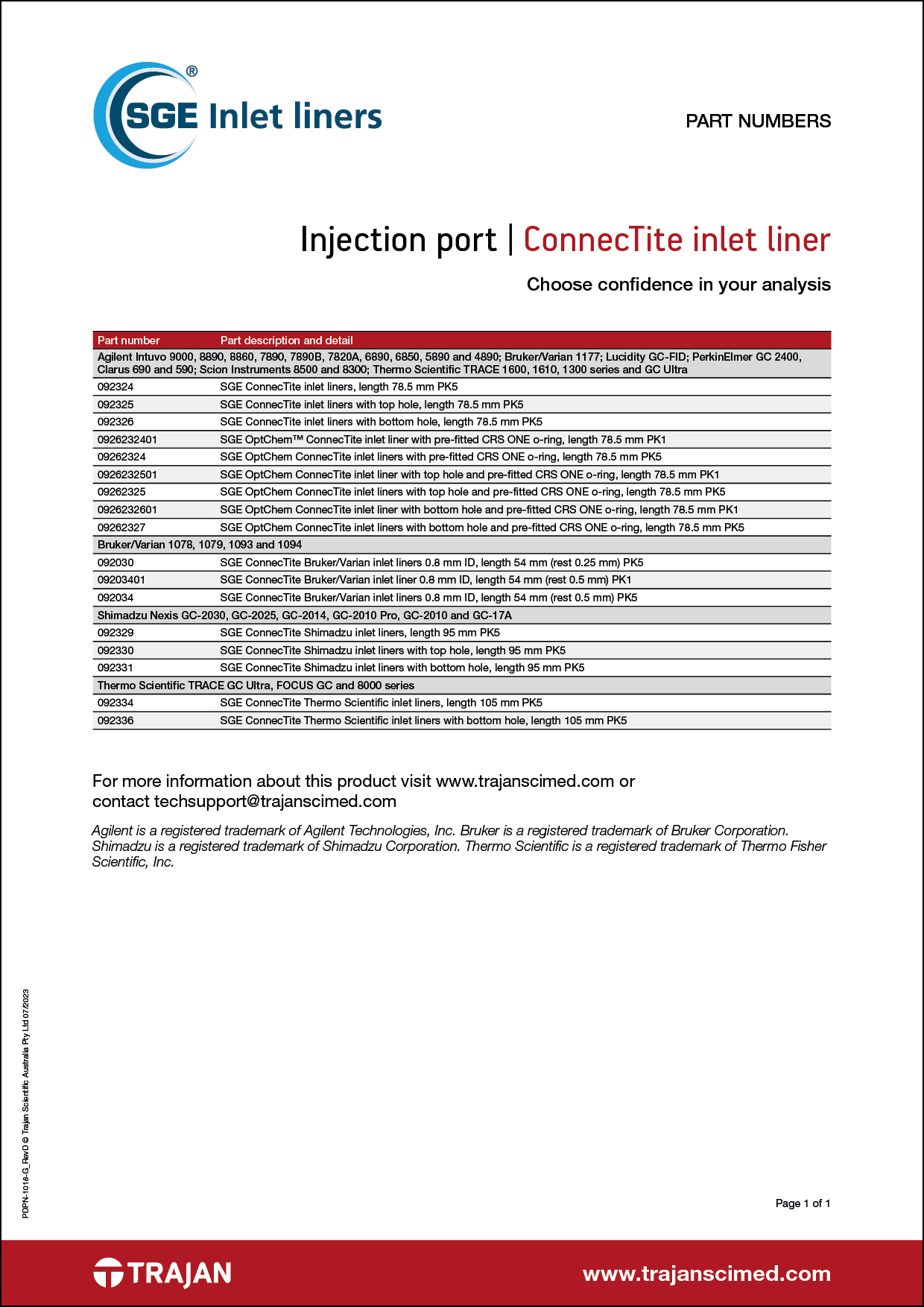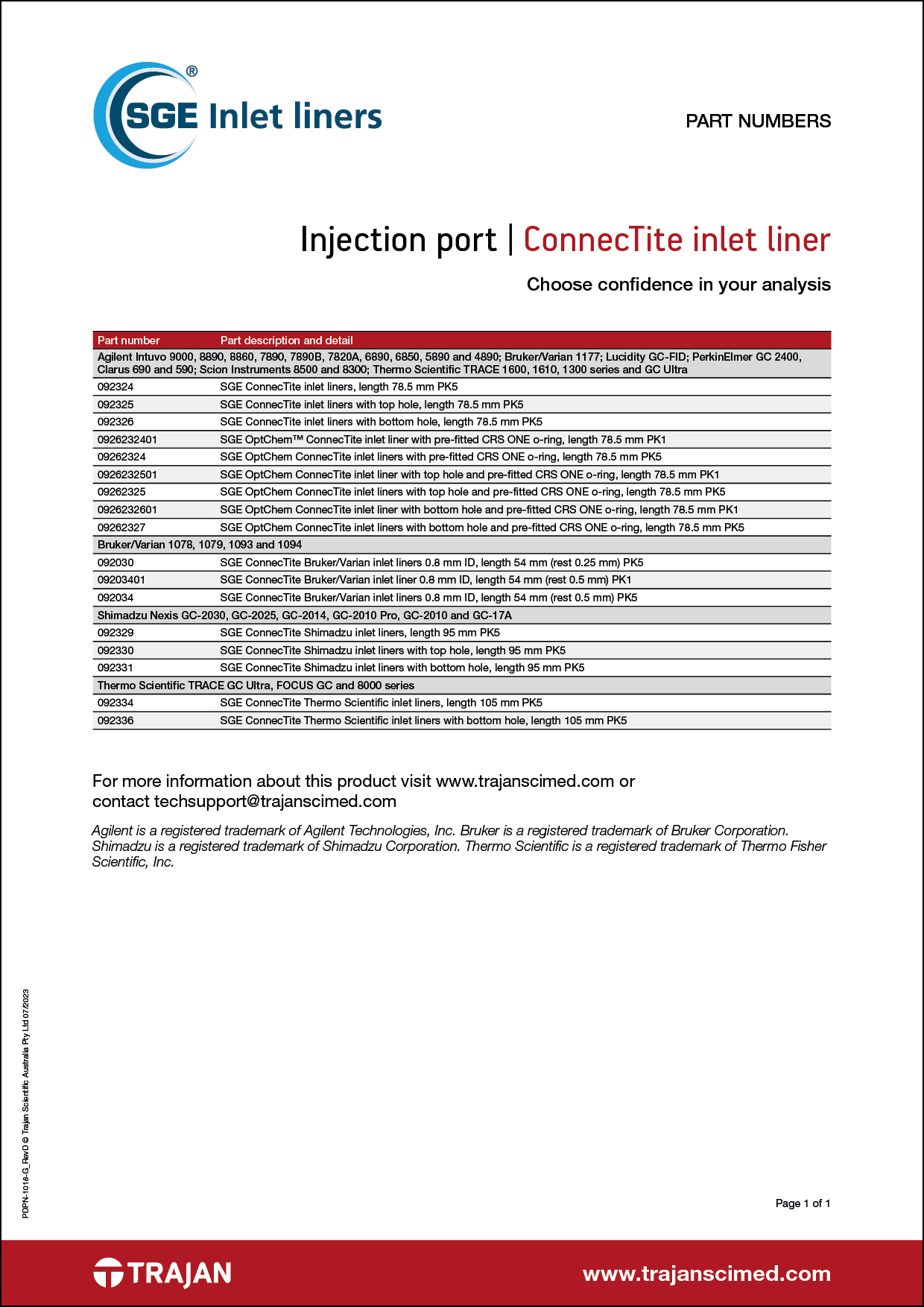 Part Number List - SGE ConnecTite inlet liners
Collections: Agilent Technologies, All, Analytical, Literature - All, Literature - Analytical, Part Number Lists, PerkinElmer, Select by instrument - Analytical, SGE OptChem inlet liners, Shimadzu, Support items, Thermo Scientific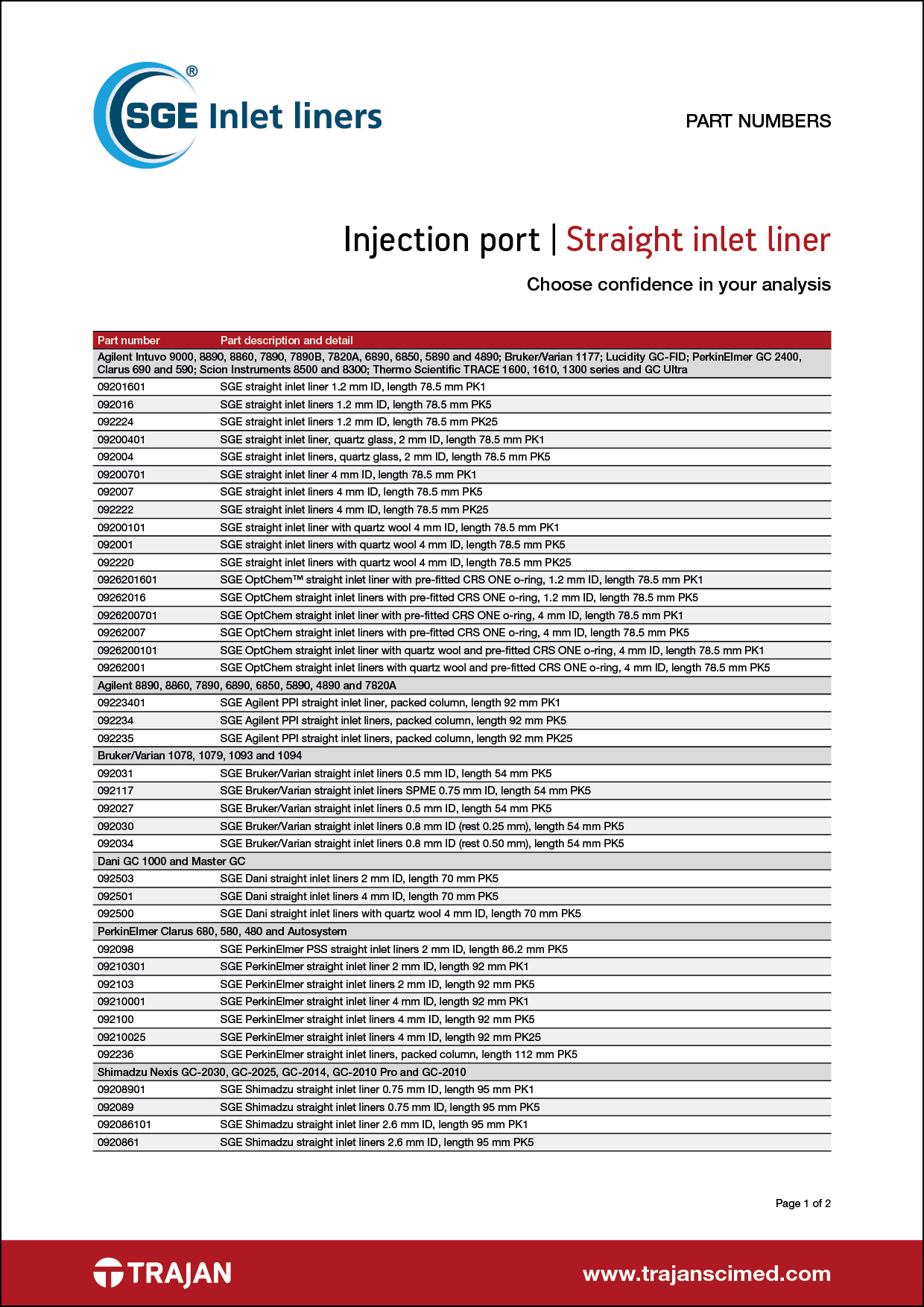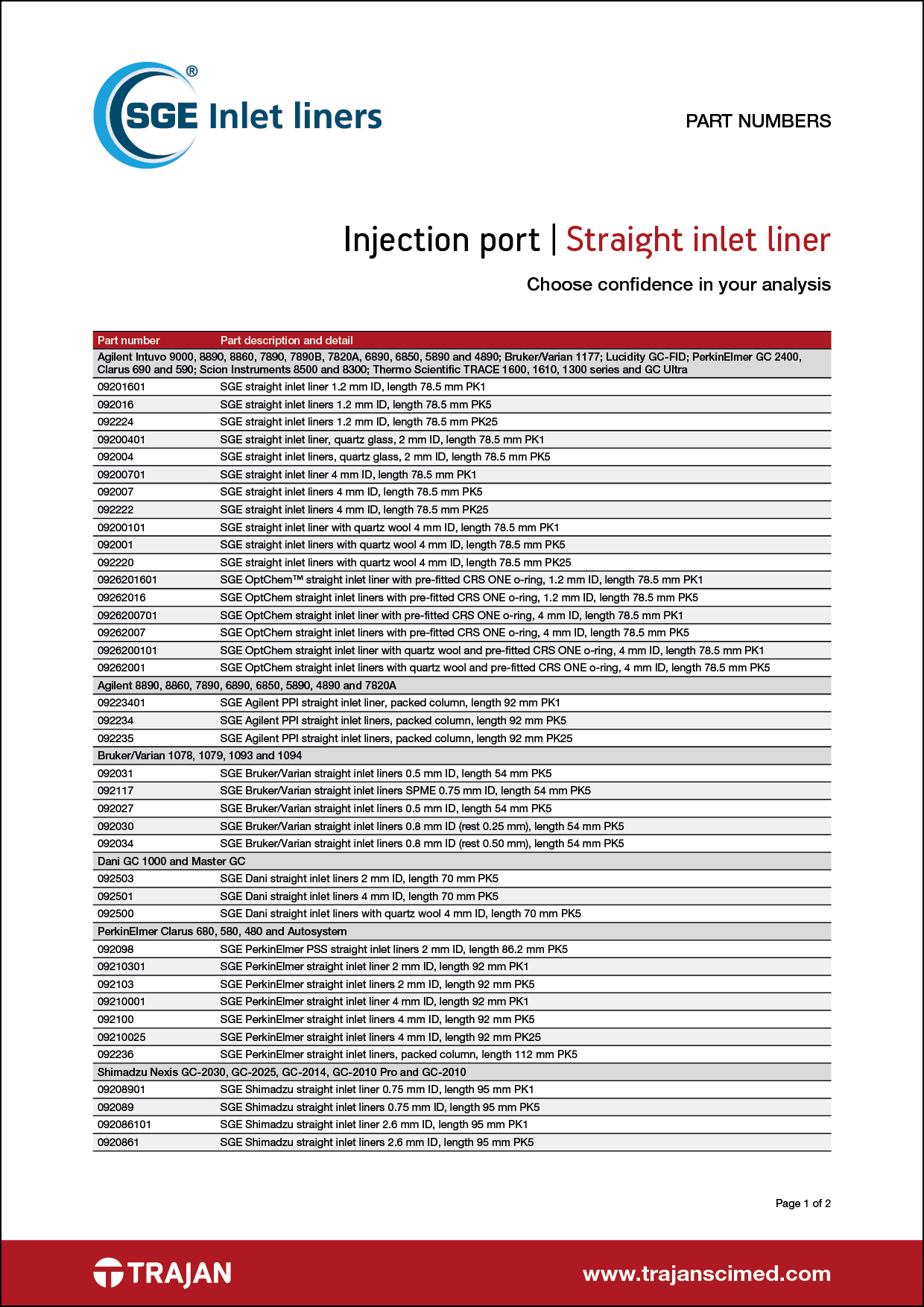 Part Number List - SGE straight inlet liners
Collections: Agilent Technologies, All, Analytical, Literature - All, Literature - Analytical, Part Number Lists, PerkinElmer, Select by instrument - Analytical, SGE OptChem inlet liners, Shimadzu, Support items, Thermo Scientific