Designed for specific contaminant removal to deliver quality output purity levels
Trajan Scientific and Medical manufactures the CRS gas purifier and filter product range. CRS gas purifiers ensure the quality of gas being used in your instrumentation, and reliably provide high purity gas, removing contaminants so your analysis is not compromised.
Our experience in gas management means we can work with you to find the best CRS gas purifier or filter for your specific needs.
All products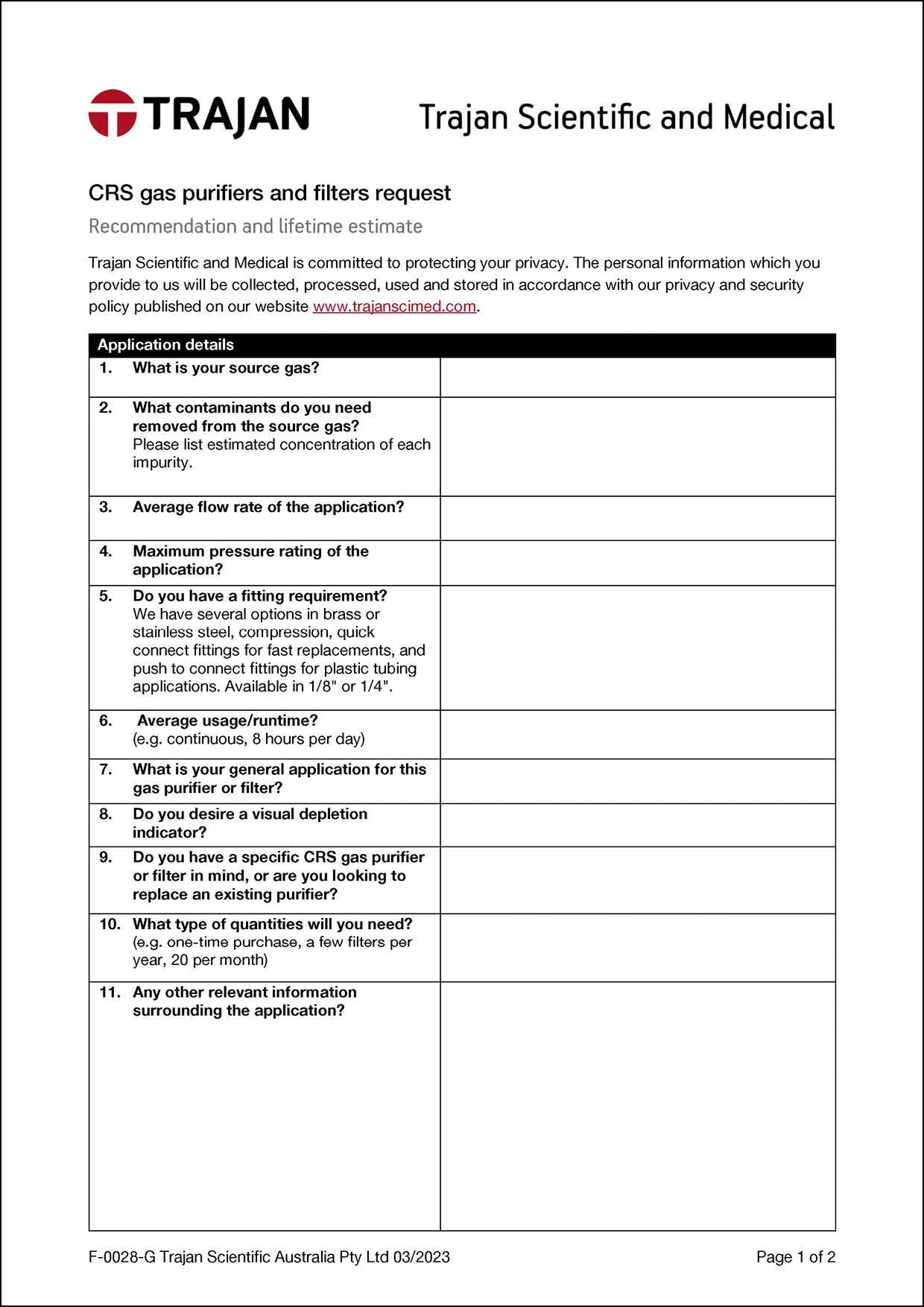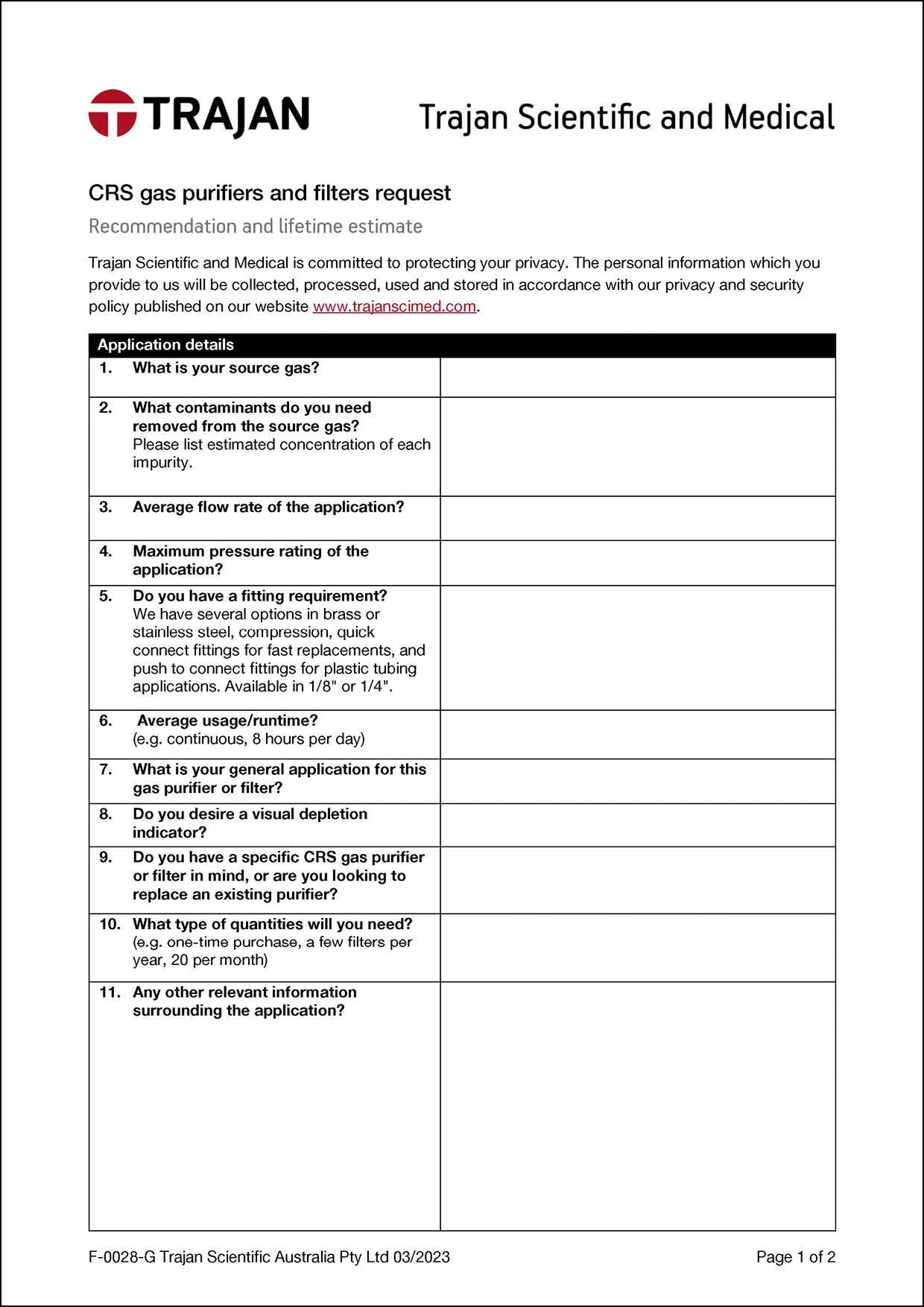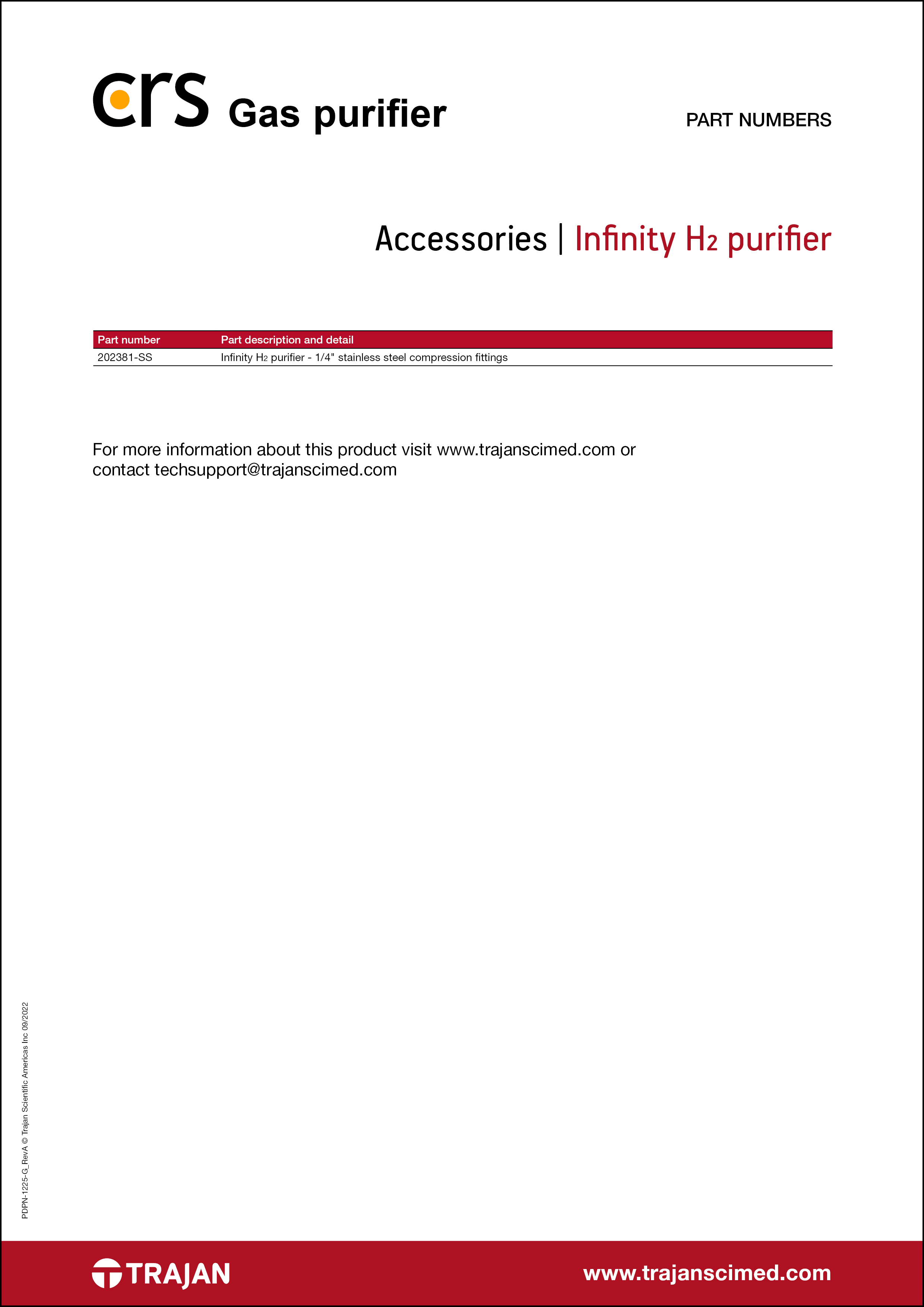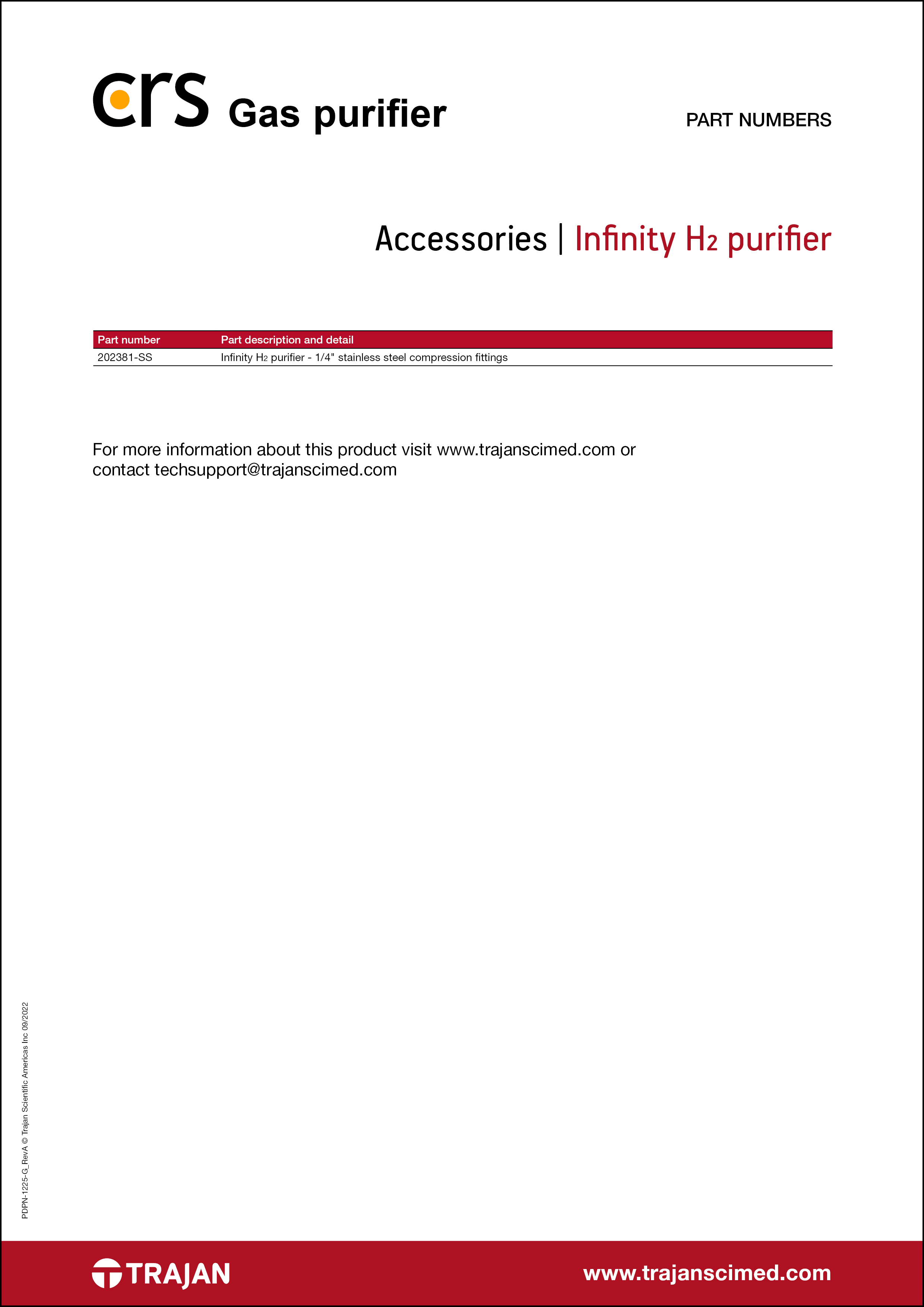 Part Number List - CRS Infinity H2 gas purifier
Collections: All, Analytical, CRS gas purifiers and filters, CRS Infinity H₂ gas purifiers, Introducing the CRS range of products to the Trajan portfolio, Literature - All, Literature - Analytical, Part Number Lists, Select by instrument - Analytical, Support items, Trajan gas filters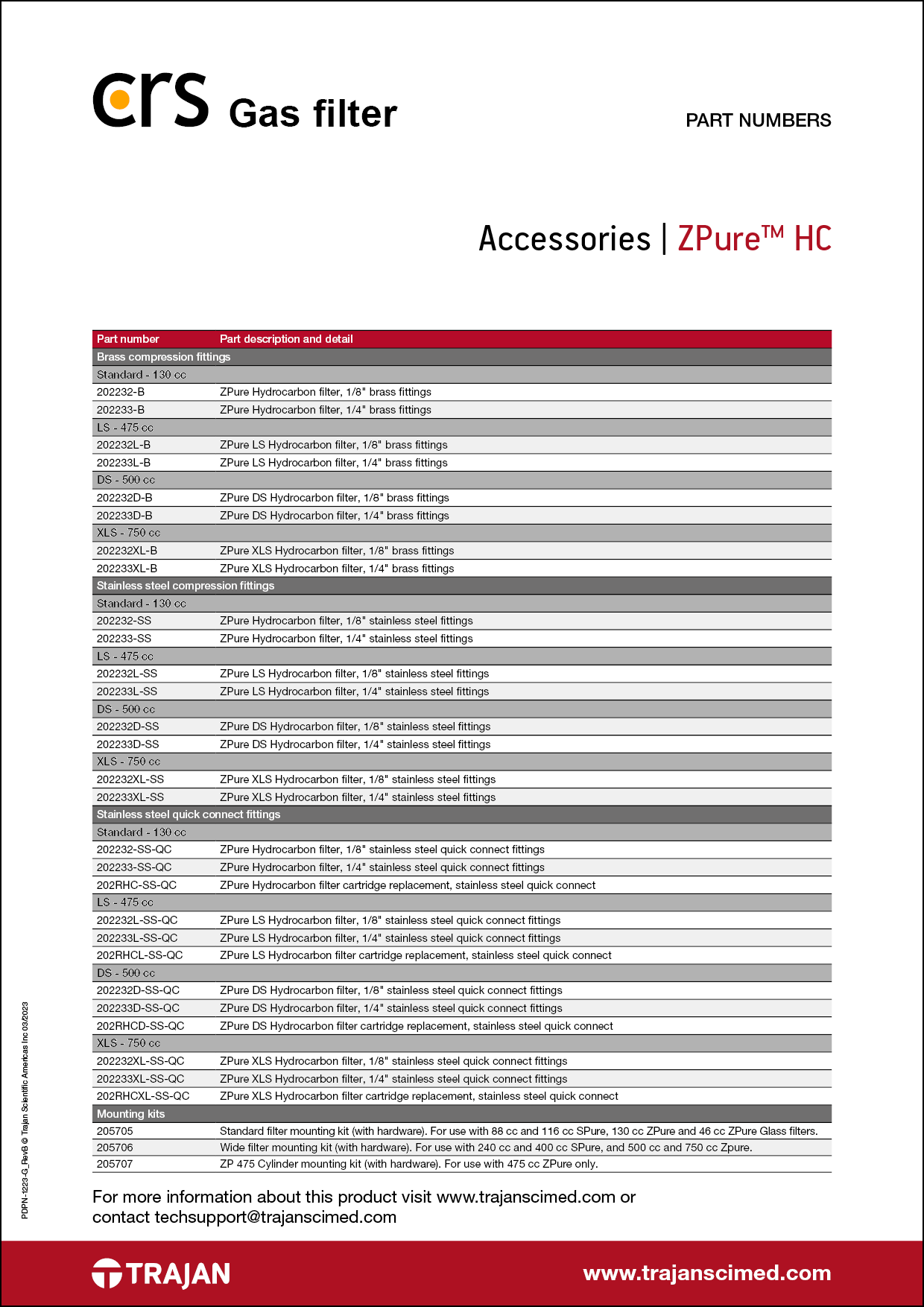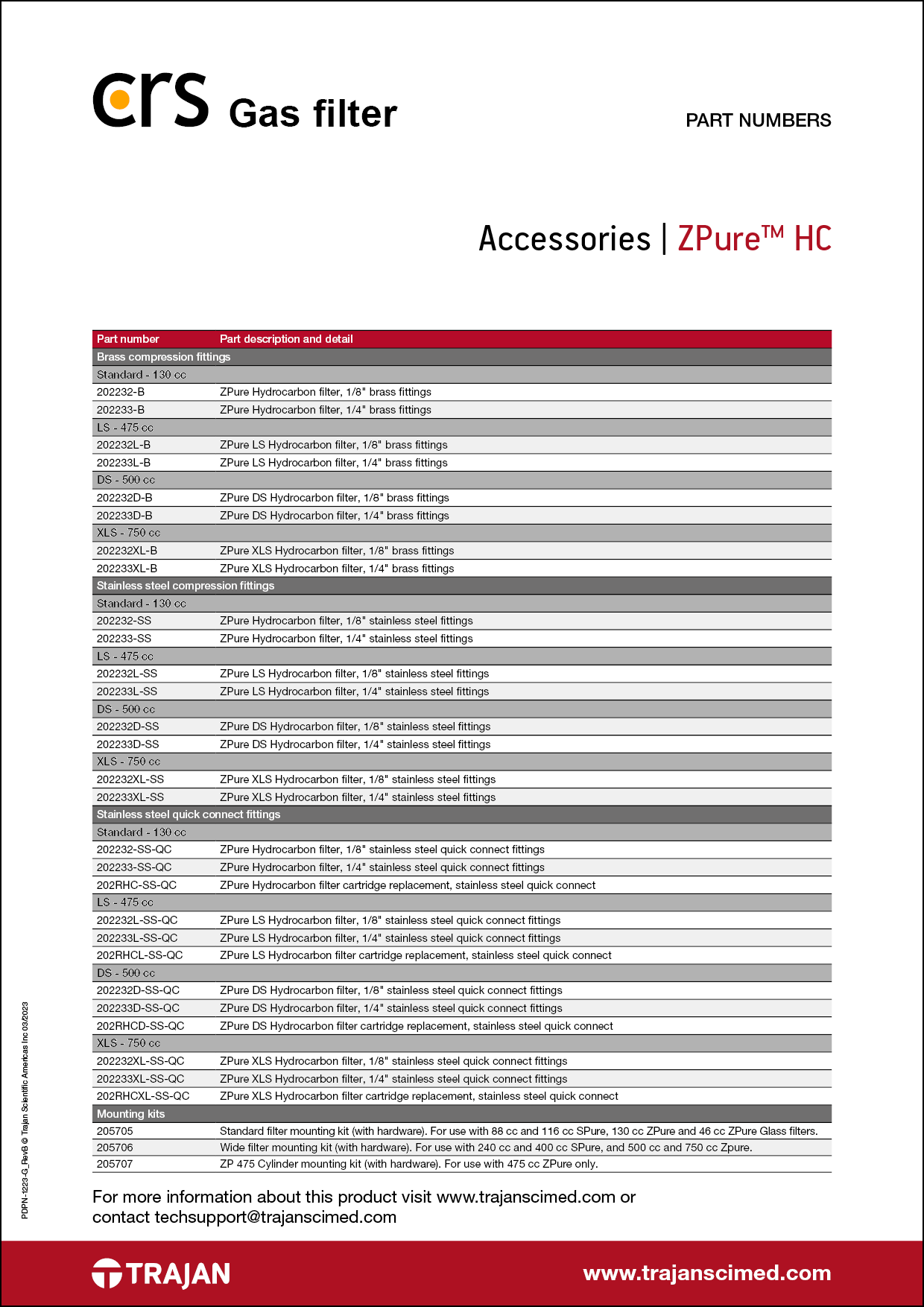 Part Number List - CRS ZPure™ HC (Hydrocarbon) gas filter
Collections: All, Analytical, CRS gas purifiers and filters, CRS ZPure™ HC (Hydrocarbon) gas filters, Introducing the CRS range of products to the Trajan portfolio, Literature - All, Literature - Analytical, Part Number Lists, Select by instrument - Analytical, Support items, Trajan gas filters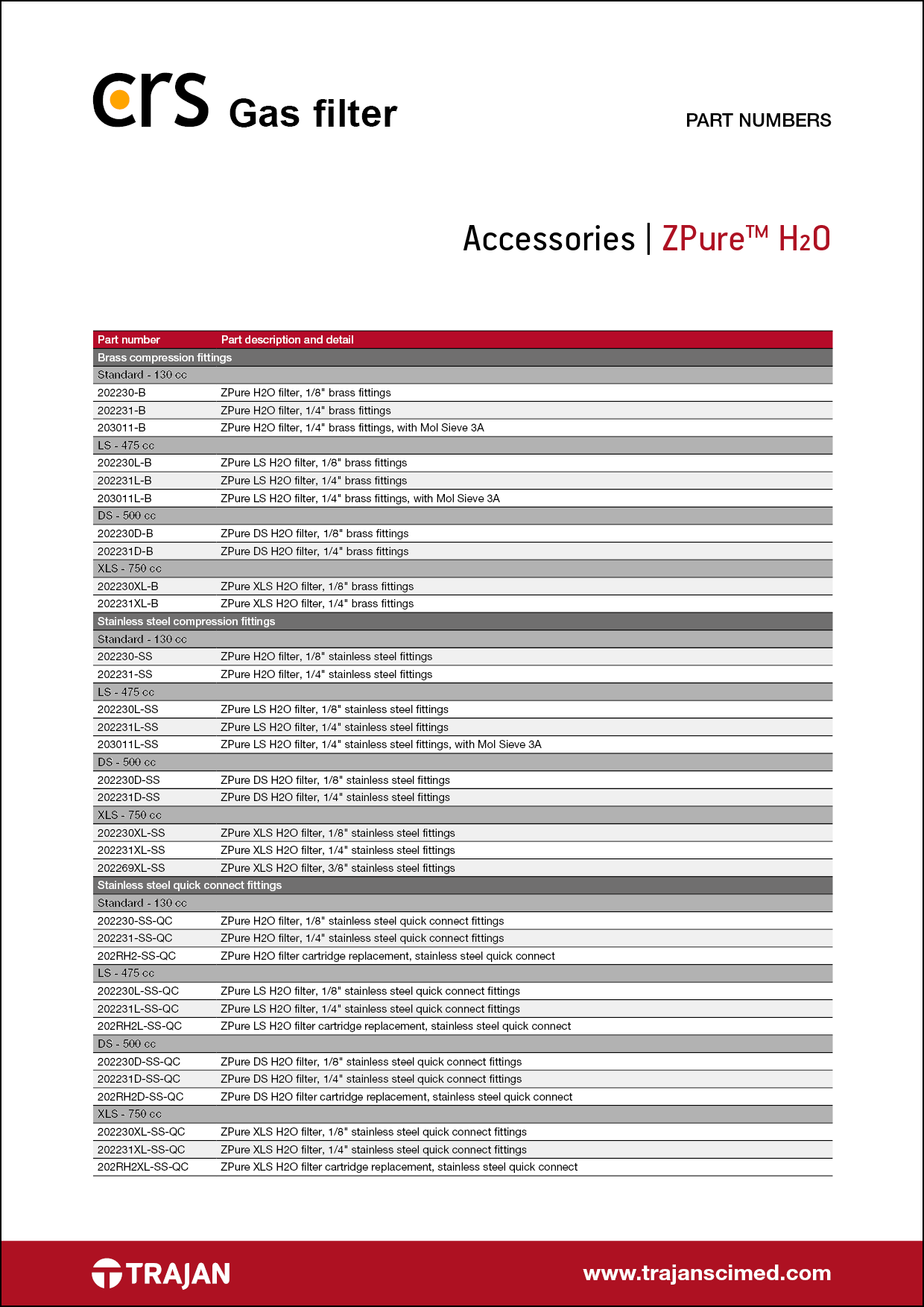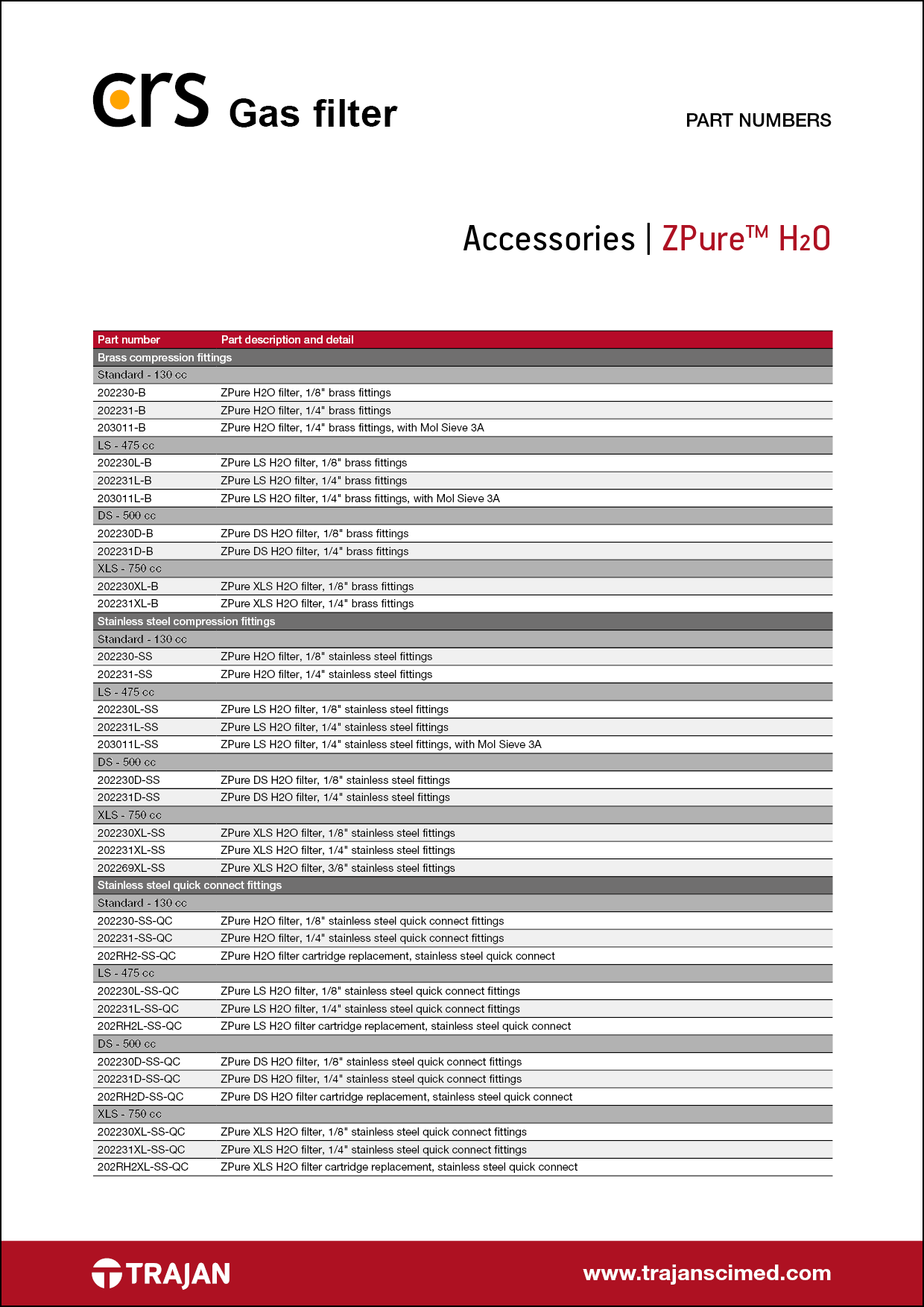 Part Number List - CRS ZPure™ H2O gas filter
Collections: All, Analytical, CRS gas purifiers and filters, CRS ZPure™ H₂O gas filters, Introducing the CRS range of products to the Trajan portfolio, Literature - All, Literature - Analytical, Part Number Lists, Select by instrument - Analytical, Support items, Trajan gas filters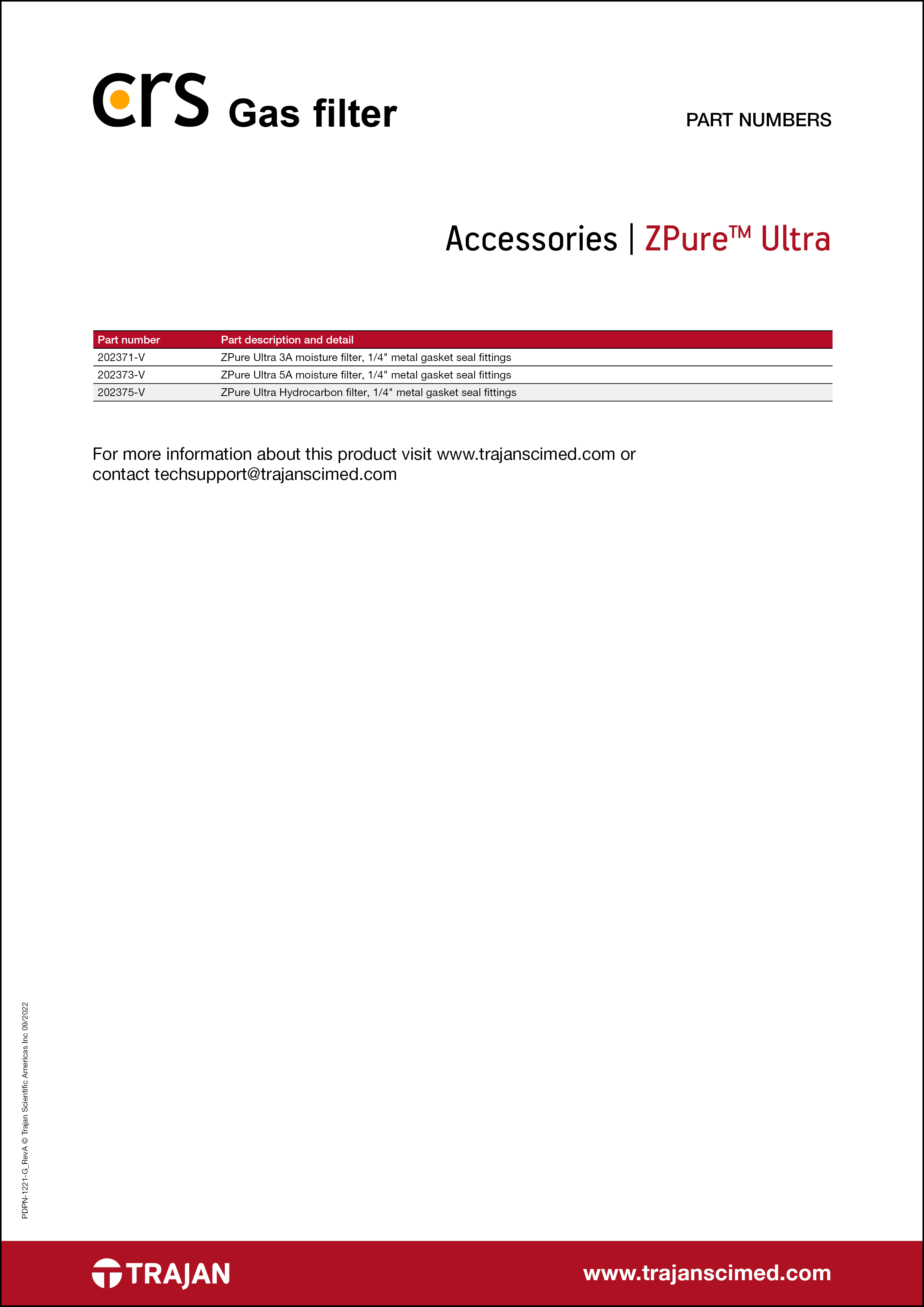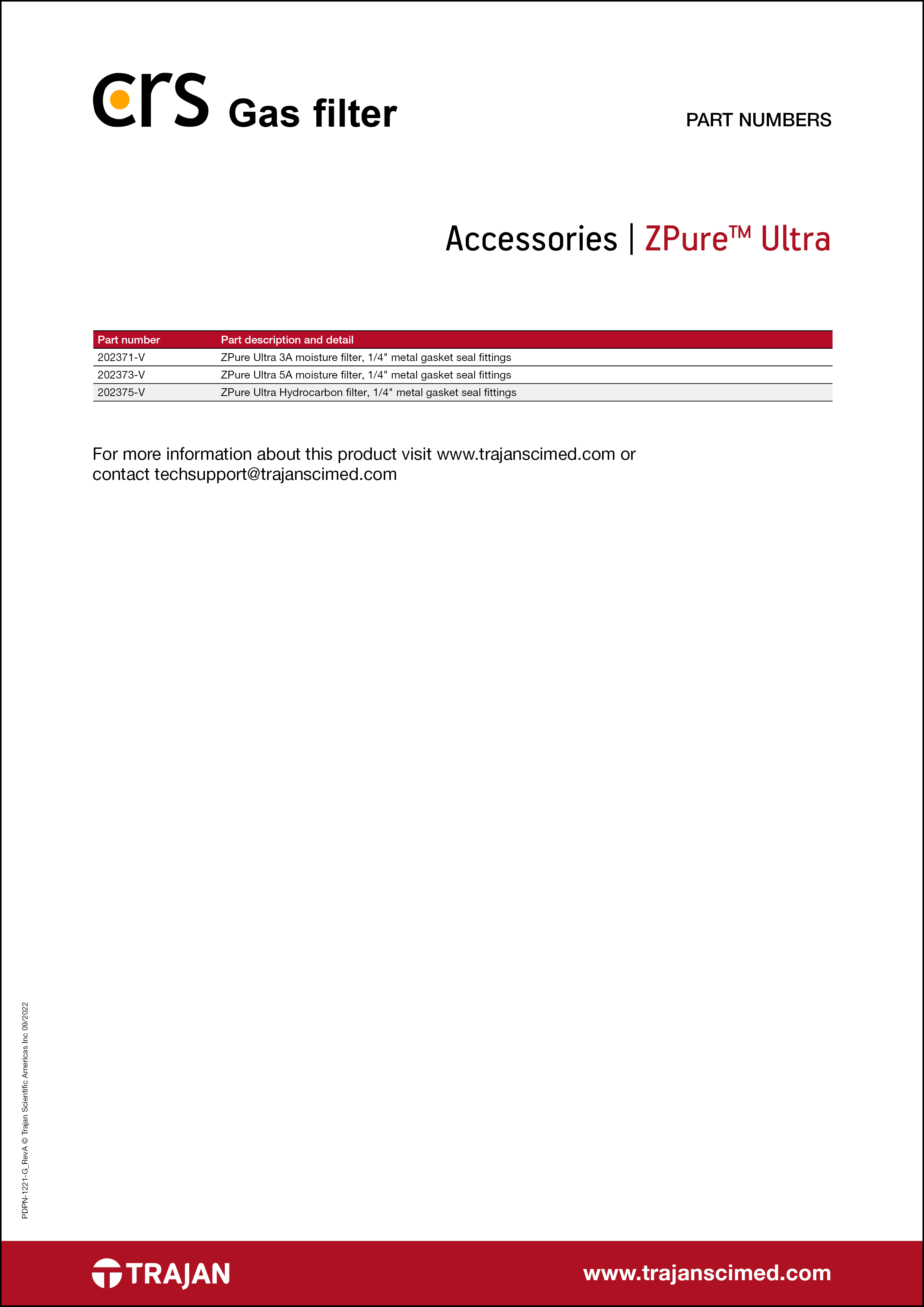 Part Number List - CRS ZPure™ Ultra gas filter
Collections: All, Analytical, CRS gas purifiers and filters, CRS ZPure™ Ultra gas filters, Introducing the CRS range of products to the Trajan portfolio, Literature - All, Literature - Analytical, Part Number Lists, Select by instrument - Analytical, Support items, Trajan gas filters
Part Number List - CRS ZPure™ M gas filter
Collections: All, Analytical, CRS gas purifiers and filters, CRS ZPure™ M gas filters, Introducing the CRS range of products to the Trajan portfolio, Literature - All, Literature - Analytical, Part Number Lists, Select by instrument - Analytical, Support items, Trajan gas filters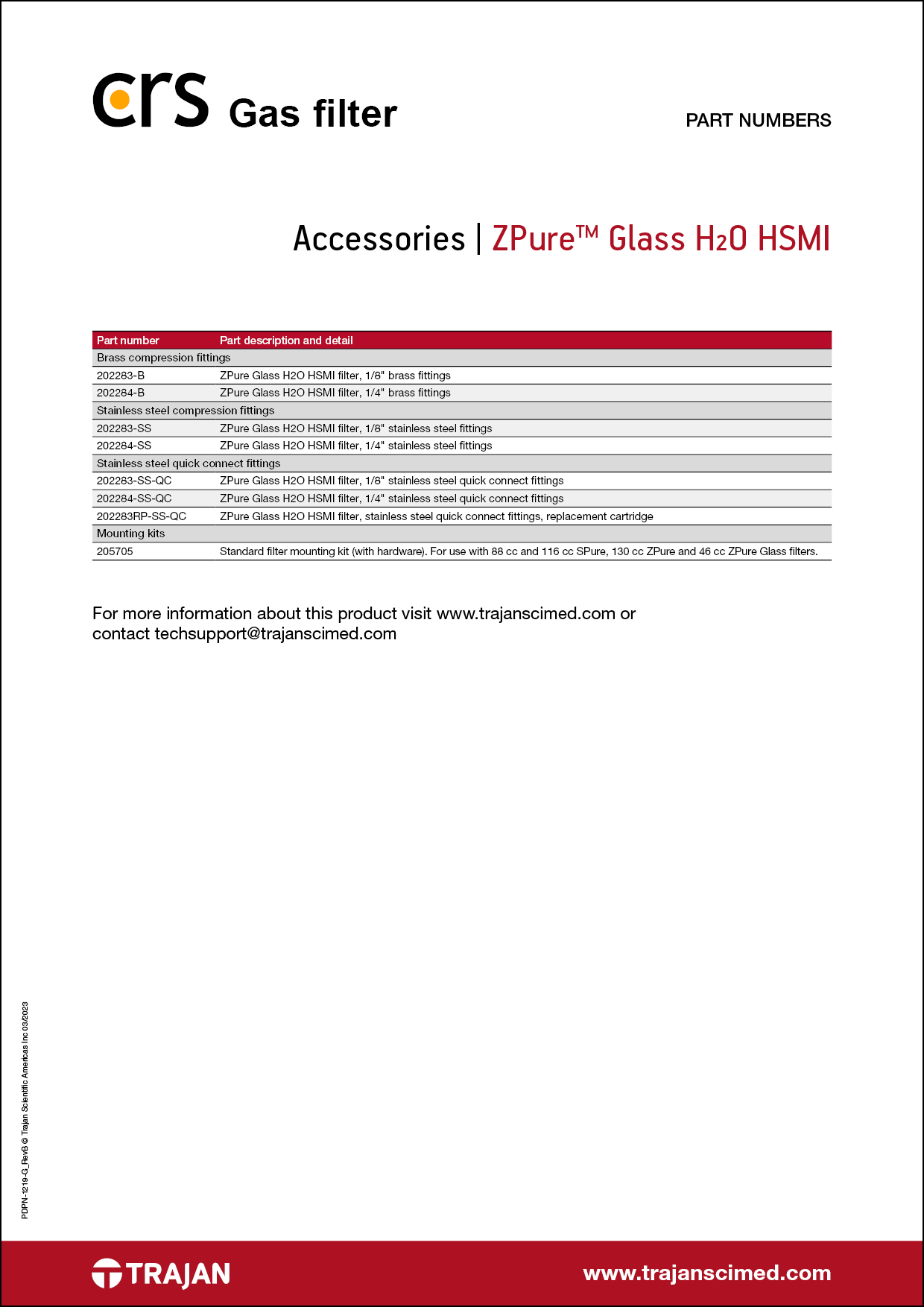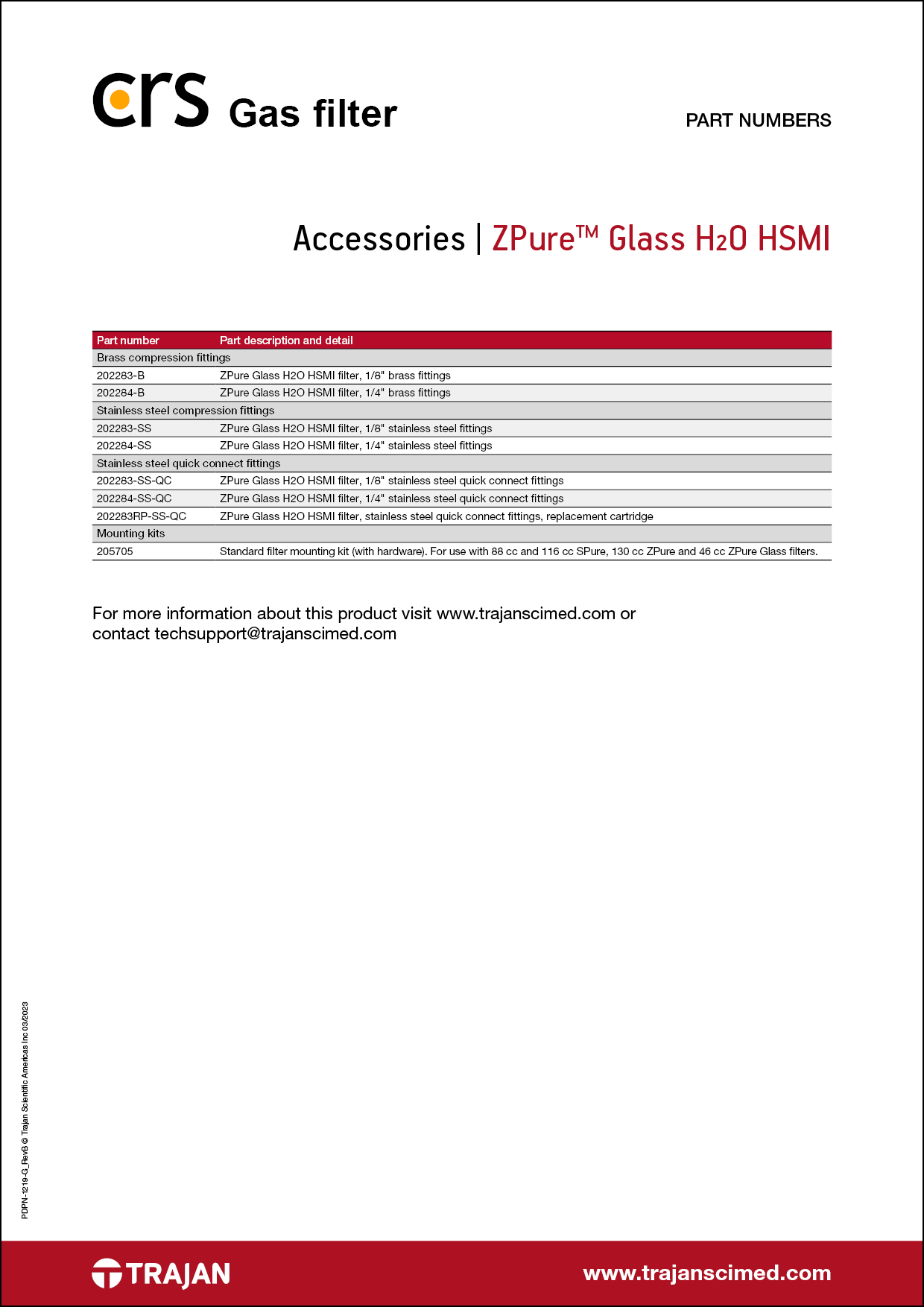 Part Number List - CRS ZPure™ Glass H2O HSMI gas filter
Collections: All, Analytical, CRS gas purifiers and filters, CRS ZPure™ Glass H₂O HSMI gas purifiers, Introducing the CRS range of products to the Trajan portfolio, Literature - All, Literature - Analytical, Part Number Lists, Select by instrument - Analytical, Support items, Trajan gas filters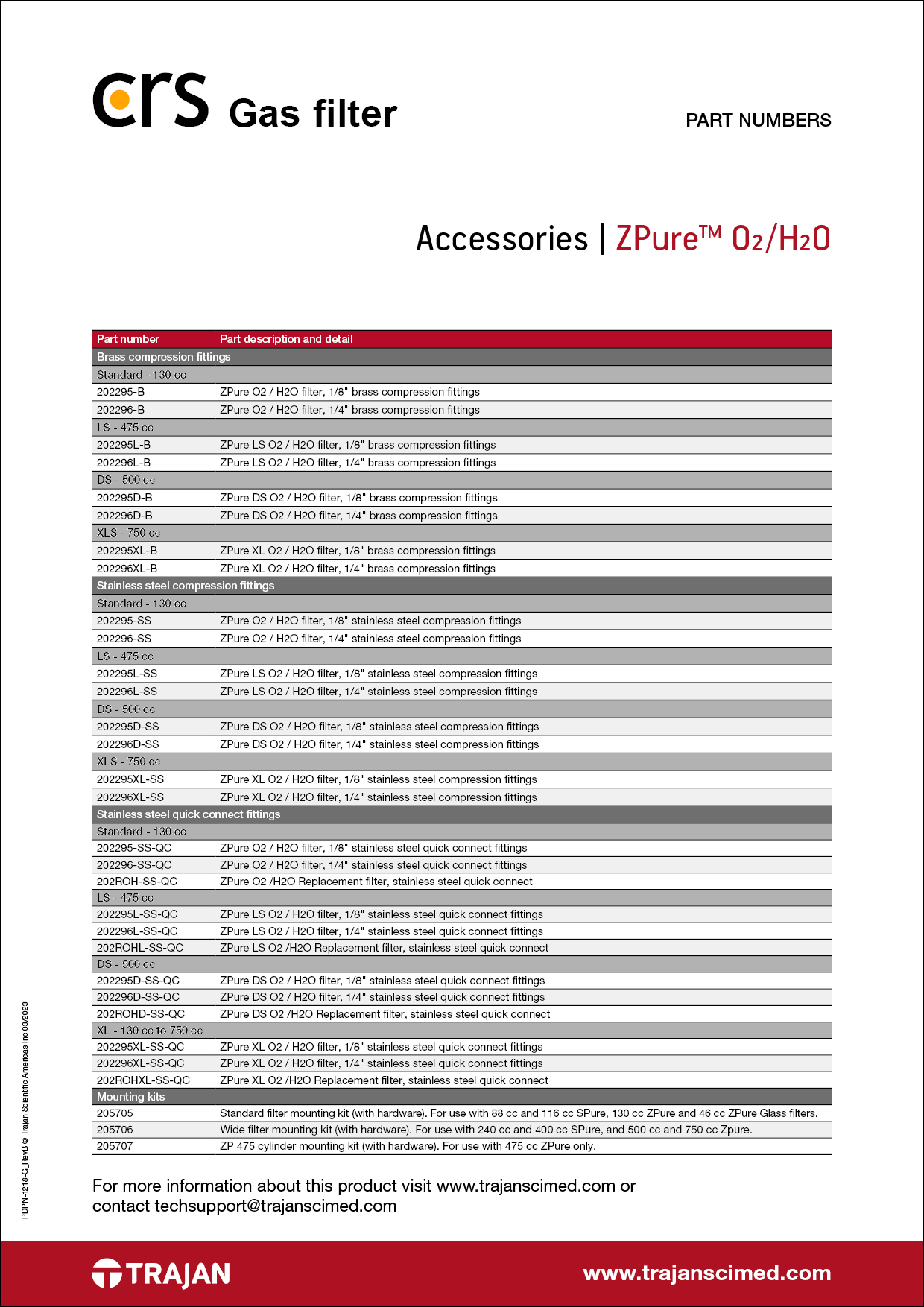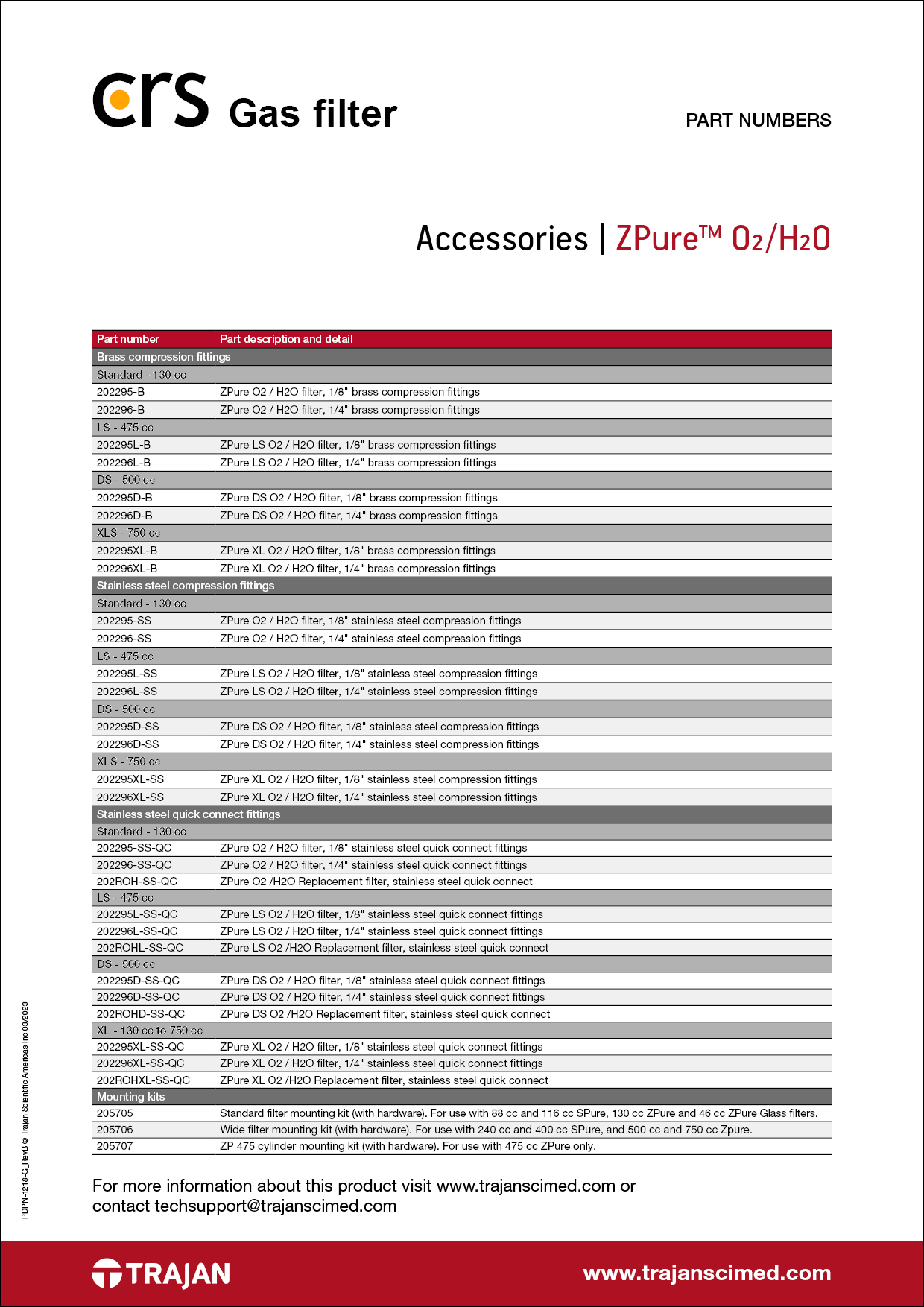 Part Number List - CRS ZPure™ O2/H2O gas filter
Collections: All, Analytical, CRS gas purifiers and filters, CRS ZPure O₂/H₂O gas filters, Introducing the CRS range of products to the Trajan portfolio, Literature - All, Literature - Analytical, Part Number Lists, Select by instrument - Analytical, Support items, Trajan gas filters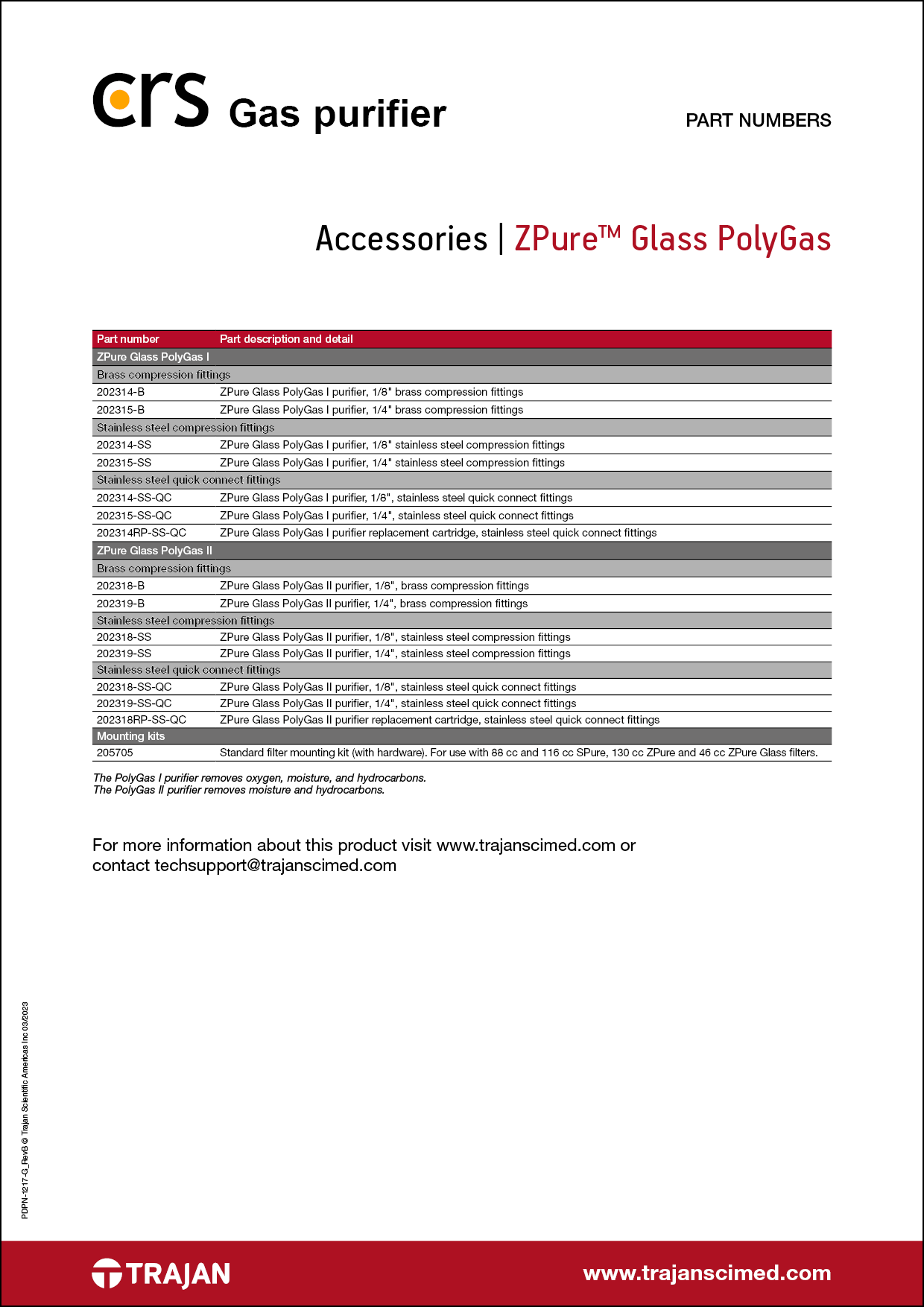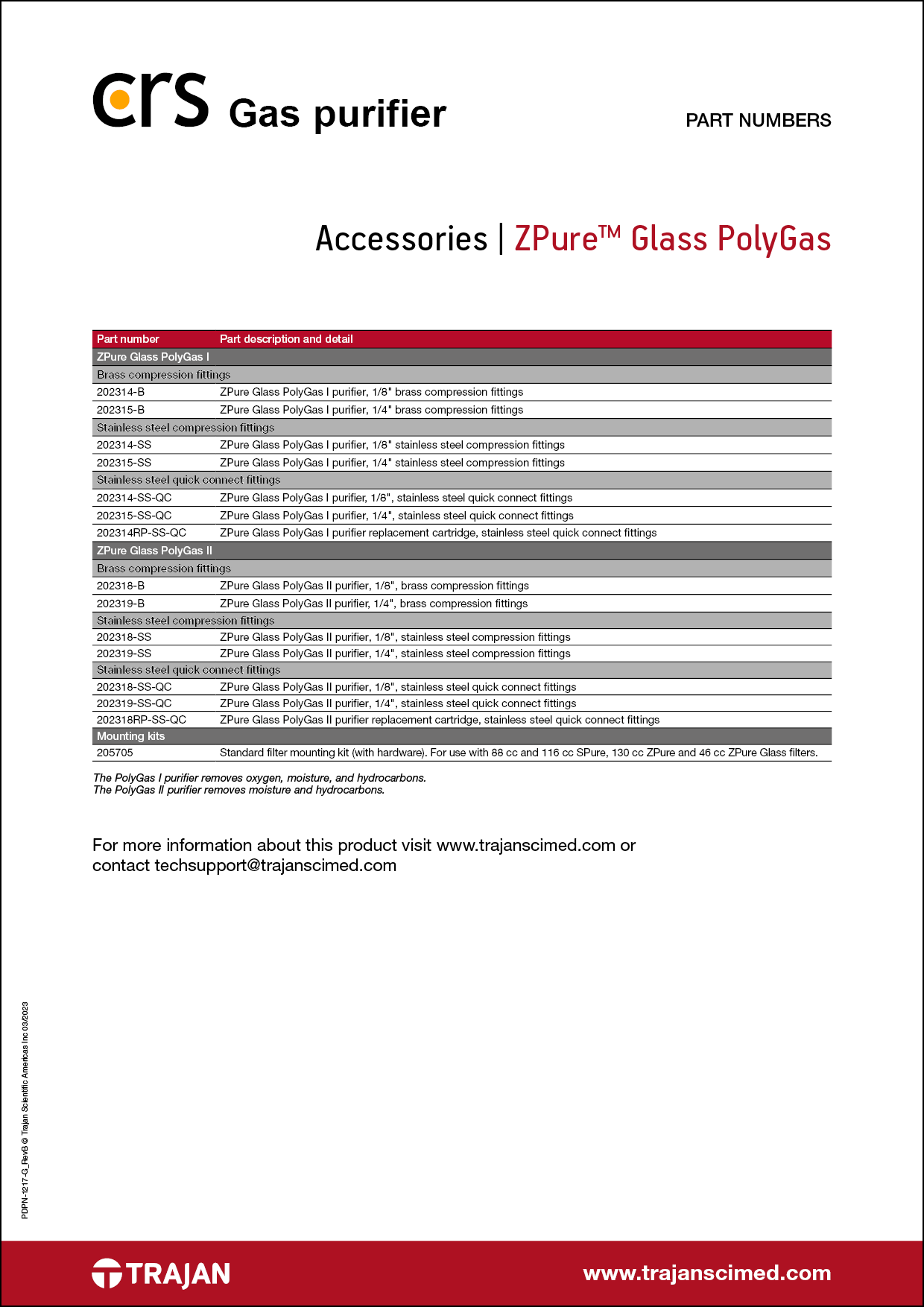 Part Number List - CRS ZPure™ Glass PolyGas gas purifier
Collections: All, Analytical, CRS gas purifiers and filters, CRS ZPure™ Glass PolyGas gas purifiers, Introducing the CRS range of products to the Trajan portfolio, Literature - All, Literature - Analytical, Part Number Lists, Select by instrument - Analytical, Support items, Trajan gas filters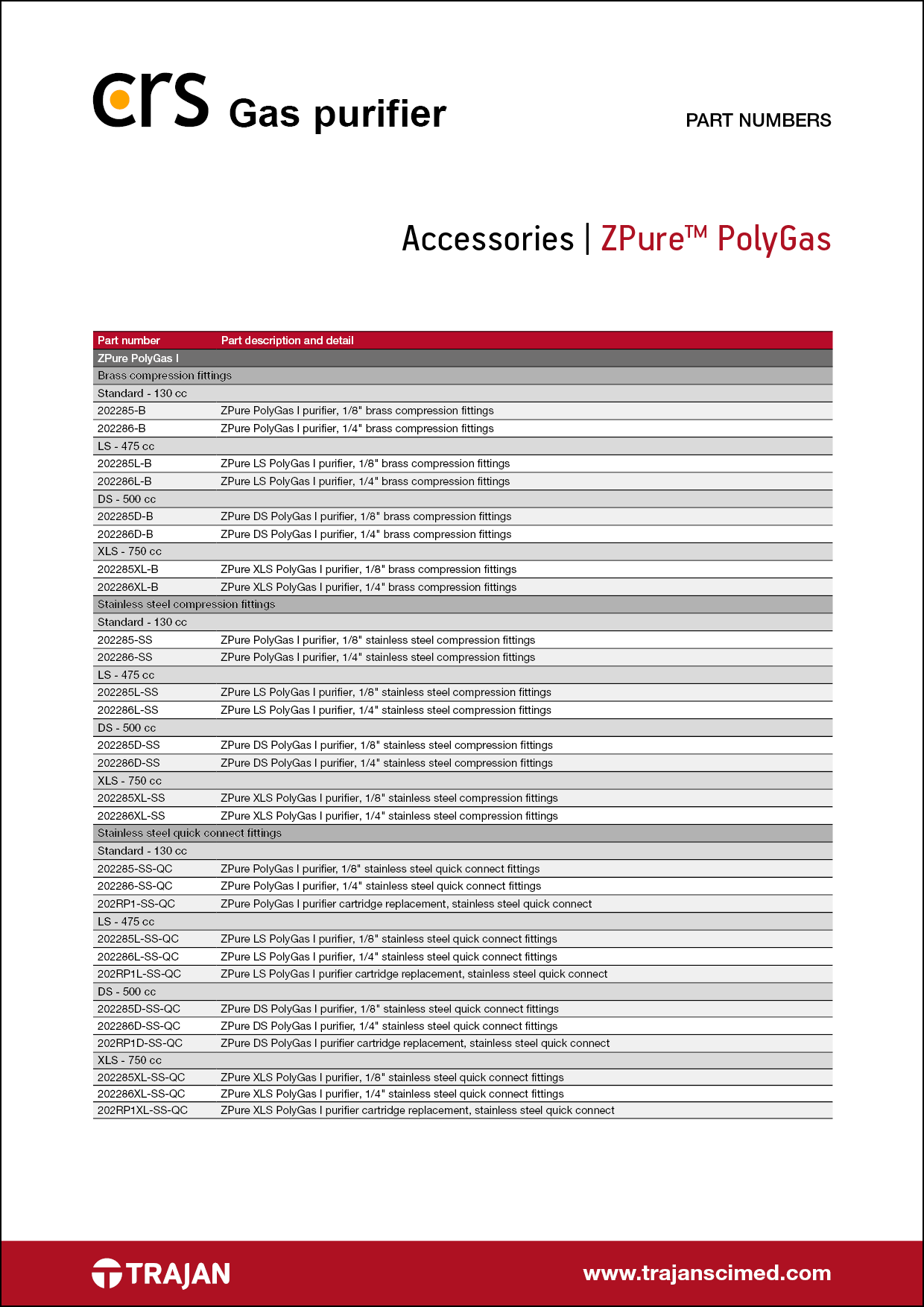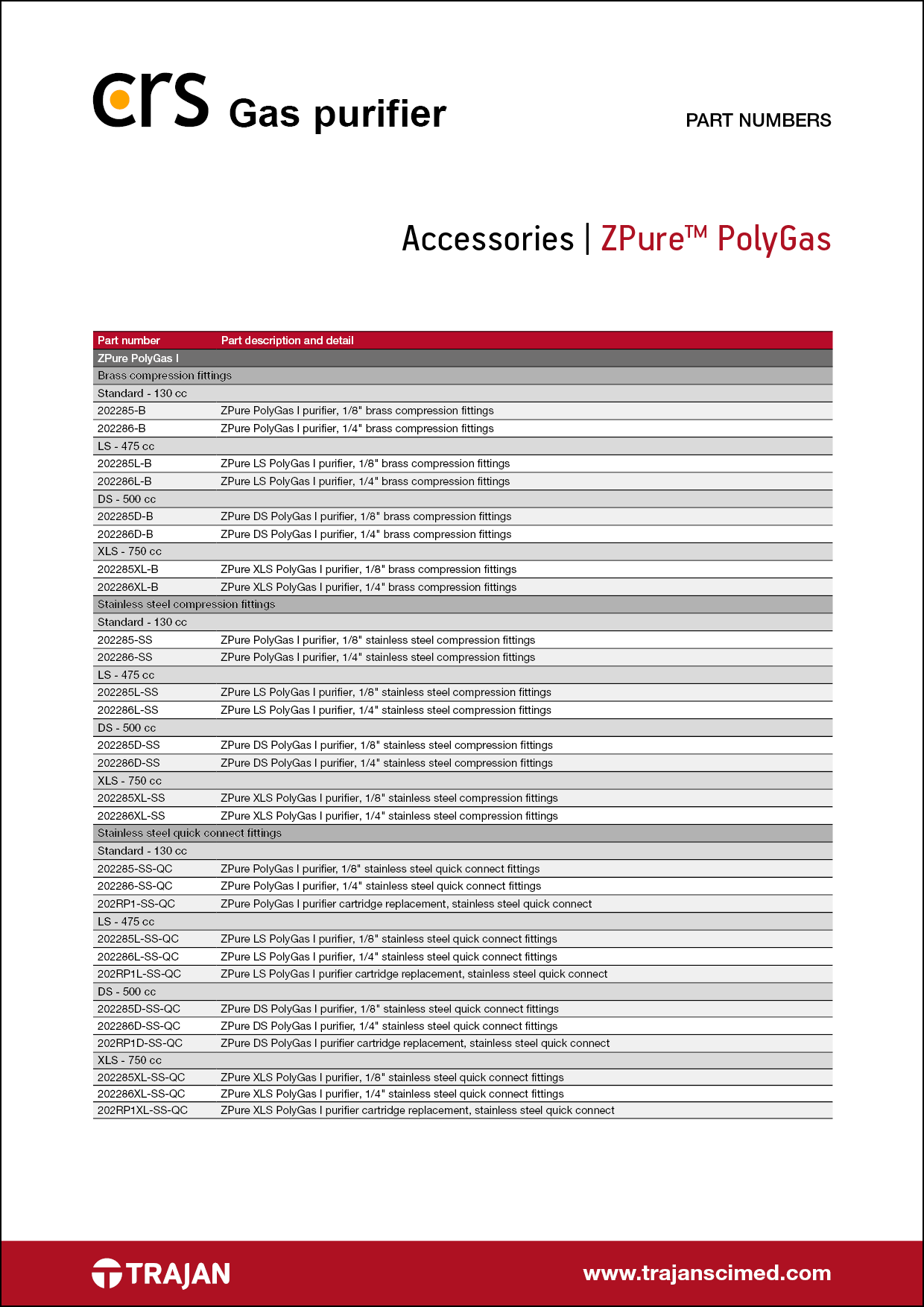 Part Number List - CRS ZPure™ PolyGas gas purifier
Collections: All, Analytical, CRS gas purifiers and filters, CRS ZPure™ PolyGas gas purifiers, Introducing the CRS range of products to the Trajan portfolio, Literature - All, Literature - Analytical, Part Number Lists, Select by instrument - Analytical, Support items, Trajan gas filters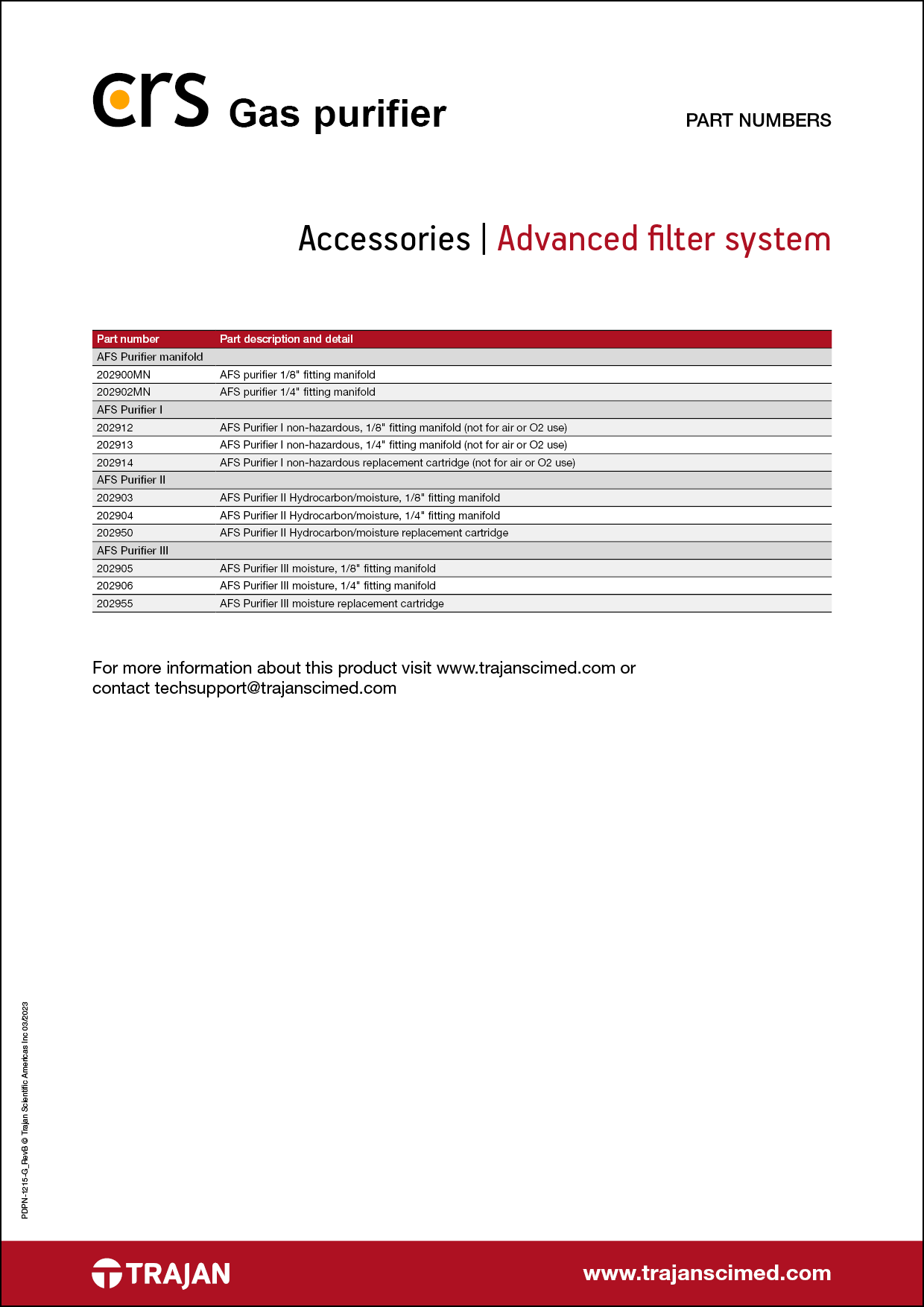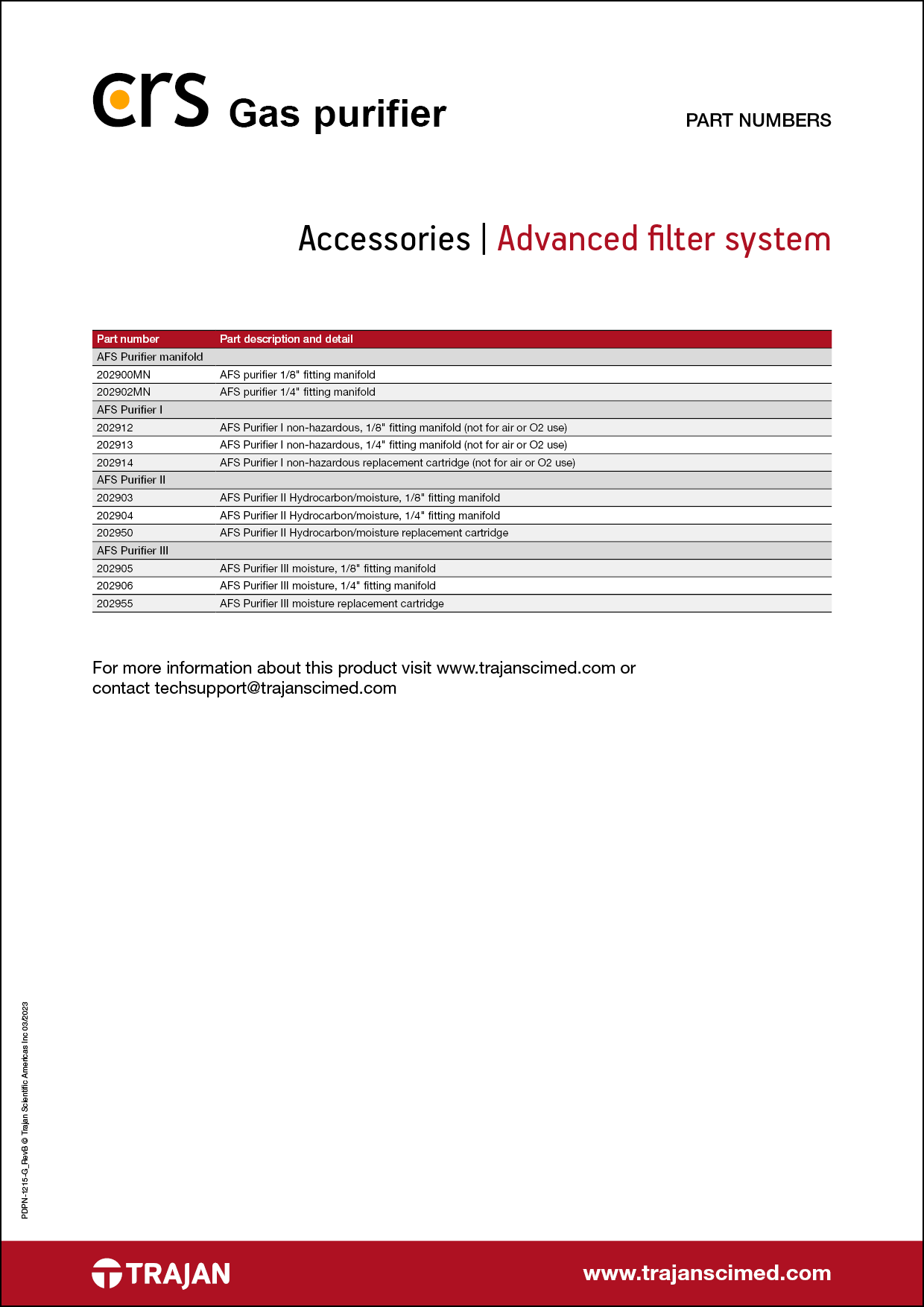 Part Number List - CRS Advanced Filter System gas purifier
Collections: All, Analytical, CRS Advanced Filter System (AFS) gas purifiers, CRS gas purifiers and filters, Introducing the CRS range of products to the Trajan portfolio, Literature - All, Literature - Analytical, Part Number Lists, Select by instrument - Analytical, Support items, Trajan gas filters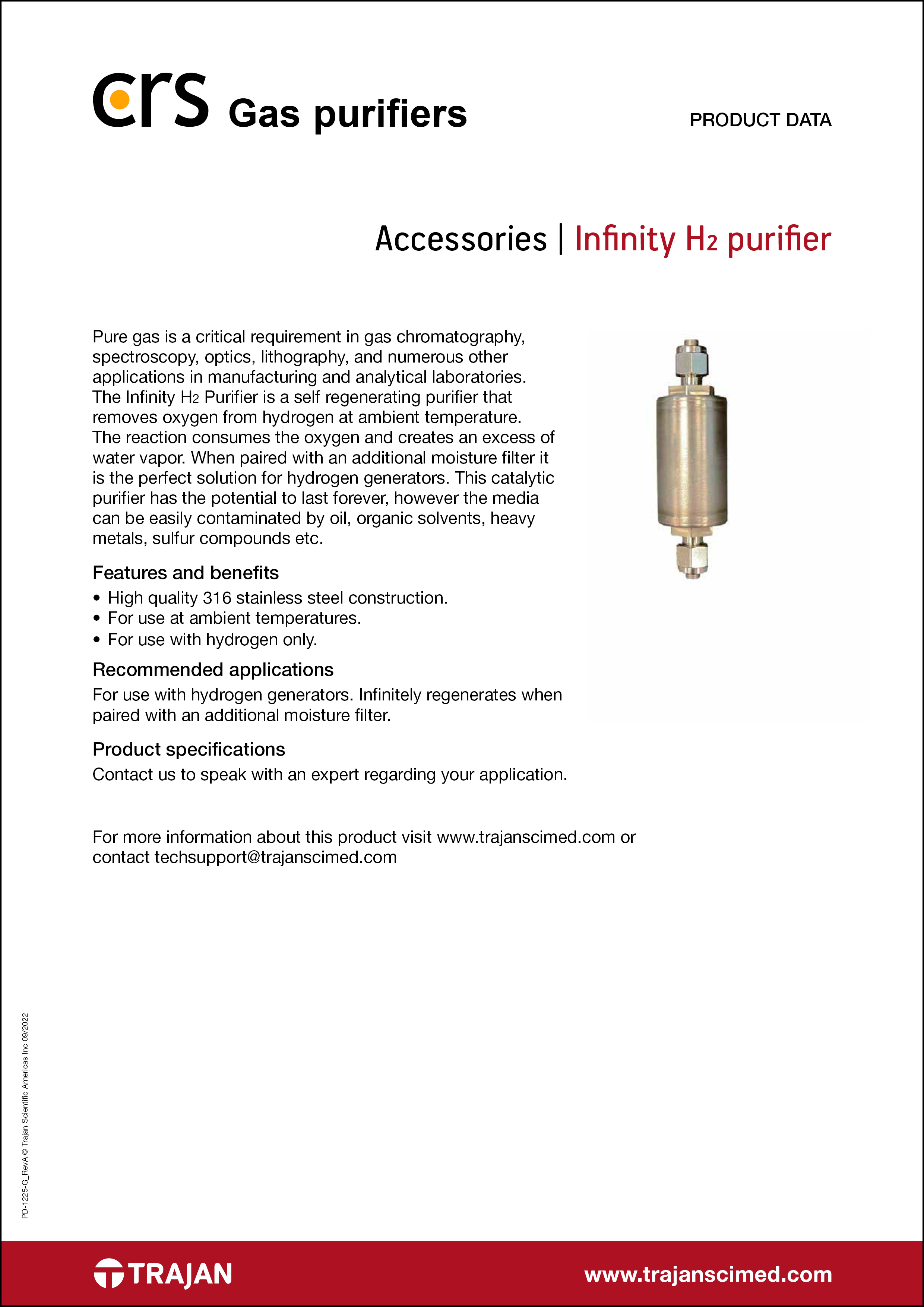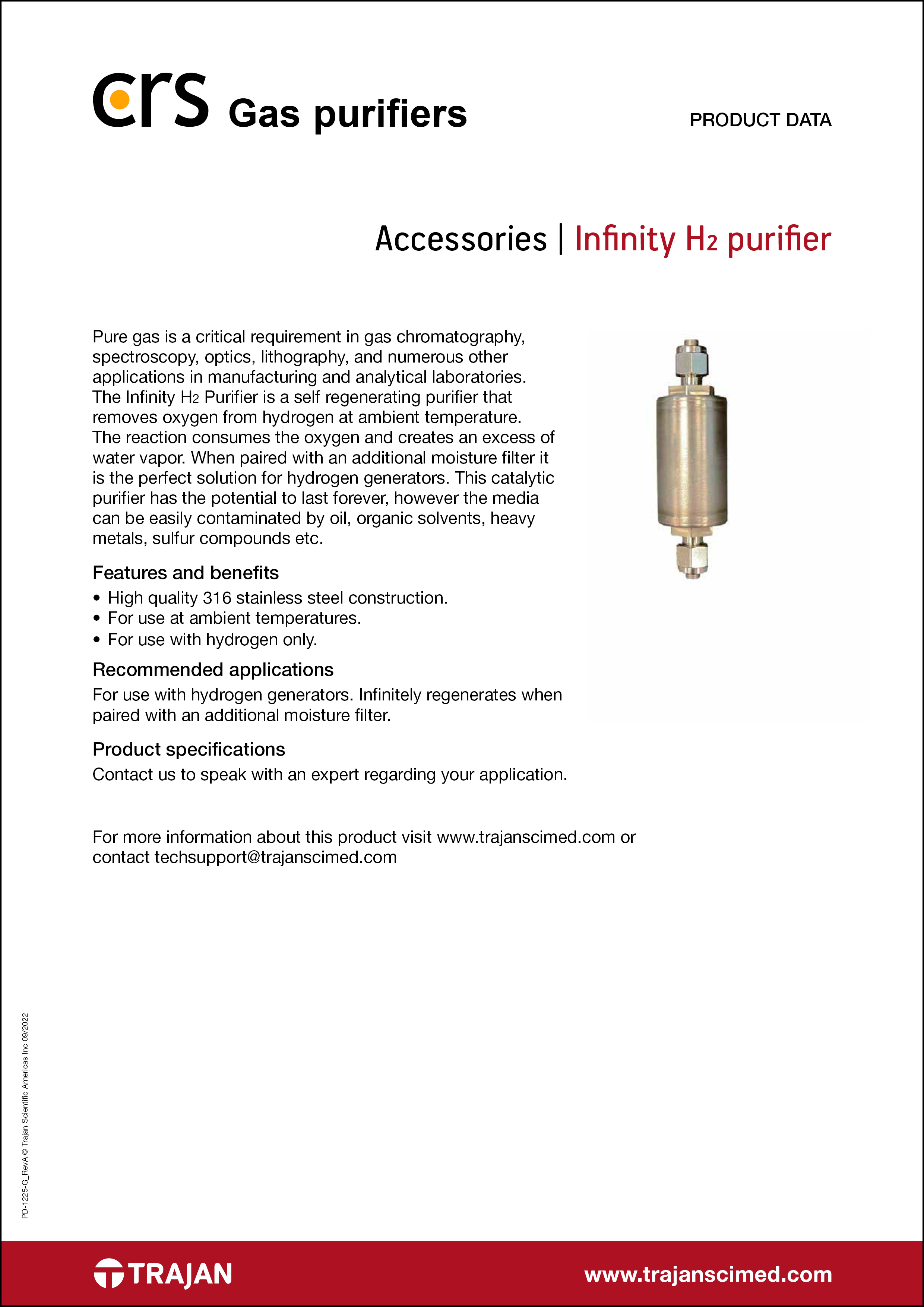 Product Data Sheet - CRS Infinity H2 gas purifier
Collections: All, Analytical, CRS gas purifiers and filters, CRS Infinity H₂ gas purifiers, Introducing the CRS range of products to the Trajan portfolio, Literature - All, Literature - Analytical, Product Data Sheets, Select by instrument - Analytical, Support items, Trajan gas filters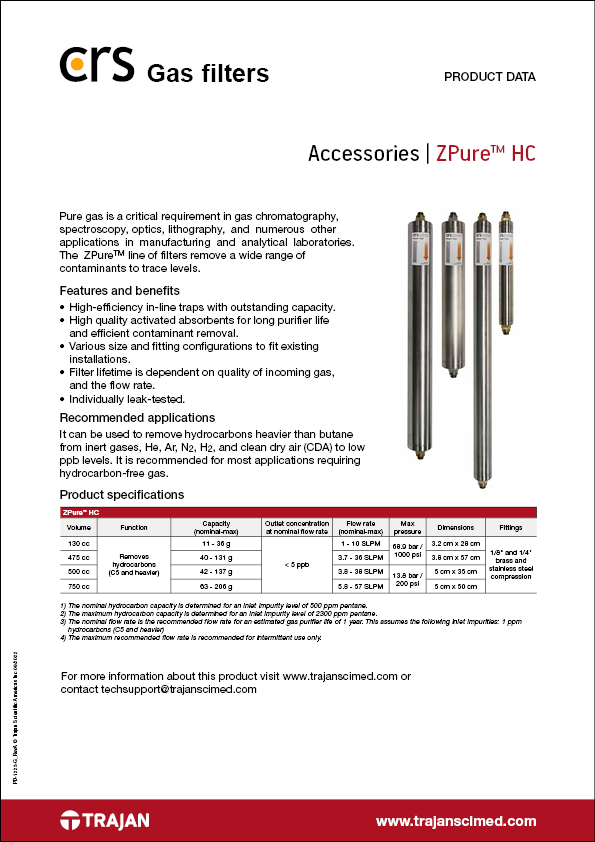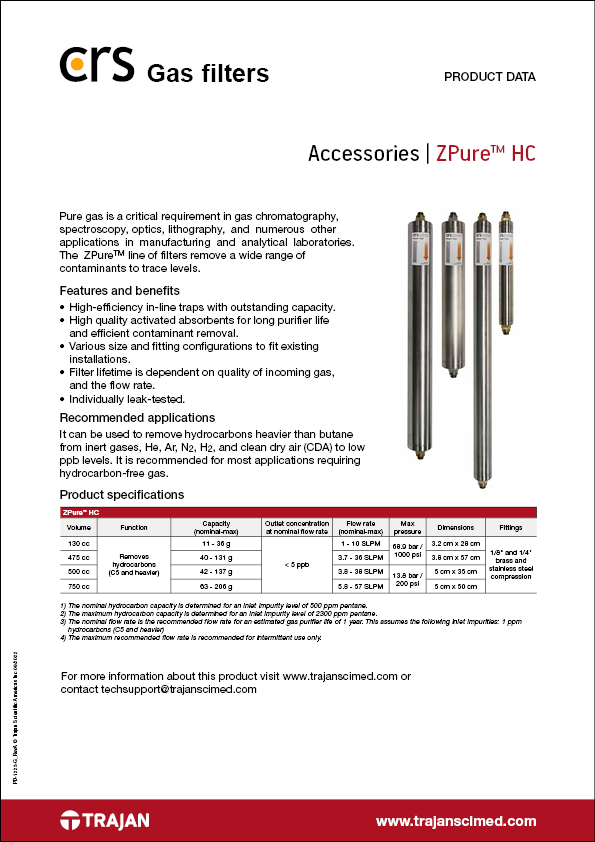 Product Data Sheet - CRS ZPure™ HC (Hydrocarbon) gas filter
Collections: All, Analytical, CRS gas purifiers and filters, CRS ZPure™ HC (Hydrocarbon) gas filters, Introducing the CRS range of products to the Trajan portfolio, Literature - All, Literature - Analytical, Product Data Sheets, Select by instrument - Analytical, Support items, Trajan gas filters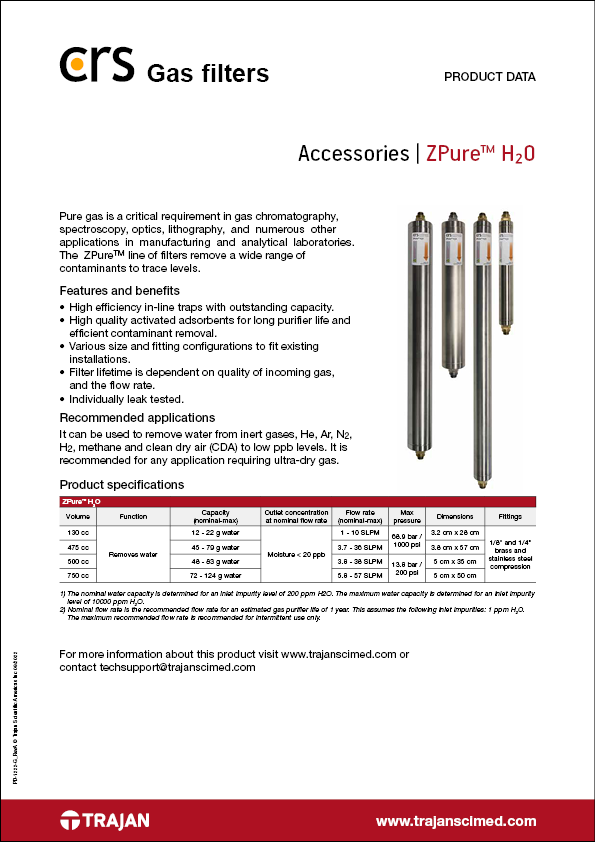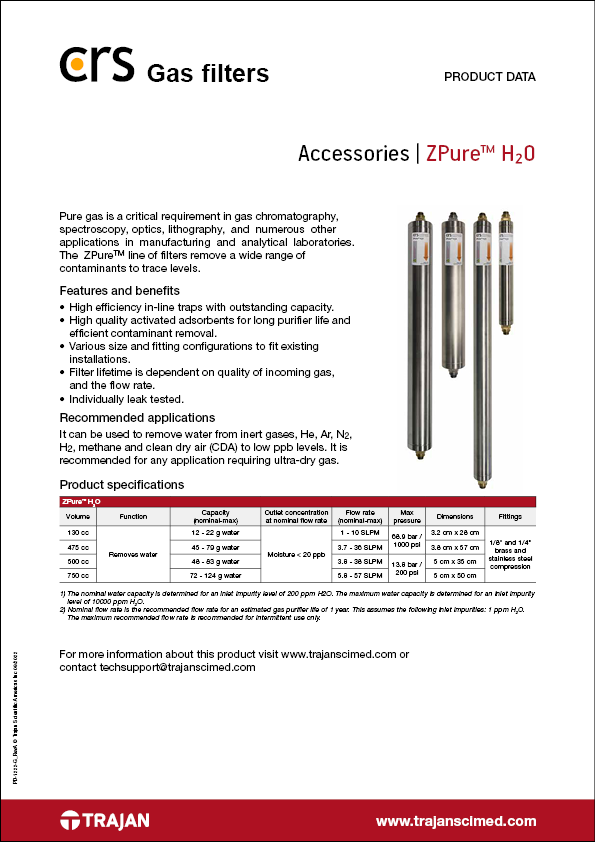 Product Data Sheet - CRS ZPure™ H2O gas filter
Collections: All, Analytical, CRS gas purifiers and filters, CRS ZPure™ H₂O gas filters, Introducing the CRS range of products to the Trajan portfolio, Literature - All, Literature - Analytical, Product Data Sheets, Select by instrument - Analytical, Support items, Trajan gas filters
Product Data Sheet - CRS ZPure™ Ultra gas filter
Collections: All, Analytical, CRS gas purifiers and filters, CRS ZPure™ Ultra gas filters, Introducing the CRS range of products to the Trajan portfolio, Literature - All, Literature - Analytical, Product Data Sheets, Select by instrument - Analytical, Support items, Trajan gas filters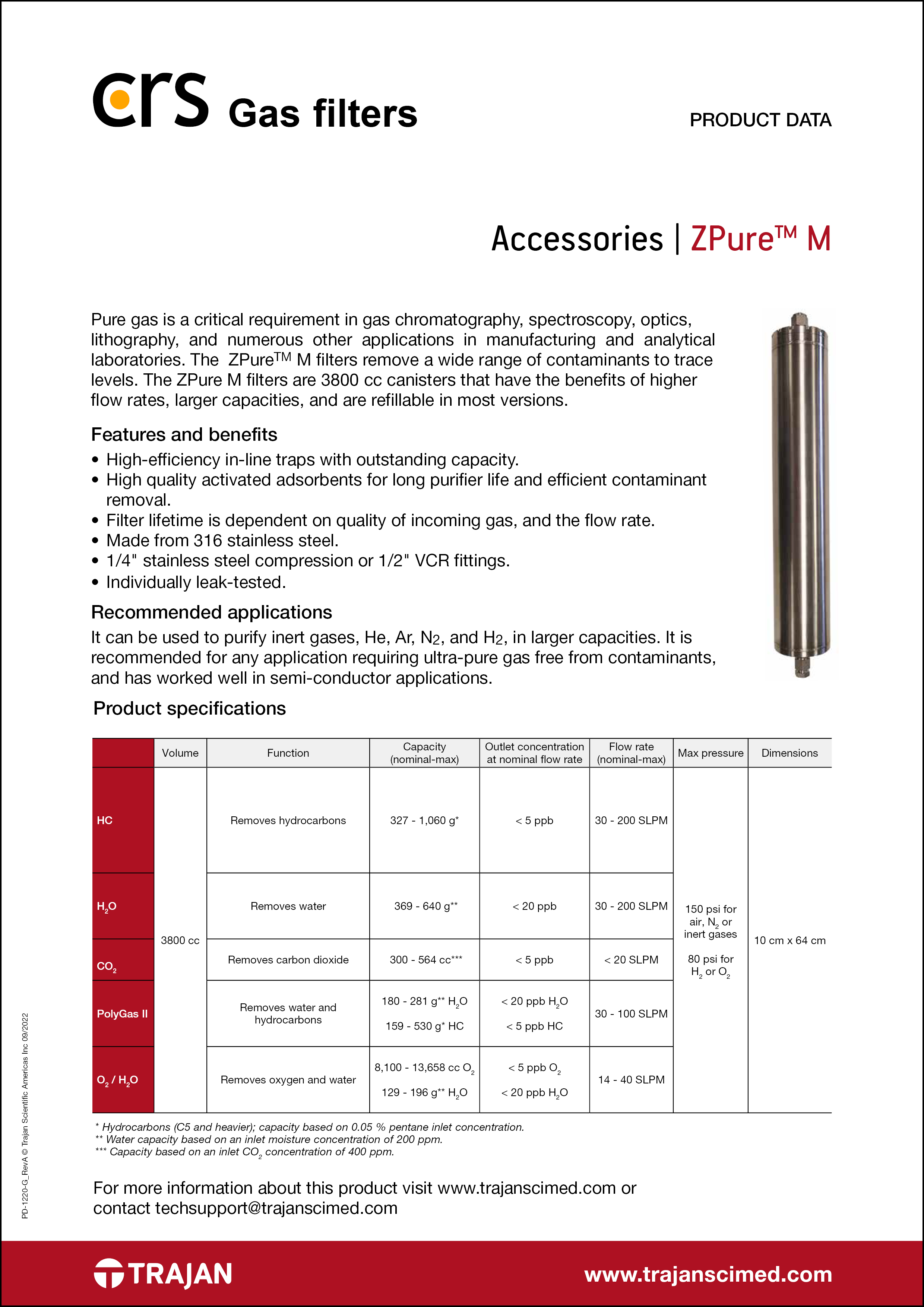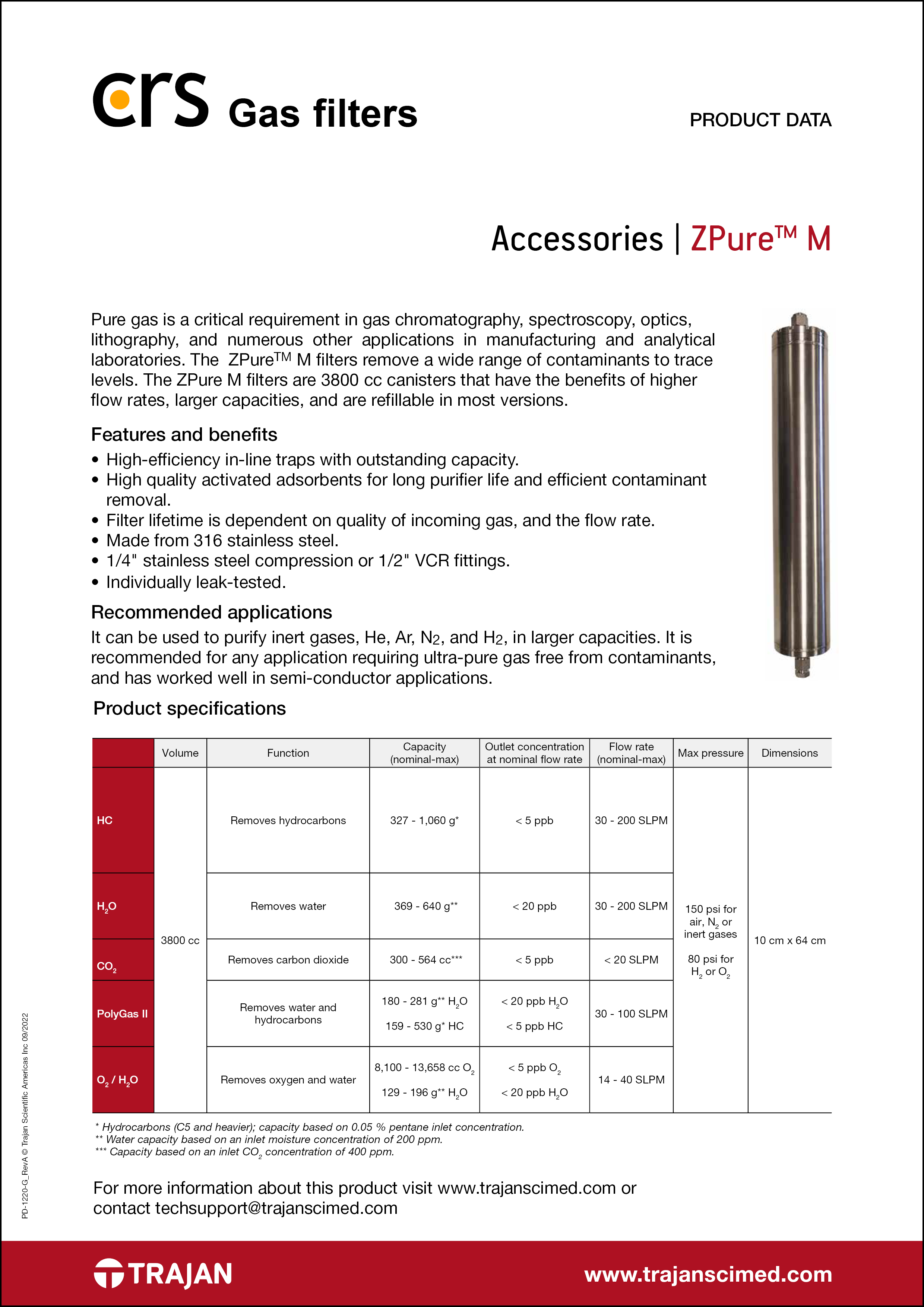 Product Data Sheet - CRS ZPure™ M gas filter
Collections: All, Analytical, CRS gas purifiers and filters, CRS ZPure™ M gas filters, Introducing the CRS range of products to the Trajan portfolio, Literature - All, Literature - Analytical, Product Data Sheets, Select by instrument - Analytical, Support items, Trajan gas filters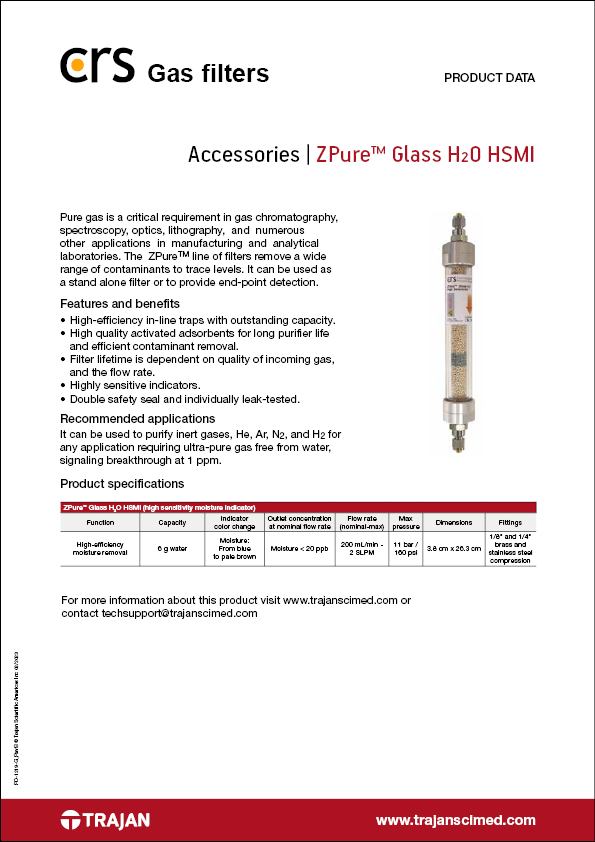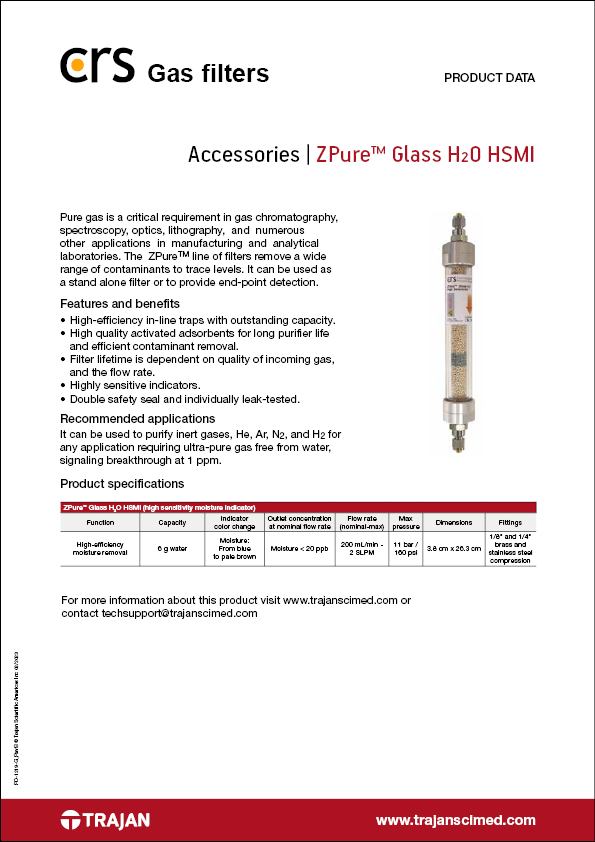 Product Data Sheet - CRS ZPure™ Glass H2O HSMI gas filter
Collections: All, Analytical, CRS gas purifiers and filters, CRS ZPure™ Glass H₂O HSMI gas purifiers, Introducing the CRS range of products to the Trajan portfolio, Literature - All, Literature - Analytical, Product Data Sheets, Select by instrument - Analytical, Support items, Trajan gas filters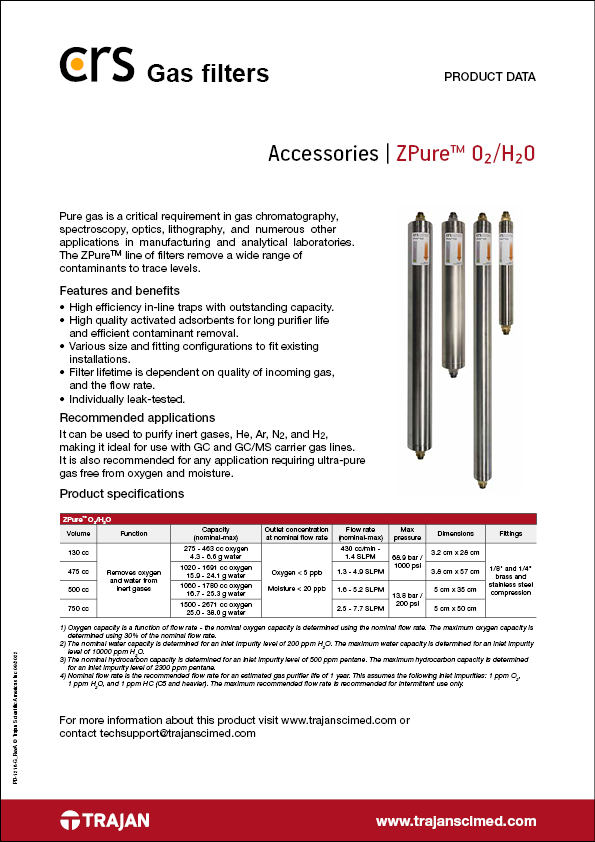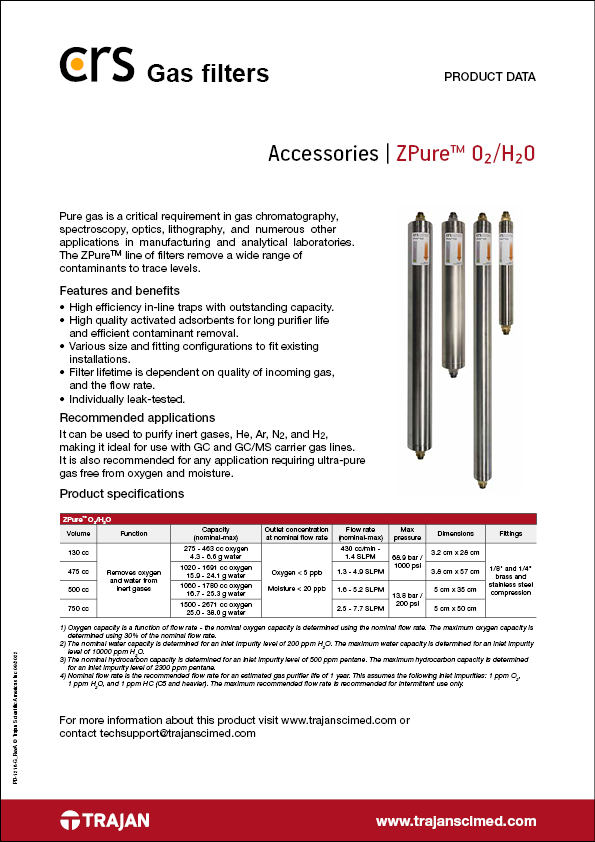 Product Data Sheet - CRS ZPure™ O2/H2O gas filter
Collections: All, Analytical, CRS gas purifiers and filters, CRS ZPure O₂/H₂O gas filters, Introducing the CRS range of products to the Trajan portfolio, Literature - All, Literature - Analytical, Product Data Sheets, Select by instrument - Analytical, Support items, Trajan gas filters