Pure gas is a critical requirement in gas chromatography, spectroscopy, optics, lithography, and numerous other applications in manufacturing and analytical laboratories. The ZPure™ line of filters remove a wide range of contaminants to trace levels.
Features and benefits
High efficiency in-line traps with outstanding capacity.
High quality activated adsorbents for long purifier life and efficient contaminant removal.
Various size and fitting configurations to fit existing installations.
Filter lifetime is dependent on quality of incoming gas, and the flow rate.
Individually leak tested.
Recommended applications
It can be used to remove water from inert gases, He, Ar, N2, H2, methane and clean dry air (CDA) to low ppb levels. It is recommended for any application requiring ultra-dry gas.
Product specifications
ZPure H2O
Volume
Function
Capacity (nominal-max)
Outlet concentration at nominal flow rate
Flow rate (nominal-max)
Max pressure
Dimensions
Fittings
130 cc
Removes water
12 - 22 g
Moisture < 20 ppb
1 - 10 SLPM
68.9 bar / 1000 psi
3.2 cm x 28 cm
1/8" and 1/4" brass and stainless steel compression
475 cc
45 - 79g
3.7 - 36 SLPM
3.8 cm x 57 cm
500 cc
48 - 83 g
3.8 - 38 SLPM
13.8 bar / 200 psi
5 cm x 35 cm
750 cc
72 - 124 g
5.8 - 57 SLPM
5 cm x 50 cm
1) The nominal water capacity is determined for an inlet impurity level of 200 ppm H2O. The maximum water capacity is determined for an inlet impurity level of 10000 ppm H2O.
2) Nominal flow rate is the recommended flow rate for an estimated gas purifier life of 1 year. This assumes the following inlet impurities: 1 ppm H2O. The maximum recommended flow rate is recommended for intermittent use only.
All products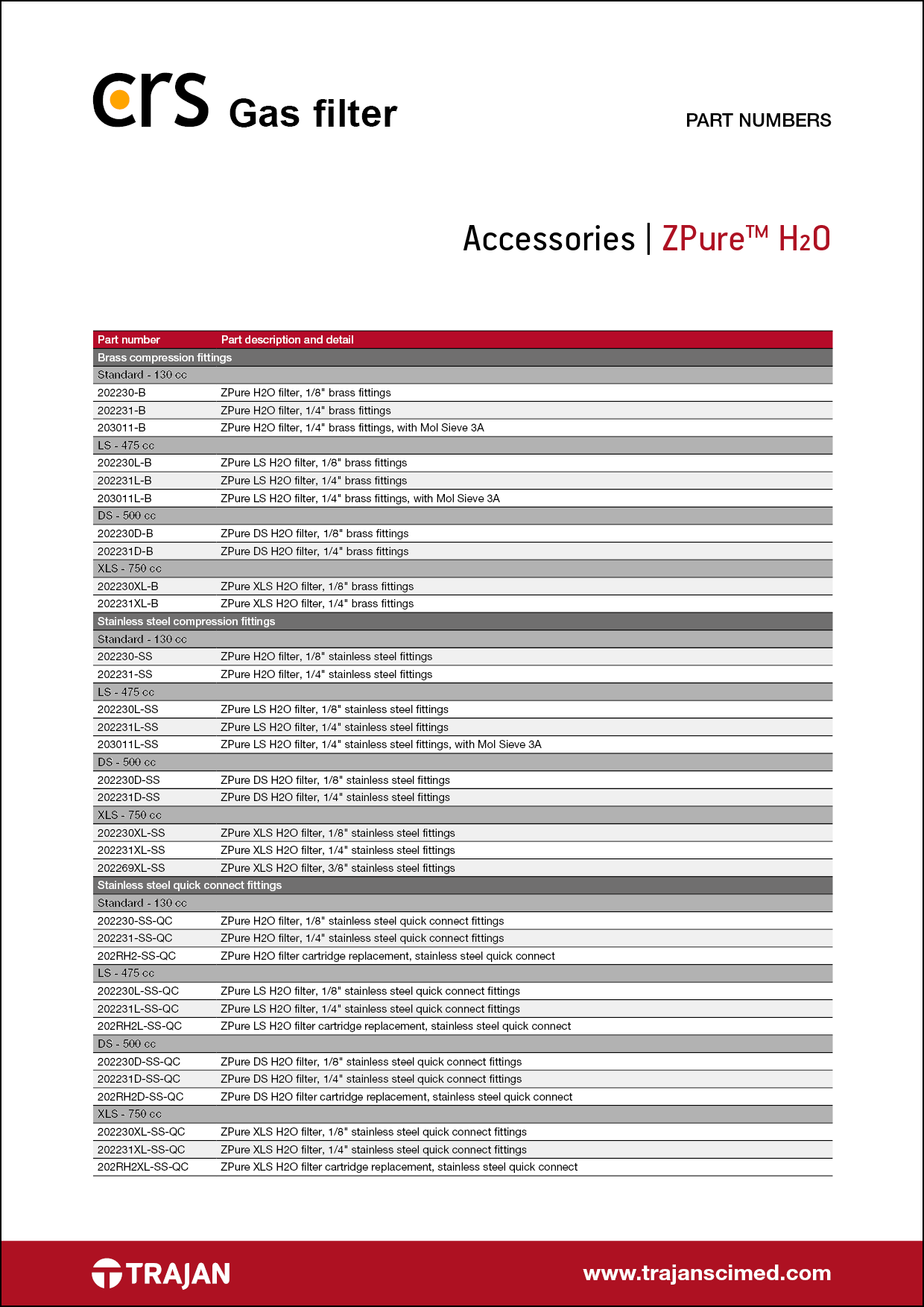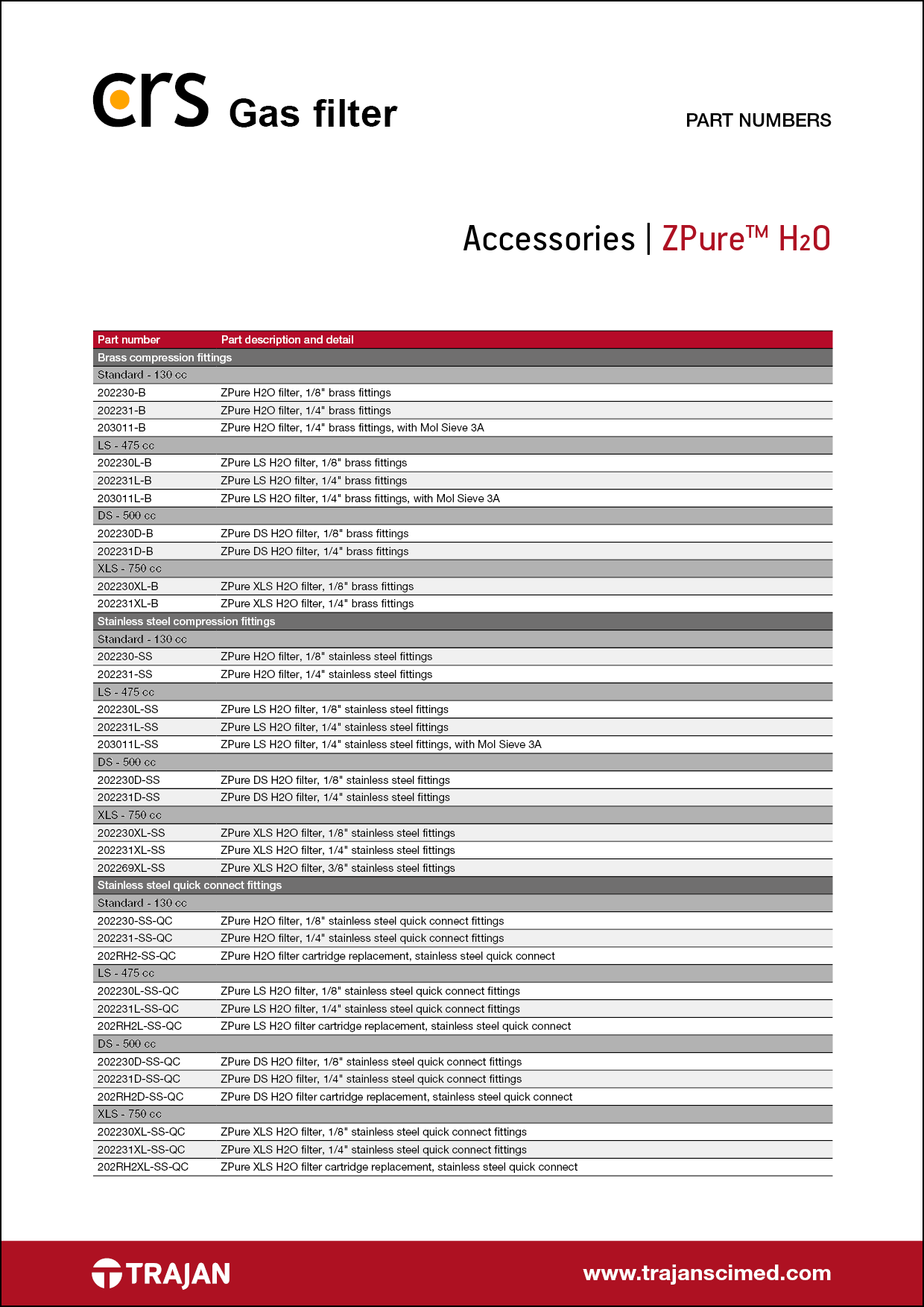 Part Number List - CRS ZPure™ H2O gas filter
Collections: All, Analytical, CRS gas purifiers and filters, CRS ZPure™ H₂O gas filters, Introducing the CRS range of products to the Trajan portfolio, Literature - All, Literature - Analytical, Part Number Lists, Select by instrument - Analytical, Support items, Trajan gas filters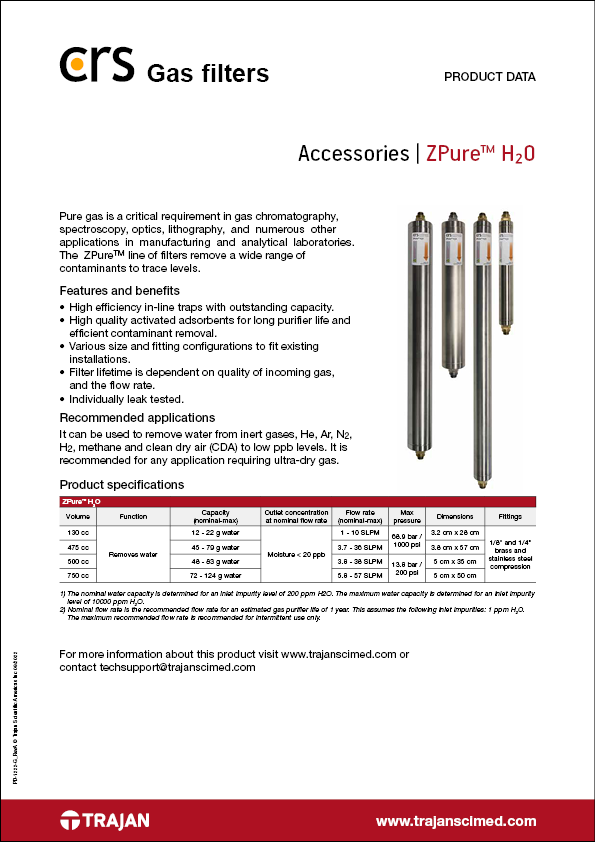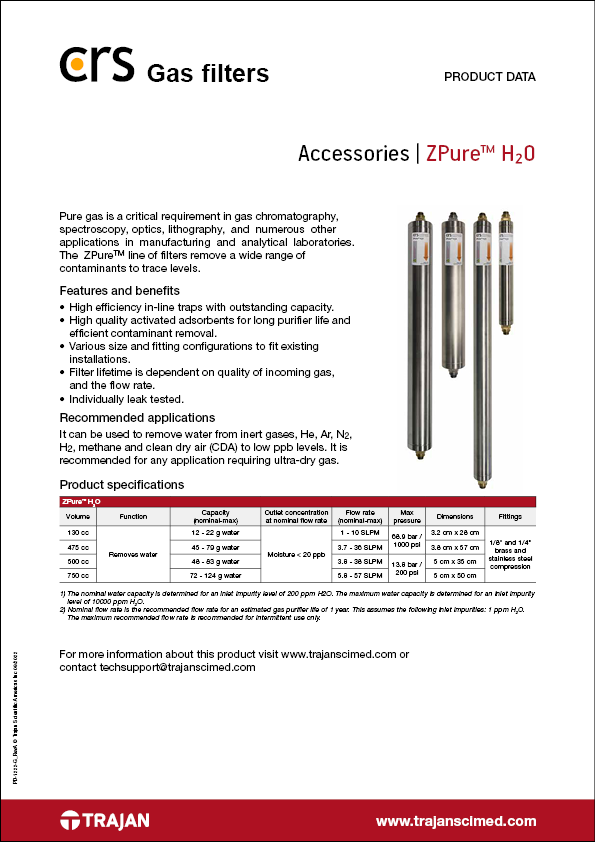 Product Data Sheet - CRS ZPure™ H2O gas filter
Collections: All, Analytical, CRS gas purifiers and filters, CRS ZPure™ H₂O gas filters, Introducing the CRS range of products to the Trajan portfolio, Literature - All, Literature - Analytical, Product Data Sheets, Select by instrument - Analytical, Support items, Trajan gas filters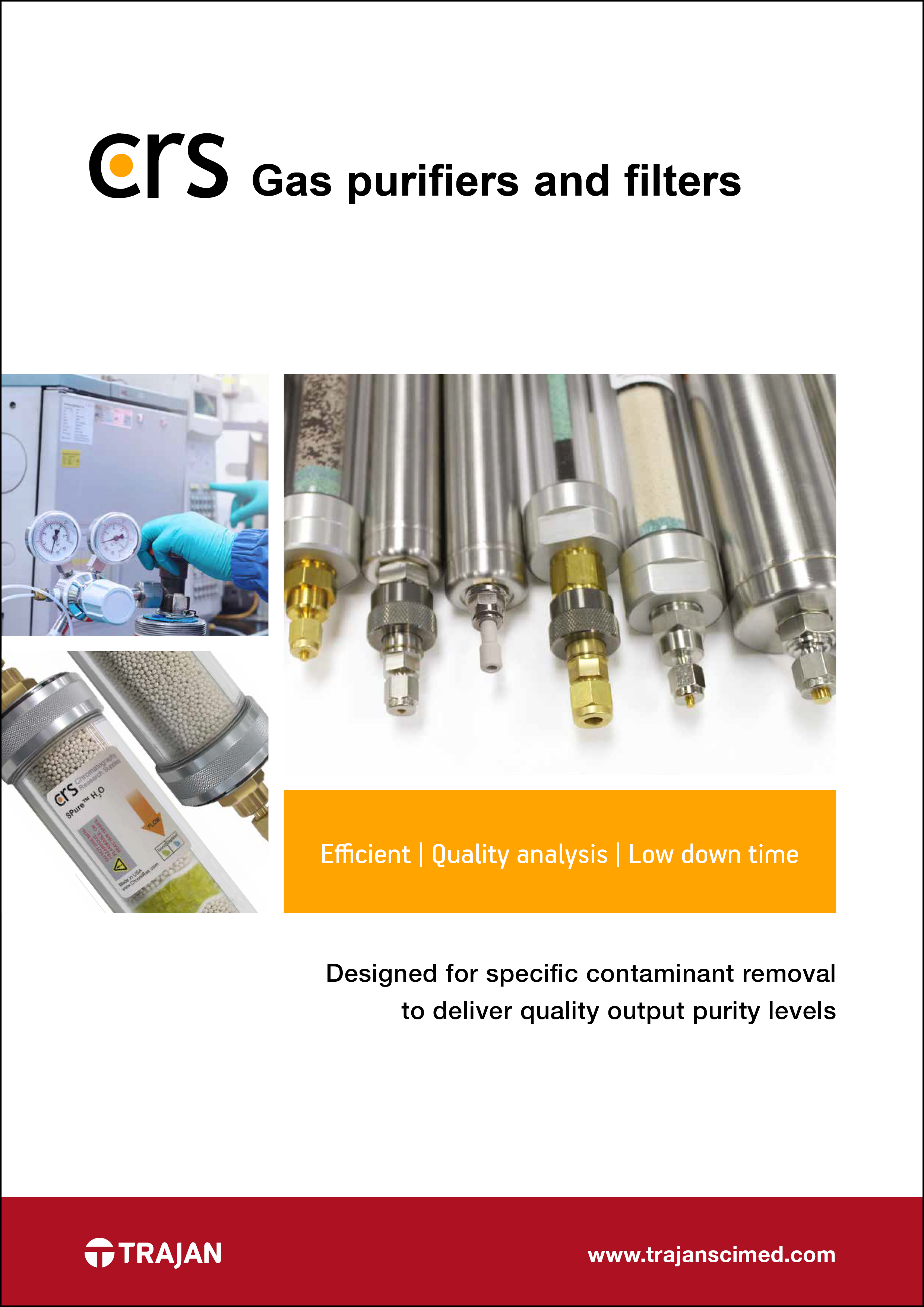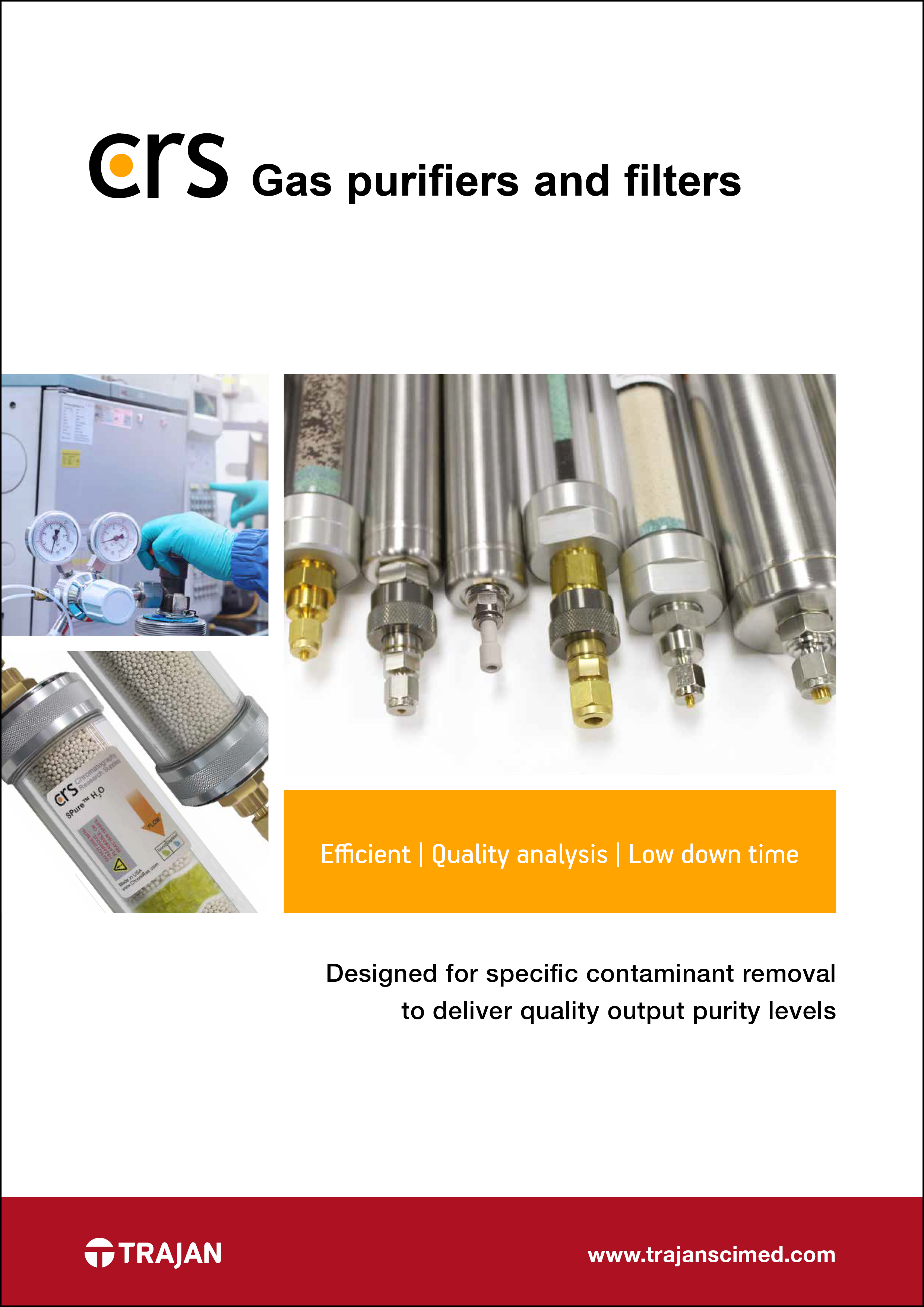 Brochure - CRS gas purifiers and filters
Collections: All, Analytical, Brochures, CRS Advanced Filter System (AFS) gas purifiers, CRS gas purifiers and filters, CRS Infinity H₂ gas purifiers, CRS SPure™ H₂O gas filters, CRS ZPure O₂/H₂O gas filters, CRS ZPure™ Glass H₂O HSMI gas purifiers, CRS ZPure™ Glass PolyGas gas purifiers, CRS ZPure™ H₂O gas filters, CRS ZPure™ HC (Hydrocarbon) gas filters, CRS ZPure™ M gas filters, CRS ZPure™ PolyGas gas purifiers, CRS ZPure™ Ultra gas filters, Introducing the CRS range of products to the Trajan portfolio, Literature - All, Literature - Analytical, Select by instrument - Analytical, Support items, Trajan gas filters